Ireland's 4-1 defeat to Wales in their first ever Nations League game in September 2018 was greeted in some circles as the kick-start of a grim new era for the national team.
The Boys in Green, notwithstanding the odd few dips and hollows here and there, had generally punched above their weight for most of the past three decades.
Since 2012, a generous reading might say we were punching at our weight - though there were a string of improbable victories racked up between October 2015 and November 2016 that were in retrospect hard to explain.
But the hammering in Cardiff and, worse again, the 0-0 draw where we were generally out-classed by Northern Ireland, convinced observers that Ireland were now punching well below their weight. The prevailing view was that we were journeying to a place beyond irrelevance. Minnow-land, here we come!
'Broken domestic game and poor management are taking the Republic of Ireland back to the dark days of the 1970s' read the headline of Miguel Delaney's reaction piece in the London Independent the following day.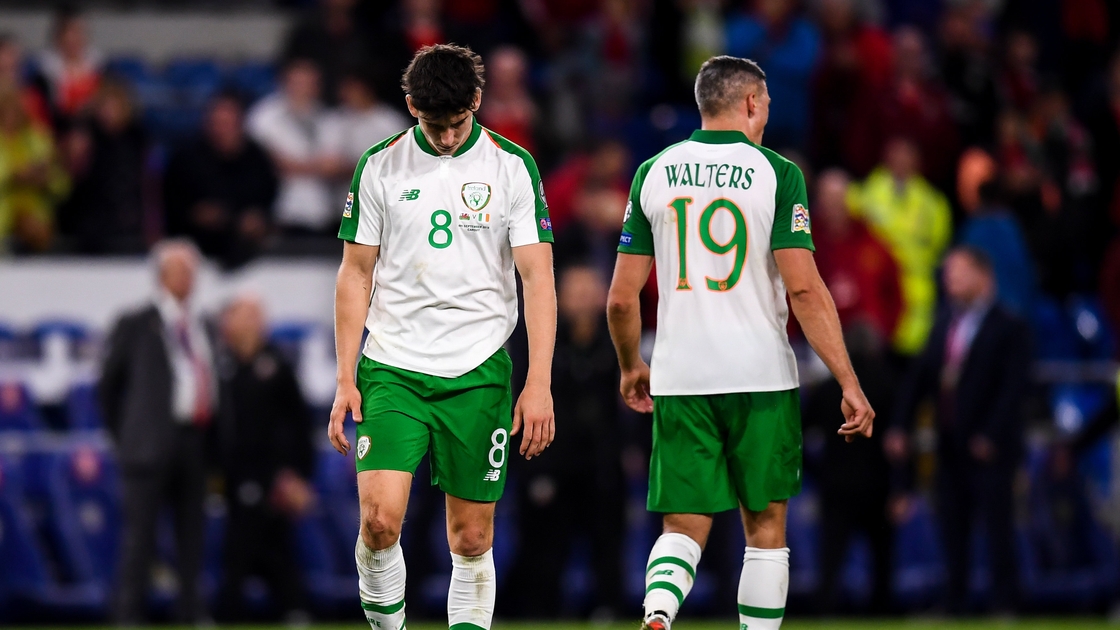 The early 1970s, to be precise. It would be unfair to the Ireland teams post-1972, who humbled France (more than once) and the Soviet Union, to lump them in with the nadir of Irish football.
"With a humiliating 9-2 deficit in their last two competitive games, this is the Republic of Ireland's worst such spell since an aggregate 10-1 loss to Austria in 1971 - and the brutal truth is this is probably the worst side since those dark days too," Delaney wrote.
The breezier, more pop-culture-y histories of Irish football used to have it that the dark days lasted from the invention of the sport until about 1987, when an angel from the Heart of Midlothian Gary Mackay descended from the clouds and gift-wrapped for us a ticket to the big time.
This isn't true, of course. Great players like Jimmy Dunne and Johnny Carey had played for the FAI side in the early decades of the State and in 1949, Ireland made history by becoming the first foreign team to beat England on English soil.
(Alas, the UK-based scribes charged with writing said history could never quite wrap their heads around the idea of the Republic of Ireland as a foreign nation and stuck with the far more narratively satisfying idea that it was Ferenc Puskas and the Magical Magyars who inflicted the first England defeat on English turf four years later.)
World champions West Germany were smashed 3-0 in Dalymount Park in 1956 by a side stacked with League of Ireland footballers. The visitors were admittedly shy of full strength but still contained five players who featured in the World Cup final two years earlier.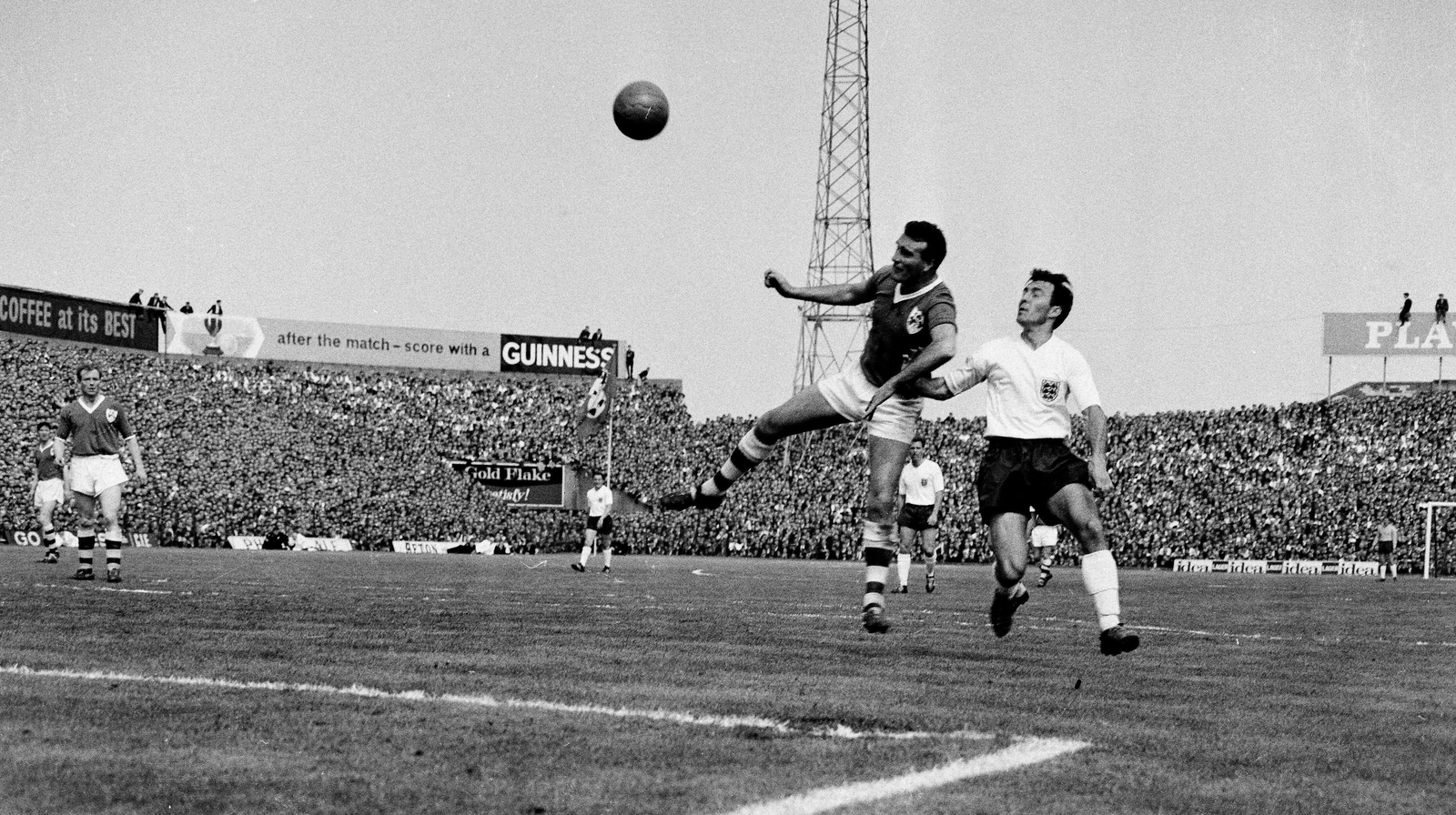 Ireland were a highly respectable team in the late 70s and early 80s, unlucky to miss out on qualification, at a time when the entry bar for major tournaments was higher and there weren't as many small emergent nations and micro-states around to pad out the win-loss ratio.
John Giles won 13 and lost 14 from 36 games as player/manager, though his numbers might have been better if he got to play Georgia and Andorra every other week - as opposed to France the whole time.
One era, however, did live up to pre-Charlton caricature. In a four-year span from 1968 to 1971, the Republic of Ireland failed to win a single match, competitive or otherwise.
John Giles often reminds me that between my appearance (on the scene) and Ireland's losing streak, there may be a connection there
The period is well covered in Eamon Dunphy's entertaining 'The Rocky Road'. A talented schoolboy player and later a Millwall stalwart, Dunphy won the majority of his international caps during this time.
With typical self-deprecation, he later told RTÉ's 'Would You Believe?': "I played for Ireland and was very proud to play for Ireland. But they were lean years. I played 23 times, we only won two of those games. And John Giles often reminds me that between my appearance (on the scene) and Ireland's losing streak, there may be a connection there."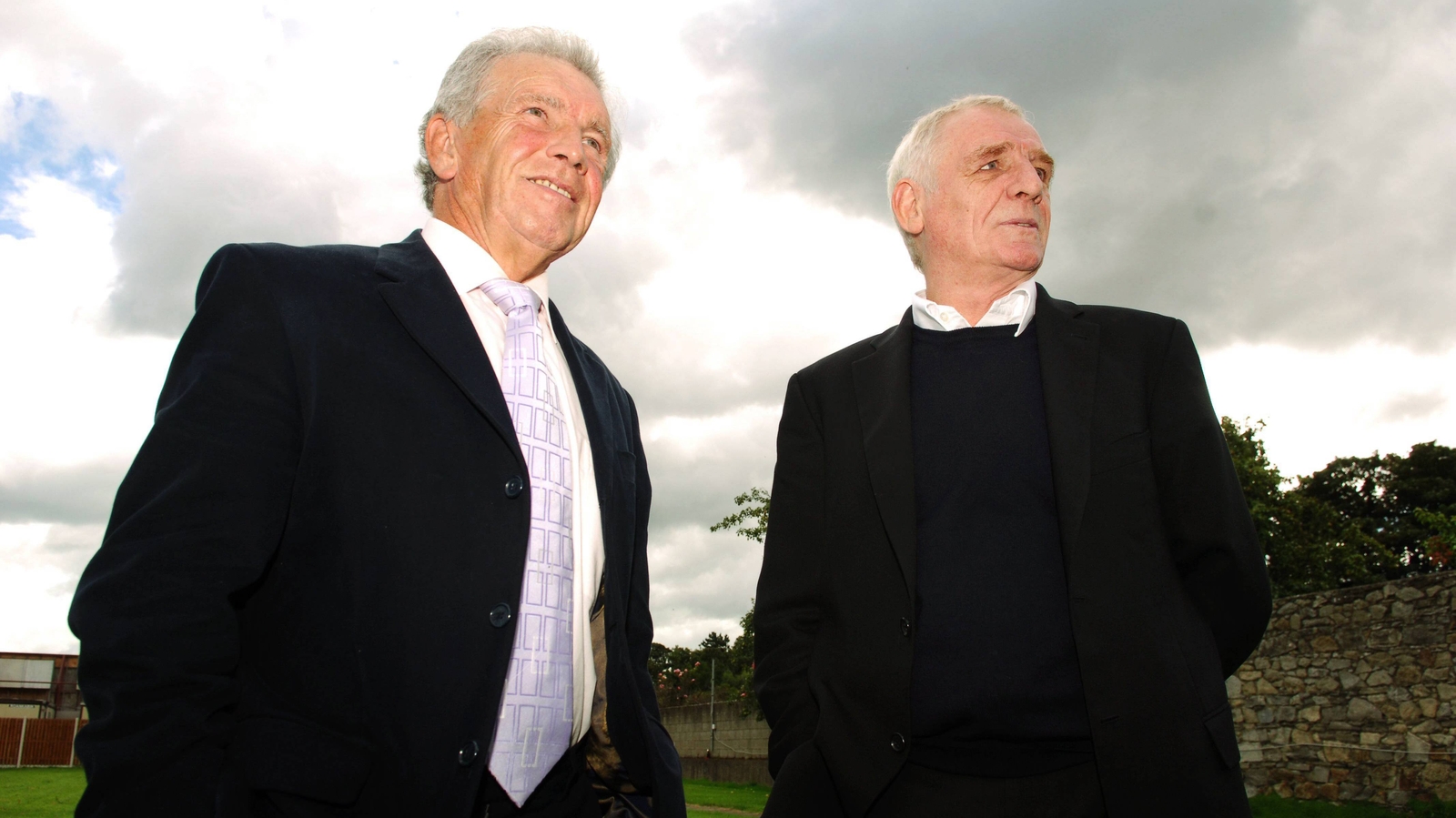 In his book, Dunphy recounts the tale of the shock win over Czechoslovakia in November 1967. As usual come the last game, Ireland's chances of reaching the European championships were already gone by the wayside and the Czechs only needed a draw to reach the spring '68 playoffs at Spain's expense.
Neither John Giles nor Tony Dunne were available. According to Dunphy, the XI picked might well have constituted "the worst Irish team ever", though he wouldn't be averse to a bit of hyperbole.
The hosts led 1-0 in the second half but incomprehensibly seized up in the closing stages. Ray Treacy equalised and in the dying seconds, Turlough O'Connor - an LOI legend though he was at Fulham at the time - headed home the winner.
It's unclear whether O'Connor became a Gary Mackay-style hero in Spain but he told The42.ie a few years back that the Spaniards did send over the obligatory crate of wine in thanks.
Twenty-four cases of good Rioja were sent to the FAI, some of which even made its way to the players. Fernando Hierro and Santiago Canizares would re-pay the favour on the pitch some 26-years later.
"Back at the Prague Hilton, the Blazers were euphoric," Dunphy wrote. "Backs were slapped, hands shaken. Big Charlie (Hurley) held court in the lobby explaining to the eager members of the Fourth Estate how he'd done it. Joe Kinnear and yours truly hit the town. Champagne cocktails were our tipple for a delightful evening."
It was the last of the delightful evenings for a while. This was the second time Dunphy tasted victory in the green shirt, and the last time, though he featured, on and off, for three and a half more years.
One era, however, did live up to pre-Charlton caricature. In a four-year span from 1968 to 1971, the Republic of Ireland failed to win a single match, competitive or otherwise.
In his estimation, the result, though it sparked a great night, had an ultimately damaging legacy.
"Victory over the Czechs gave the Blazers notions. On the journey home, a crazed consensus seemed to form; commitment to the shirt was what mattered. Did Ireland really need Giles, Cantwell and Dunne, who turned up for duty when it suited them? Maybe not."
It would be the Republic of Ireland's final win for 57 months. In between, they played 21 matches in total, drawing six, losing 14, with the other one abandoned midway through due to fog in Dalymount.
Paddy Mulligan, who earned 51 caps for Ireland over a decade made his debut slap bang in the middle of this run.
"It was only when you got in there that you realised just how rough the whole situation was," Mulligan tells RTÉ Sport.
"When I started, we hardly won a game.
"God, the first eight or nine games thereabouts, I don't think I was on a winning team."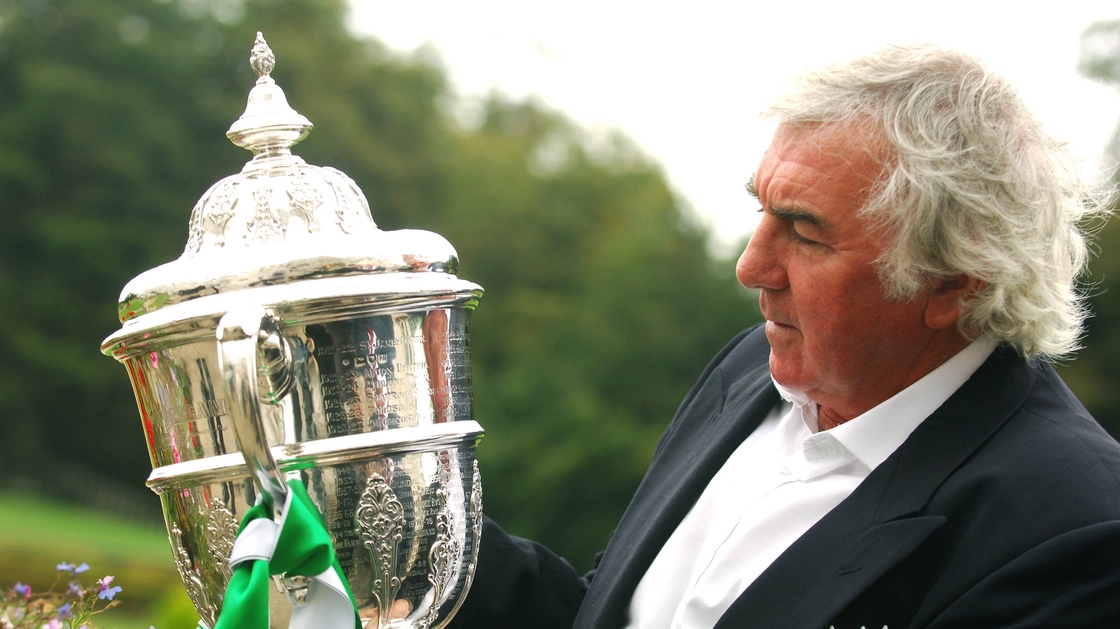 Mulligan, though he'd soon win a lucrative move to Chelsea, was still at Shamrock Rovers at the time, and had just helped the Milltown club complete their historic six-in-a-row of FAI Cup victories when he was awarded his first international cap in the summer of '69.
"It was against Czechoslovakia in Dalymount. We got beaten 2-1. We actually didn't play that badly, that particular day" Mulligan recalls of his debut, adding crucially "considering that we were strung together."
Perhaps the salient point through this era is not that Eamon Dunphy was playing, but that John Giles often wasn't - Dunphy usually functioning as the Leeds United man's replacement.
In total, Giles, easily Ireland's 'marquee' player, featured in just seven of the 21 games across this four-year period (and one those games was abandoned).
A month after wrapping up the 1968-69 First Division title with Leeds, Giles was excluded from the Ireland squad for an away World Cup qualifier against Denmark.
No reason was offered but Giles wrote in his autobiography 'Football Man' that the word filtering down from on high was that the selection committee felt he "didn't try as hard" in a green shirt as he did for Leeds, a fairly standard populist gripe when a star club player proves unable to rescue a misfiring international team.
Needless to say, Ireland lost 2-0 in Copenhagen and when Giles was named in the squad for two subsequent matches in Dalymount Park, he refused to play, partially, he said, because his exclusion from the Denmark game meant he hadn't kept himself fit for summer football, though there was an air of protest about the whole thing too.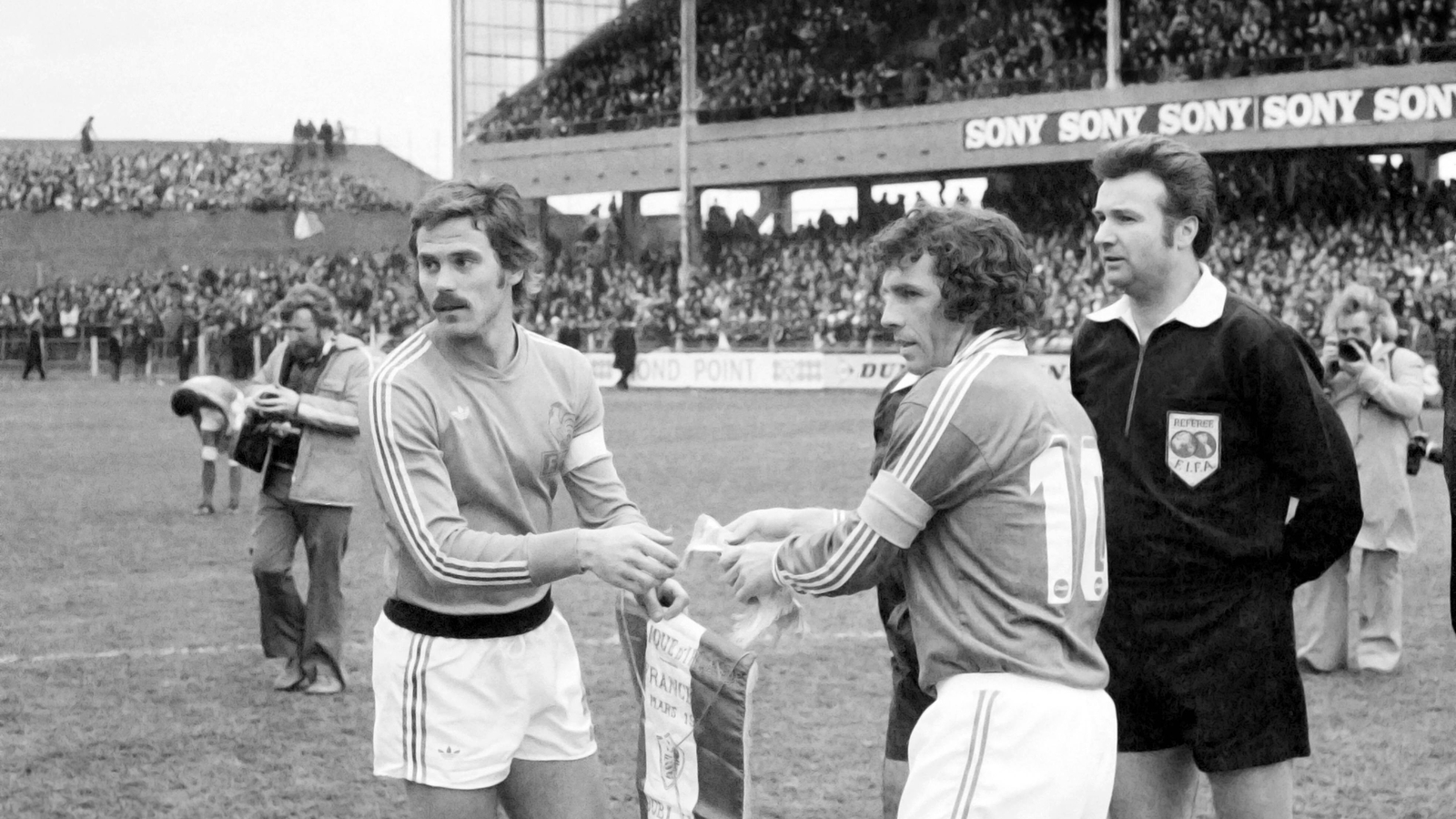 Another masterstroke from the 'selection committee', or 'The Big Five' as they were colloquially known. This gilded FAI quintet has become most synonymous with Ireland's losing streak.
The five-man committee was picked from the ranks of the FAI Council, which consisted of a representative from every League of Ireland club.
In 'Football Man', Giles outlined the exciting career progression possibilities of an aspirant Big Fiver.
"So if a man who ran a local butcher's shop put a couple of grand into his local club, and became that club's chairman and representative on the council, pretty soon he could find himself in the Big Five, picking the Ireland team."
Mulligan paints a picture of a bunch of clueless stumblebums drawing names out of a hat.
"They knew they had XI but they weren't quite sure what XI they were going to pick or what system they were going to play. They hadn't got a clue. You could have seven forwards and no defenders, or seven defenders and no forwards. It was a bit of a crazy situation."
They'd been picking the team for what we might officially term 'donkey's years', even though other nations had long since decided to go the modern route and leave that in the hands of the appointed manager.
Ireland did have 'managers', at least in the nominal sense, before that. The great Johnny Carey had managed the team in qualifying for the 1966 World Cup.
A reasonably successful manager with Blackburn Rovers and Everton – winning promotion with the former, he was infamously and inexplicably sacked by the latter in the back of a taxi, a story which is allegedly the origin of the phrase 'Taxi for...!' – Carey's role with Ireland merely consisted of arranging on the field the eleven players the selection committee had picked for him.
In the heat of a World Cup qualifier in Seville, the stirring phrase "What's your name, son?" found its way into one Carey's team-talks, aimed at one of the young Irish players. This was not because, like Jackie Charlton, he was bad with names, but because he genuinely didn't know the lad.
The 'manager' was a glorified 'go-between'. The Big Five held sway.
In dropping Giles, however, the Big Five had over-played their hand. Like Michael Collins, they had signed their own death warrant. It was the catalyst for change and at the back end of 1969, the players began to agitate.
On the morning of a friendly against Scotland in autumn 1969, Giles called a meeting of senior players in the Four Seasons Hotel. It was agreed that Dunphy would compose a letter outlining the players' demands, namely that the manager would pick the team. The threat of a strike hung in the air.
In the end the compromise that was reached would be that the Big Five would pick the squad and the manager would select the team.
That manager would be Mick Meagan, a recently retired Irish international and widely respected defender who won a League championship with Everton in 1962-63.
While the players from the era speak well of Meagan and the reforms he initiated during a difficult era, the results don't bear out any improvement. If anything, they got worse.
He managed Ireland in 12 matches between 1969 and 71 without a single win. Three games were drawn, the rest lost.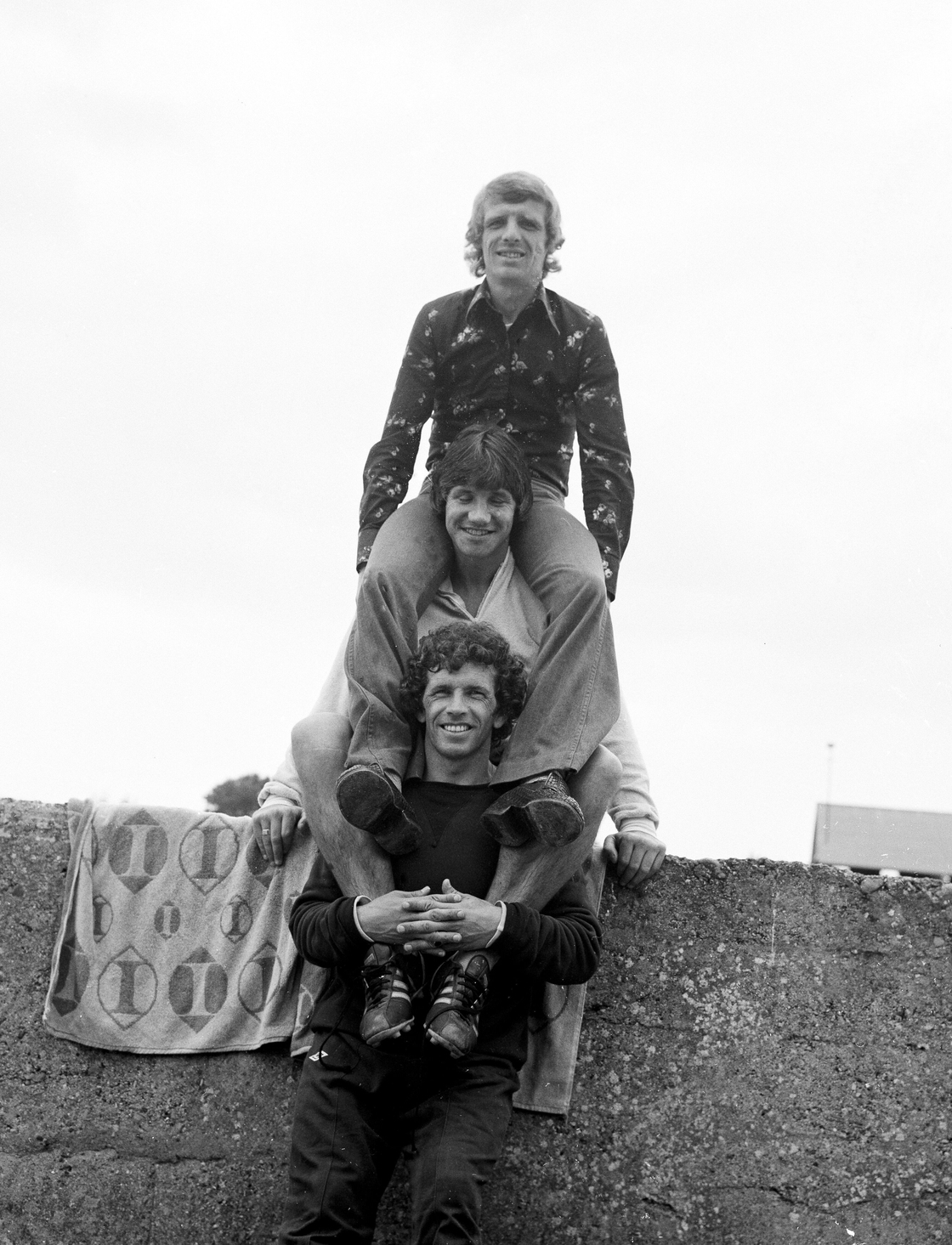 The main mitigation is the quality of the opposition. No hint of a minnow to come along and offer some respite.

A roll call of nations who dismissed Ireland in those years includes Italy, West Germany, Czechoslovakia, Poland and Hungary (the latter two being powerful forces in those days).
How did the national media react to this seemingly unending stream of defeats? Though Dunphy recalls sniping in the press from members of the deposed 'Big Five', Mulligan stresses that it was a different era in that respect.
It was a more innocent time. Rolling sports news was decades away and the papers didn't hunt managers for sport. Losing a football match was not deemed worthy of a national inquest. Ireland 'did not expect'. Soccer coverage was left in the hands of soccer writers and they were usually measured enough in their assessment.
"It was a different era. The media were absolutely fabulous," insists Mulligan.
"The likes of Peter Byrne from the Irish Times, the likes of Noel Dunne, Seamus Devlin, Derek Jones, all of these people were very honourable men.
"They weren't looking for any angles. They were just reporting on football completely and they were giving their opinion on a game. They were constructive in their criticism."
Dunphy had a slightly different recall. After his final game for Ireland - a 4-1 home loss against Austria in May 1971 - he remembers Peter Byrne unloading a stream of adjectives – "pathetic, pedestrian, puerile" - in the Irish Times and suggesting that if Ireland were going to go down like that, they may as well do it with locally based players.
Ten of the eleven players selected for the away match against Austria in November were playing for League of Ireland clubs. They lost 6-0.
Dunphy, as we know, not a lover of the domestic game, was inclined to play up the role of League of Ireland boosterism in the Irish team's struggles.
The Big Five were, by definition, League of Ireland men and harboured, according to Dunphy, a bias towards players from their own patch. They had excessive faith in the ability of LOI players to deliver at international level.
Paddy Mulligan, whose time at Shamrock Rovers was considerably happier than Dunphy's, sees it very differently.
'When I was playing League of Ireland, what would irk some of us is that we'd be playing very well, and wouldn't get a look-in. And players playing in the Second or Third Division in England would be getting picked.
"And you'd be saying, 'surely, I deserve a chance, at least a chance, to show what we can do.' And fortunately, the likes of myself and Al Finucane did get a chance."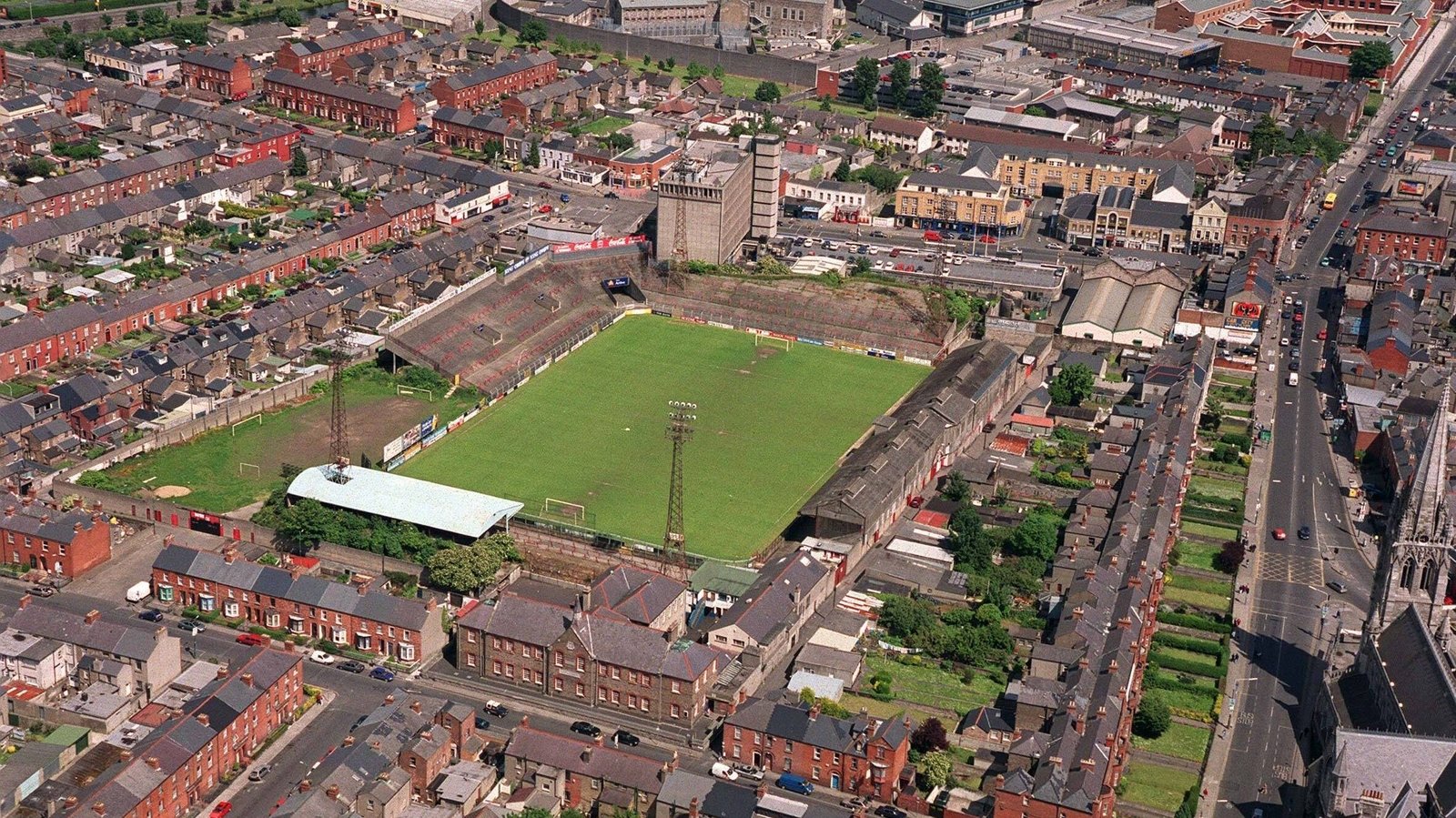 Liam Touhy was manager of the Ireland team by now, his first game in charge being the debacle in Linz.
But from that all-time low, Ireland would improve. The weather began to break in '72. They beat a West German Olympic XI 3-0 in an unofficial game in April.
Then they beat Iran and Ecuador on an intriguing little jaunt down to South America for the Brazil Independence Cup. They lost only narrowly to Chile and Portugal in the same competition. Home-based luminaries Mick Leech and Turlough O'Connor grabbed key goals on the trip.
Most significant of all, was the 2-1 World Cup qualifier win over France in Dalymount Park in November, Ray Treacy scoring the winner with a clever glancing header.
Mulligan credits Touhy with triggering a revival.
"Liam was absolutely supreme in everything he did. We had a great victory over France in Dalymount Park in 1972. Be under no illusions, this was a great victory because French football was on the up and within seven or eight years, they were one of the top teams in the world.
"His man-management skills were brilliant. He knew exactly how to deal with people. Apart from that, his knowledge of the game was second to none, absolutely ace.
"I would have loved to see Liam Touhy in the English First Division, or the Premier League as it now is. I would have loved to see him at that level. I've no doubt how good he could have been."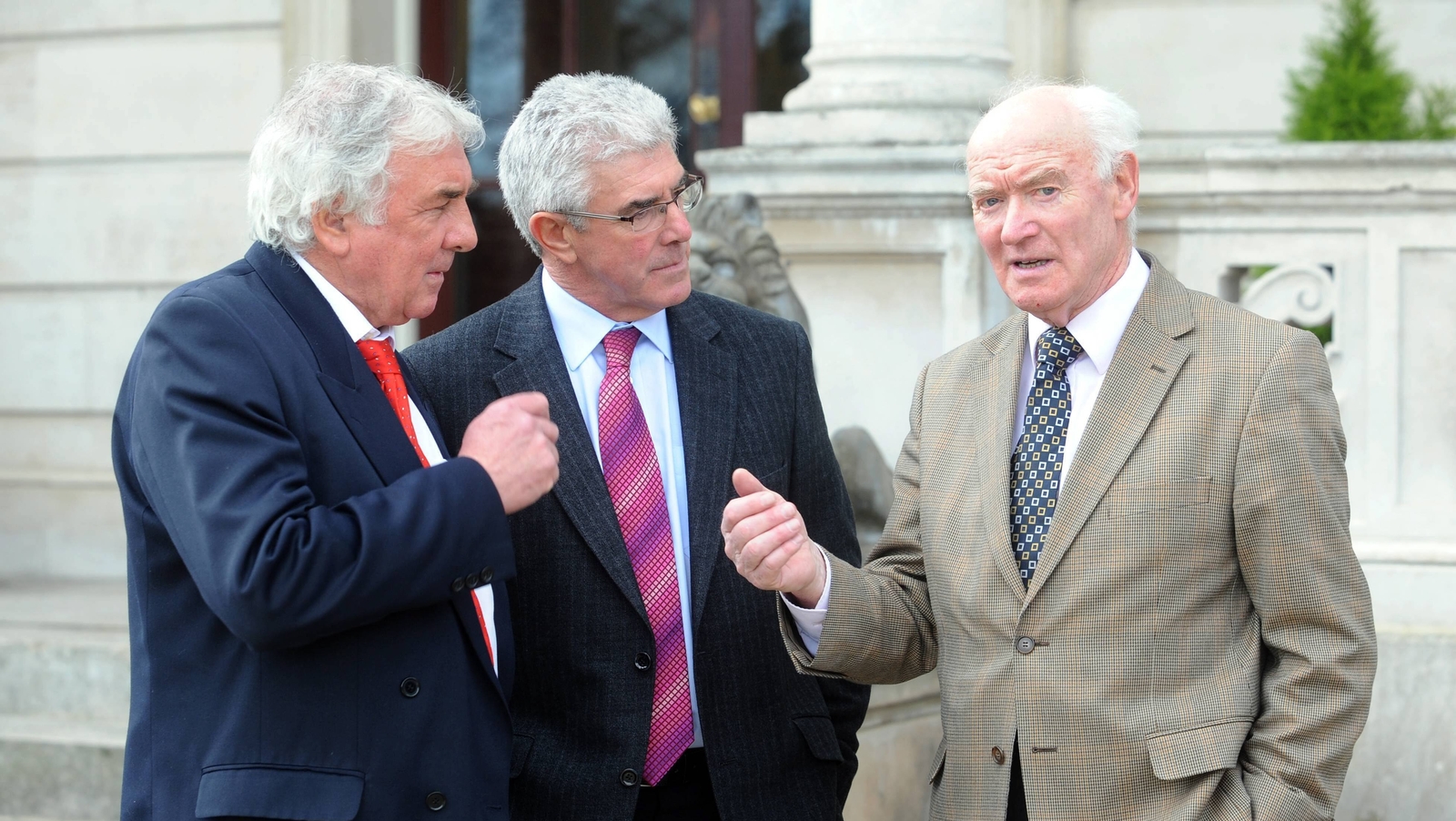 Soon John Giles was appointed player-manager and things stepped up another notch. A new professionalism had arrived, as had a host of talented young players, mainly congregated around Arsenal.
First Liam Brady, and later David O'Leary and Frank Stapleton, emerged from the youth ranks at Highbury, becoming the standard-bearers for a team that won the FA Cup in 1979 and lost the Cup Winners' Cup final on penalties the following year.
As a shaggy-haired 18-year-old, Brady made his debut in the famous game against the Soviet Union in October 1974, one of the most celebrated Irish performances of all-time and possibly the most memorable international match ever played at Dalymount.
Don Givens, now a leading light at title challengers QPR, scored a superb hat-trick and Ireland's Euro '76 campaign was off to a cracking start.
We were into a new era with the Republic of Ireland competing seriously for qualification.
Unfortunately, we were also into an era when the International Society of Referees decided they didn't like Ireland much and sought to stymie them at every turn.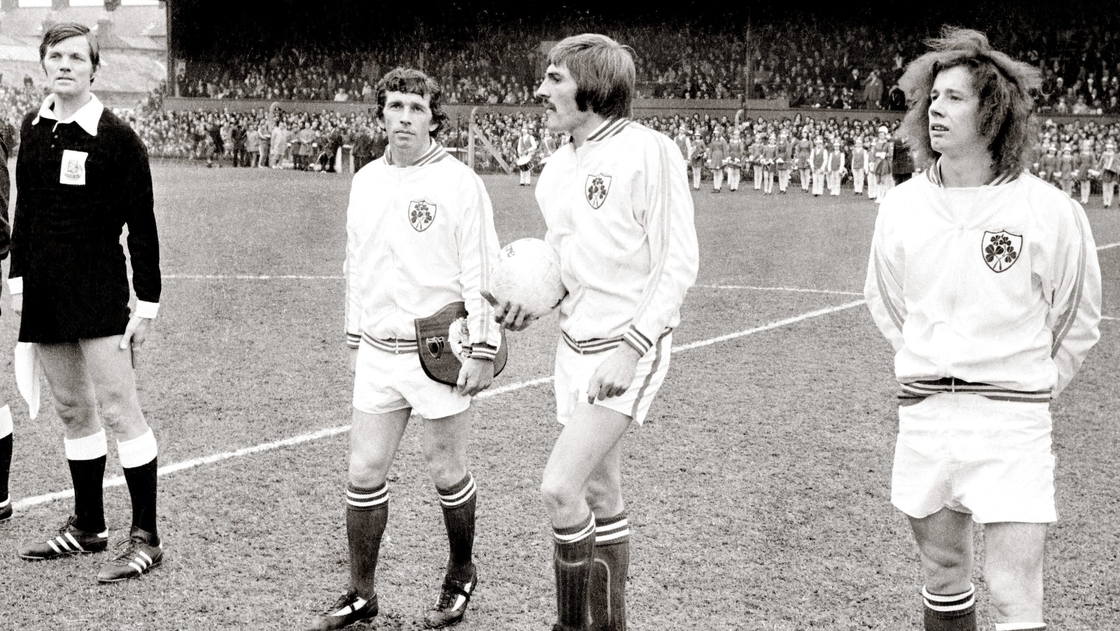 That was the story of the late 70s and early 80s.

These were 'The "I still can't understand how that goal was disallowed" years.'
Horror stories abounded from Paris, Sofia and Brussels.
Giles later observed that you could only be properly confident that an Ireland goal away from home had been let stand once you saw it written down in the paper in the next day.
"We really were very unlucky not to qualify for the World Cup in Argentina in '78," remembers Mulligan. "We got robbed in Paris and robbed in Sofia.
"It's 0-0 at half-time in Paris and we're in a great position. We've played well, we've quietened the crowd, the French team had the likes of Platini and Rochetau and Didier Six.
"We got a perfectly good goal, Heighway got to the end-line, pulled it back and Frank Stapleton knocked it in the net. And they gave offside for Gerry Daly who was standing in an outside right position on the touchline. He could not be interfering with play.
"We beat France 1-0 in Lansdowne with a fabulous performance, Liam Brady got a wonderful goal. But then Bulgaria did us as well in Sofia. John Giles had a goal disallowed, for what I don't know. Nobody knows. I'll go to my grave and I still won't know how it was disallowed."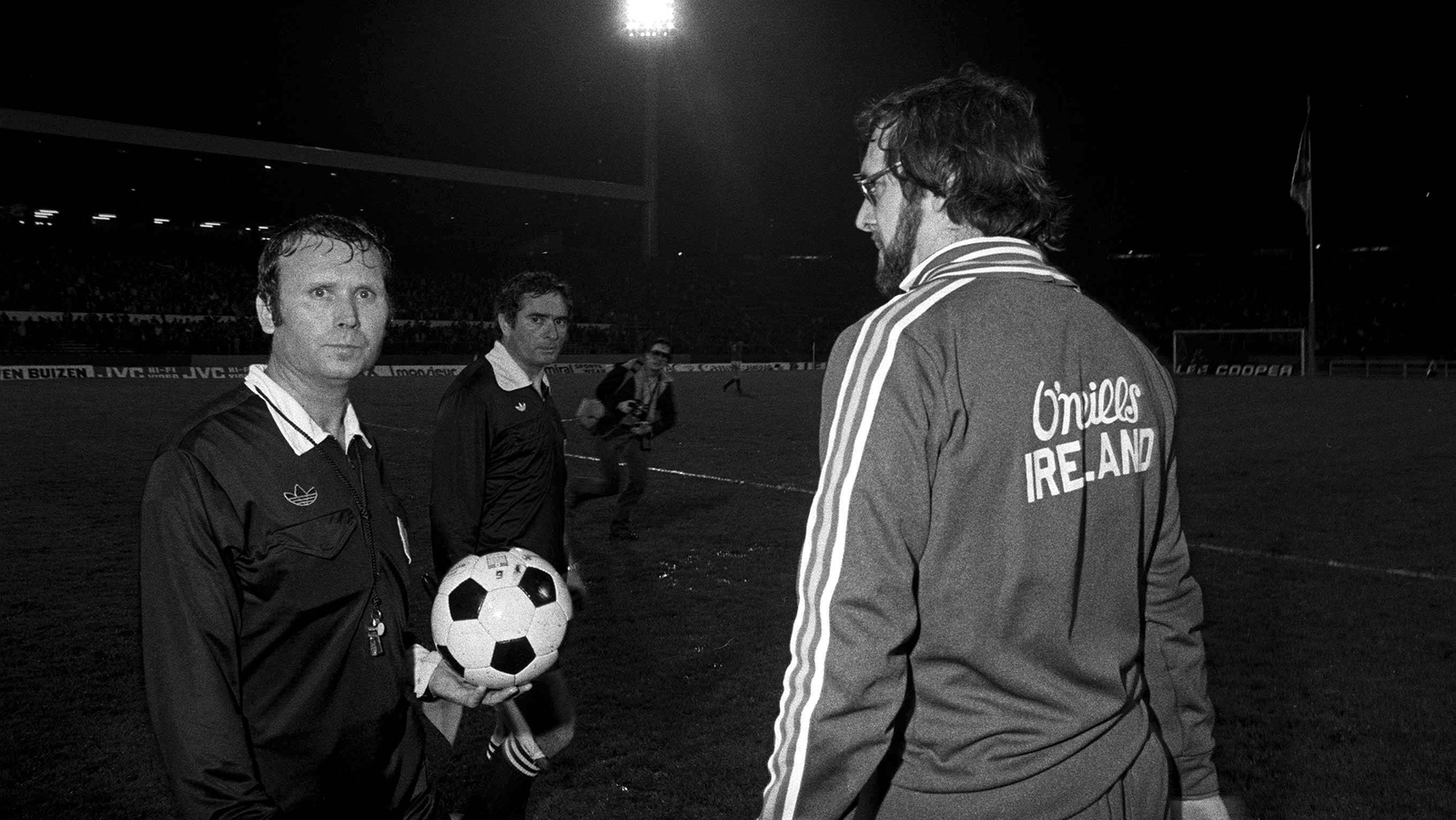 It happened so often that players from that era are inclined to suspect there was more to it.
The Italians call it 'psychological slavery', whereby referees are, unconsciously, pre-disposed to favour the bigger clubs. Or as some of the more blunt Italian football fans might explain it, why Juventus got all the calls (other even more compelling explanations for why Juventus got so many beneficial refereeing decisions were to emerge later on).
Eoin Hand, who succeeded Giles as manager in 1980, told this writer he suspected FAI hospitality, or lack thereof, might have been a factor.
"Their treatment of visiting referees would have been nothing compared to Belgium or France or England. So many there was a little bit of that in it… 'Oh well, we won't give any decisions to the Irish…'"
Mulligan, who played his final game for Ireland in 1979, says the respect that Ireland had earned by the 1990s was in short supply in those years.
"We were the minnows then you see. We weren't supposed to qualify for World Cup finals or European championship finals. We were only little Ireland.
"The attitude was, 'sure it's only Ireland, they're no use anyway'. A few games I played in, the referee would want to be taking a long, hard look at themselves.
"And that's why it was great when Big Jack came along. Whether you agreed with his style of football was immaterial. The fact is we were put on the map. All of a sudden, there was a lot of respect.
"If you look at it from the time that Jack's team qualified for the Euros in 88. You look at referees' decisions from '88 up to now! Are they as blatantly against Ireland or not? I don't think so."