Jim Beglin says that Jack Charlton's old-fashioned philosophies were initially dismissed when he took the Ireland job, but that very soon everyone got on board.
The 1966 World Cup winner passed away on Friday aged 85.
During his time in charge of the Boys in Green, he brought the national side to the quarter-finals of the World Cup, and back-to-back finals tournaments, as well as a first appearance at the European Championships.
Speaking on RTÉ Radio 1's Saturday Sport, Beglin, who won 15 caps for his country before having his career cut short by injury, admitted that he was one of the sceptics at the start of what would prove to be Ireland's most successful era.
"We were all a little suspicious of Jack's motives," said the Waterford-native.
"He had a very different way of playing. He had a real plan in how we were going to approach things, and a lot of it was to do with long-ball football.
"The lads were kind of laughing at that, and they weren't taking it seriously, initially. But very quickly, within three or four games, people began to realise that there's method to the madness here; this guy really knows what he's doing.
"For me it was the most simplistic form of football I'd ever experienced in all the managers I'd played for, and what it produced for Ireland was absolutely spectacular."
The Charlton-era opened with a friendly against near neighbours Wales on Lansdowne Road in March 1986.
But even before the squad had met up, Beglin, and some of the other leading lights, bumped into their new manager at Manchester airport.
Although the meeting very nearly didn't happen.
"All the Liverpool and Manchester United players would meet on Sunday night at Manchester airport before we flew across to Dublin," explained Beglin.
"I remember Jack walking in, and he took a look at us all and just walked past us; he didn't seem to recognise any of us!
"I think it was Frank Stapleton who got up and brought him back and introduced us to Jack. Before anything else happened, he said, 'can anyone loan us a tenner for a bottle of whiskey?' I think Ronnie Whelan gave him the tenner.
"I think we knew the type of character that was there. He wasn't overly hard, but he didn't accept anything second-best in terms of what he demanded as a manger.
"If you weren't delivering what he required, you'd soon know about it. He obviously had great playing experience, and managerial experience from the First Division in England at that time. He moved that on brilliantly to the international side of things.
"I think he probably innovated a style that hadn't really been seen before. The Norwegian guys were doing something similar, but Jack took it to a level that was so successful; I think it shocked people around the world.
"Ireland were a properly awkward team (to play) at the time, and feared. And that was all down to what Jack installed."
READ MORE
---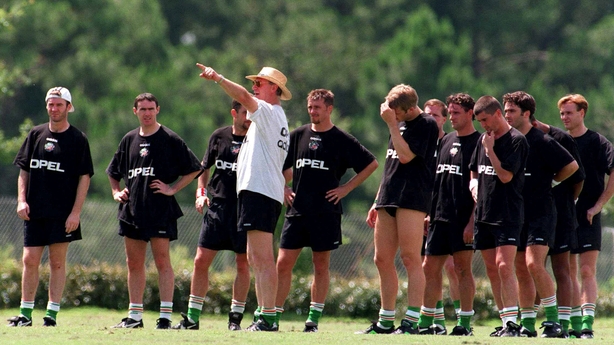 On the lighter side of things, the Waterford-native remembered that Charlton could sometimes forget a player's name, but that he'd find a way of getting the message across.
"He had a struggle with names all the way through,' he continued.
"I remember his first team selection and he said, 'in goal: Packie Bonner. At right-back we'll have the lad from Oxford (Dave Langan). At left-back,' and he was pointing at me, 'the lad from Liverpool.'
"And he called me 'Jim Belgium!'
"Once you realised Jack's purpose was strong, and his managerial idealism was all there, you bought into it. All the lads did, and he got everything out of the players that were there.
"He had a command about him, he had an authority about him. He could be a bully; if you made a mistake he could really let you know. That's all part of the game, or at least it was then.
"Most importantly of all, Jack, all the way through, had everybody's respect."