The sporting and wider world is waking up this Saturday to the sad news of Jack Charlton's death at the age of 85, with Paul McGrath, the FAI and Leeds United among those to pay their respects.
FAI President Gerry McAnaney said: "I know I speak on behalf of everyone involved in Irish football and everyone in Ireland when I extend our sympathies to Pat and the Charlton family. Thanks to Jack, they are part of our family now as well and we will never forget what he did for our game and our country.
"He transformed our sport. He changed the way we played football, of course, but he also changed the way the country looked at Irish football. He gave Ireland a team to be proud of and the country took him to our hearts in return. Ar dheis Dé go raibh a anam dílis."
Former Ireland international and current interim FAI deputy CEO Niall Quinn said: "I'm sure I'm not the only Irish person who shed a tear or two this morning. I'm devastated. I am finding it very hard to put into words what Jack meant to the whole country, not just to me and to those of us lucky enough to have played for him in an Ireland shirt.
"Jack Charlton led the band. He brought us, as a players and fans, to places we never thought possible beforehand and gave us so many precious moments. He changed lives. For his players, he gave us the best days of our lives."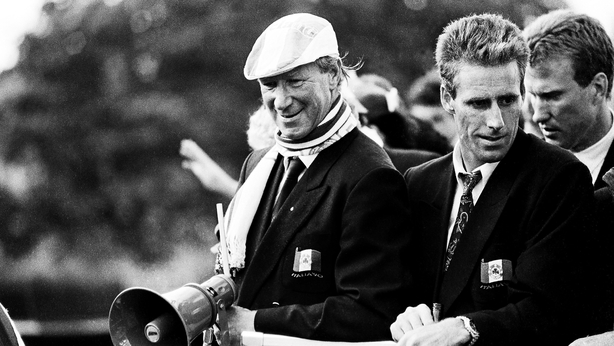 Captain when Ireland reached the World Cup quarter-finals at Italia '90, Mick McCarthy last spoke to Jack on the day after he had celebrated his 85th birthday in May.
"I loved the bones of the man, I am devastated with this news and my heart goes out to Pat and the family," said Mick. "Jack's passing will touch Ireland, England and the football world but the loss to football will be felt in Ireland more than anywhere else.
"English fans will always remember Jack as one of their World Cup winners in 1966 but what he did with Ireland will, I suspect, mean even more to our fans and the country.
"He turned a really good team into a team that qualified for tournaments and made an impact at them. He changed my life, he changed everything for all of us who played for Ireland and just look at the memories we have."
One of Charlton's greatest servants on the field was Paul McGrath and the former centre-half and midfielder tweeted a touching tribute to Charlton.
Absolutely gutted 😢

Father figure to me for 10 years, thanks for having faith in me. Sleep well Jack, Love ya 💔

Thinking of Pat, John and Peter at this sad time 💚 🇮🇪 ☘️ #thanksforthememories pic.twitter.com/qstCVbCK4C

— Paul McGrath (@Paulmcgrath5) July 11, 2020
Former Liverpool midfielder Ray Houghton, who was handed his Republic debut in Jack Charlton's first match in charge of the side in 1986, told talkSPORT: "He was a larger than life character."
"The word legend is used too much in football but not for Jack, for what he's done domestically with Leeds, winning the World Cup, which he should have been knighted for, I've still never understood that, I think that's an absolute disgrace and the fact that he did so well with Ireland.
"He changed everything about Irish football because there was a stage where we hadn't qualified for tournaments, we had some great players and very good managers but didn't quite over the line.
"Jack came in and changed that mentality, got us through two World Cups and one European Championships. His legacy within Ireland is absolutely huge."
---
READ MORE
Charlton was a one-club man throughout his playing career, and Leeds United rightly described the former centre-half as a club legend.
#LUFC are deeply saddened to learn club legend Jack Charlton passed away last night at the age of 85

— Leeds United (@LUFC) July 11, 2020
Match of the Day presenter Gary Lineker spoke of Charlton's "infectious personality" as well as his incredible football career.
Saddened to hear that Jack Charlton has passed away. World Cup winner with England, manager of probably the best ever Ireland side and a wonderfully infectious personality to boot.  RIP Jack.

— Gary Lineker (@GaryLineker) July 11, 2020
Manchester United is the club of is brother and fellow World Cup winner Bobby, the Red Devils sent their deepest condolences to the family.
We are extremely saddened by the passing of Jack Charlton, brother of Sir Bobby and member of England's 1966 World Cup-winning team.

Our deepest condolences go to all the Charlton family for their immensely sad loss. pic.twitter.com/rkVjsYDVSF

— Manchester United (@ManUtd) July 11, 2020
He managed Sheffield Wednesday and the Owls were another club to pay tribute to a legend.
Everyone at Sheffield Wednesday is saddened to learn of the passing of club legend Jack Charlton. RIP pic.twitter.com/IK3OjZp9hu

— Sheffield Wednesday (@swfc) July 11, 2020
Another of the club's he managed, Middlesbrough, said: "Middlesbrough FC are saddened to hear the news. Jack was a true gentleman and was liked by everyone who met him.
"He had a great playing career and was a very successful manager, particularly at Middlesbrough, where he guided us to promotion in 1974.
"Our thoughts are with Jack's family and friends. He was a great football man and he will be sorely missed." 
League of Ireland players like Dundalk's Gary Rogers also spoke of the impact he had on the Irish nation.
They dont make them like Big Jack anymore, a proper legend loved by all, he provided a nation with it's greatest sporting memories that would last a lifetime.
Thanks Jack RIP

— gary rogers (@1garyrogers) July 11, 2020
President Michael D Higgins led tributes from Irish politicians to the "legendary sporting icon".
In a statement, the President said news of the death had "been received with great sadness by those of us who took him to their hearts as he brought Ireland to some of our most celebrated moments in Irish sporting history".
"He leaves a legacy of outstanding leadership of a group of players of many diverse talents, which he moulded into the successful team that captured the imagination of the nation.
"It was not just the success on the field of play, Jack's endearing popularity also had much to do with the warmth and personality of the person who quickly became such a legendary sporting icon."
Tributes have flowed for the late Jack Charlton from his former players, family and friends, and Irish political leaders. pic.twitter.com/EkgkiRXXYV

— RTÉ Sport (@RTEsport) July 11, 2020
Taoiseach Micheal Martin tweeted: "So saddened to hear of the passing of Jack Charlton who brought such honesty and joy to the football world. He personified a golden era in Irish football-the Italia 90 campaign being one of pure joy for the nation. He gave us magical memories. Thank you Jack."
The Minister for Media, Tourism, Arts, Culture, Sport and the Gaeltacht, Catherine Martin, and the Minister of State with Responsibility for Sport and the Gaeltacht, Dara Calleary also expressed their condolences to Charlton's family.
Minister Martin said: "Jack Charlton was an iconic figure in Irish life, whose influence was felt far beyond Irish soccer or the sports press. The heady days of Italia '90 are a placemarker in Irish history and at the heart of it all was Jack Charlton, his natural charm and Northumberland wit instilling in so many of us an enduring affection for Irish soccer and the Boys in the Green."
Minister of State Calleary said: "He was a regular visitor to my home town of Ballina where he had a home, he loved fishing and helped to promote it in the region, and he was a great supporter of local activities. We will remember him with great fondness and our thoughts and prayers are with the Charlton family in their grief."
Sinn Fein leader Mary Lou McDonald described his as "Ireland's most beloved English man".
Jack  Charlton was Ireland's most beloved English man. Sorry to hear of his passing. He kept 'em all under pressure and kept us all cheering the boys in green on. Ar dheis De go raibh a anam.

— Mary Lou McDonald (@MaryLouMcDonald) July 11, 2020
Geoff Hurst, the hat-trick hero of the 1966 World Cup final, paid tribute on Twitter to his former England team-mate.
He said: "Another sad day for football. Jack was the type of player and person that you need in a team to win a World Cup.
"He was a great and lovable character and he will be greatly missed. The world of football and the world beyond football has lost one of the greats. RIP old friend." 
Former Ireland defender Mark Lawrenson tweeted: "What a Man - They don't make guys like Jack Anymore.."
He shared a picture of himself with Charlton, adding: "We'd beaten Scotland 1-0 & were on our way to the Euros - I'd Nicked a goal & Jack came on to the pitch to Bollock me ..!!!"