Dundalk head coach Vinny Perth says the improvements in pre-season have made him the most confident he's ever been going into a new League of Ireland season with the club.
The defending SSE Airtricity League Premier Division champions kick off their 2020 league campaign against Derry City on 14 February, five days after the curtain-raising President's Cup Final against Shamrock Rovers.
Speaking to RTÉ 2FM's Game On as the Lilywhites get their pre-season underway, Perth gave an insight into the preparation Dundalk's players and staff have been putting in.
"We introduced a new thing this year where we brought the guys in for three days before Christmas for a couple of tests," he said.
"So a lot of our testing is done now and so I think we're in a very strong position.
"Who knows whether it pays off or not. But it certainly has me in the most confident I've been in the club in the seven years in the first week of pre-season."
Perth added that a review of their 2019 pre-season has fed into their preparation for the 2020 season.
"It's been a really good start to the year for us. We sort of rescheduled things," he said.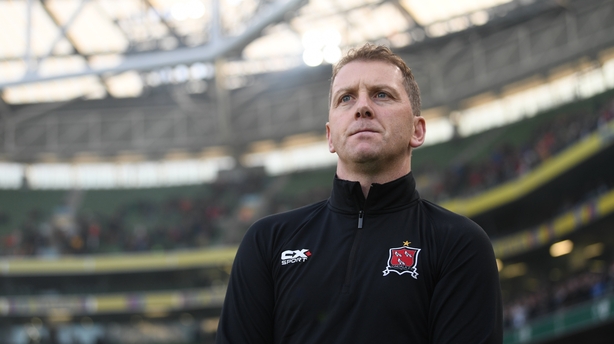 "And I think the one area we're very strong in Dundalk is - and sort of where my style would be - we reviewed last season's pre-season.
"I would've challenged the staff in terms of what we've done, what we've done right and done wrong.
"For want of a better word, we built a document or a presentation among ourselves and we questioned each other.
"And I think we've made areas of improvement. We spotted weaknesses in our pre-season of last year and we've taken them into this year.
"Our strength and conditioning coach Graham Norton brought an app in for the players where they had to log in.
"So all basic stuff but it was more structured. I think our players have come back in such condition now that things like their body fat, weights and their targets in the off-season have all been hit more or less.
"It hasn't been a week of running around or the old sort of long runs because a lot of that's done."
Perth stepped up to the head coach role for 2019, having been assistant to current Ireland under-21 boss Stephen Kenny since 2013.
He admitted that he had felt an initial reluctance to give up some of his emphasis on coaching as he took on more managerial responsibilities.
"I was probably very reluctant throughout the season to relinquish some of them strengths and opportunities to other staff members," he said.
"But I also felt that they needed to understand the way Dundalk had done things.
"I wanted to slowly but surely drift away, for want of a better word, and I'd like to think I got that balance right come the end of the season."
Perth also suggested that he would like to see Dundalk follow in Shamrock Rovers' footsteps by having a reserve team within the League of Ireland.