Saturday's perceived positive result was put to one side as Martin O'Neill looked ahead to tomorrow night's clash with Wales at the Aviva Stadium at today's pre-match press conference.
And just as the conversation ahead of the Denmark match revolved around the previous outing, O'Neill was brought back to last month's clash in Cardiff, where his side were outclassed, losing 4-1 to Ryan Giggs' side.
"We were well beaten. We need to do something about that," said the Ireland manager.
"We'll try to do better," responded O'Neill when asked what lessons he had learned from the dismal outing in the Welsh capital.
"Obviously, they outplayed us in the game. And I think the adjustments that we'll have to make during the course of the match will be very important."
The manager did not, however, believe that his side were caught cold in Cardiff, which might suggest that the requisite planning was not carried out or that the players may have been guilty of complacency for that Nations League opener.
Rather he put it down to the influence of a world-class player, Gareth Bale, and avoidable mistakes by his own players.
"We conceded two very early goals in the match. That doesn't help at all. One being a world-class strike from a world-class player. But they did come from mistakes that we made up the field.
"We were two-down very early in the match, and it was a long way back from that.
"They played very well on the night. The young lad who plays for Chelsea [Ethan Ampadu] did exceptionally well.
"When talented players get on the ball regardless of what age they are, it can only be good for Wales in that sense. So they do have that talent and youthfulness.
"They beat us well on the night, we'll try and do something about it tomorrow evening if we can."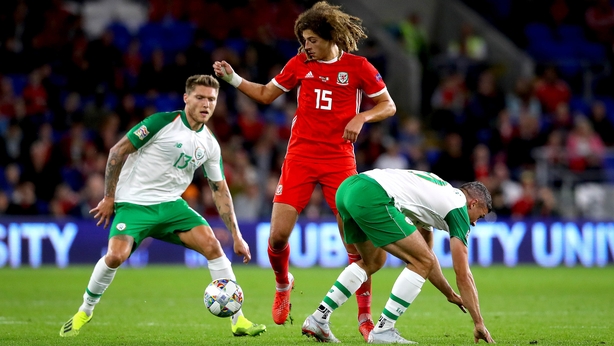 O'Neill was upbeat following the scoreless draw with Denmark on Saturday, however, the manager also admitted that the visitors dictated play for the majority of the game.
And the Derry native agreed that his side can not afford to allow Wales the same luxury in tomorrow's Nations League encounter.
Wales are expected to play with real pace and energy, a tactic that reaped dividends in the first game between the sides, and the manager admits that his side will have to play on the front foot to counteract and negate that attacking threat.
"It's a very fair point," said O'Neill. "We're playing at home, so we'll try to play on the front foot as quickly as possible. We'll try to dictate the game.
"Sometimes it doesn't work out like that. Some players who are exceptionally talented can get a grip of the game and they can force you back.
"We played a really attacking side against Denmark the other evening. Cyrus Christie wanted to get forward and young Callum O'Dowda, the three in the middle of the field plus the two wing-backs.
"Jeff, who plays the role for Burnley just off Shane Long, so it was really an attacking side.
"Yes, we allowed Denmark too much possession, a lot of it in their half, but sometimes we have to start making inroads, trying to close them down into their goal and getting possession."
Ireland continue to miss several key players, with Seamus Coleman, Robbie Brady and James McCarthy on the long-term injury list, however, O'Neill also acknowledged that Wales have been severely weakened ahead of this return fixture.
Bale was ruled out of the game on Sunday and has returned to Real Madrid, while Aaron Ramsey did not travel with the squad due to family reasons.
Holding midfielder Ampadu and defender Chris Mepham are also ruled out of Giggs' squad.
"Bale's a great player, no question about it, he's proved himself now and he has won the Champions League a few times.
"It must be a godsend for a manager to have a world-class player like that, and Ramsey has proved himself at club level time and again as a top-quality player.
"Those, I'm sure, will be blows for Wales and maybe as a consequence, it should be okay for us in that sense.
"But they'll be able to fill positions, as they did when they got to the semi-finals in the Euros a couple of years ago.
"I keep going back to it, but we have got some players missing who would be very, very normal starters for us and have been out for some considerable time. So we have had to make do for a while now."
The Ireland manager will, of course, be forced to make changes to his own side as O'Dowda has been ruled out.
The Bristol City midfielder was substituted at half-time in Saturday's Nations League encounter with Denmark and has been ruled out of the game with Wales as a 'precautionary matter'.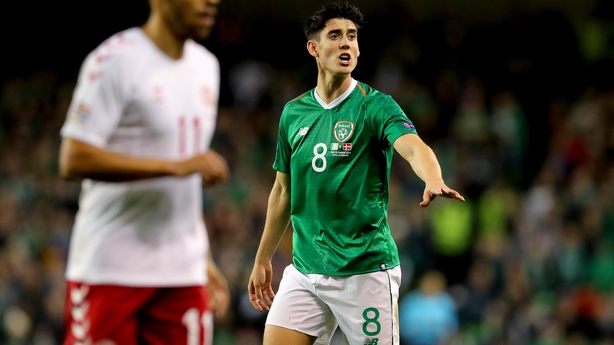 O'Dowda felt dizzy during the first half of the 0-0 draw with the Danes and while that would suggest a knock to the head, the player does not recall at what stage such an incident may have happened.
"We are trying to find out ourselves," admitted the manager, speaking at today's pre-match press conference at the FAI headquarters.
"He is out of the game tomorrow night, precautionary, as much as anything else.
"He wasn't feeling great at half-time, but he can't remember when it actually happened during the course of the game."
The manager also hinted that he might make formation changes ahead of the visit of Giggs' side, potentially reverting to a flat back four.
"We'll get someone else into his position. Obviously, we'll have a look at it and see whether we stay with the same system or go back to a back four, we'll see."
"Well, we didn't concede a goal for a start, so that was a help," said O'Neill when asked whether the back three worked on Saturday.
"There might be only one player who might have felt that he was playing slightly out of position, although he enjoys playing in that position – Cyrus Christie, who ended up been voted man of the match.
"Overall, I think the players don't mind the system and I think they quite enjoy it.
"And they are prepared for both, depending on which we decide to play."
Changes to personnel may stretch beyond O'Dowda, however, as the manager mentioned after the Denmark game that certain players were not playing regularly at their club and might not have recovered fully in time for the Wales game with just a three-day turnaround.
Shane Long is one of those players, as the striker has played limited time with Southampton this season and actually arrived at training last week with an ankle concern.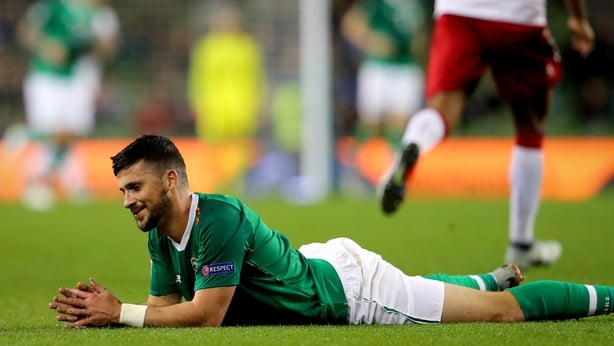 "We'll think about [whether he starts or not]," said O'Neill in relation to Long's involvement.
"He did get through a large part of the game [on Saturday], took a few knocks and bruises so we'll see how he is towards the later part of the day."
Much of the post-match focus on Saturday revolved around Christie's role in the middle of the park, and O'Neill would not rule the Fulham defender out of playing a similar role against Wales.
"I certainly would not dismiss it, I think he did very well," said O'Neill. "He has shown his adaptability and I thought he was excellent in there."
So with all the focus on the Wales match, the manager probably thought that he would not need to worry about Denmark until November when the sides meet in Aarhus.
Until, of course, one of the assembled journalists told him that Danish midfielder Thomas Delaney called his team's football primitive.
"It's not long ago that Denmark were considered a primitive side with a world-class player," retorted O'Neill.
"Denmark, who did exceptionally well in the World Cup, eventually didn't cause us many problems.
"And they can play pretty primitively too. They're a strong, physical side.
They're as physical a side as you'll see in European football so I wouldn't concern myself about other remarks."