I was sitting at my desk on Tuesday morning flicking through Twitter when I came across the below tweets from Bray Wanderers and a reply from Seagulls' defender Sean Heaney.
I can't say I was surprised.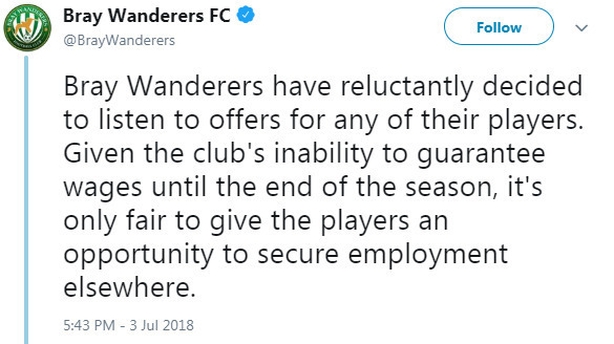 This was on Tuesday morning.
Bray were due to train on Tuesday evening. They didn't. The players were uncertain about the availability of a physio for the session, so decided against putting their boots on.
Remember, we are just a couple of weeks into Martin Russell's official tenure at The Carlisle Grounds.
I understand the players will make a decision on today if they will train or not this evening, and if they'll play in Sunday's match against Sligo Rovers.
They'll hold another meeting and hope to speak to a representative of the club.
The club will allow any player to leave, and will "listen to offers" which suggests the players are free to leave.
What happens if they don't secure moves? What if they don't secure their contracts?
How do they pay their mortgage, or car loan?
I have friends in the Bray squad who are understandably concerned about their livelihoods.
Of course this is not the first time that Bray have been in financial trouble.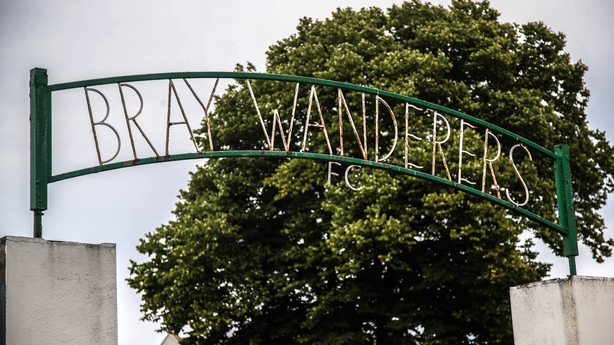 Alan Mathews left the club in April 2015 citing a 'complete breakdown' in communication with the board. Maciej Tarnogrodzki was placed in caretaker charge.
Ex-goalkeeper Darren Quigley was awarded €6,100 by Bray District Court in unpaid signing on fees.
Trevor Croly walked away in July 2015 just two months into his job, when three players' wage cheques bounced due to a clerical error. He had said at the press conference unveiling him as manager that he would resign if there were any financial issues.
Since then they've had four more managers.
Mick Cooke lasted less than a year and then took the club to court after his sacking over the unpaid part of what was remaining on his contract.
Harry Kenny replaced Cooke in April 2016, and the club showed positive signs on the pitch, starting the 2017 brilliantly, they were on course for Europe before more financial problems, accompanied by the crazy 'North Korea' statements, claiming everybody was out to get them.
Kenny announced before the end of last season that he was stepping down.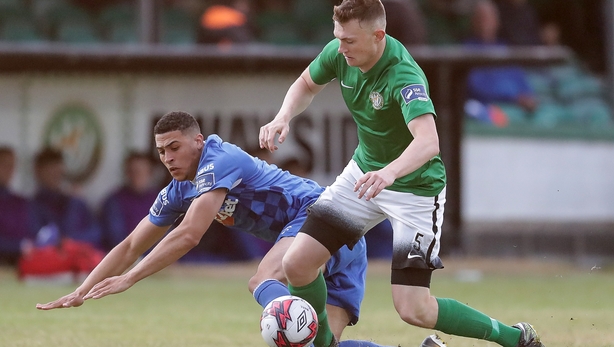 Part of a club statement read "we are very conscious of the circumstances and conditions under which he has had to make this decision".
Interesting words!
Dave Mackey was the next man for the job, he was appointed at Christmas.
He didn't win a single match in pre-season or in the opening nine games for the 2018 campaign and left after being hammered 5-0 by St Pat's.
Assistant Graham Kelly took temporary charge before Russell's appointment last month.
That's SEVEN managers since 2014.
I wonder how long Martin will last?
Section 10 of the 2018 Club Licensing Manual on the FAI website reads.
"The financial criteria – to be met for participating in the 2018 League of Ireland Season and 2018/19 UEFA club competitions season onwards – are set out in this chapter. This means that the financial information in respect of the financial year ending in 2017 will form part of the information to be assessed by licensors for licence applicants to obtain a licence for the 2018 League of Ireland Season and 2018/19 UEFA club competitions season."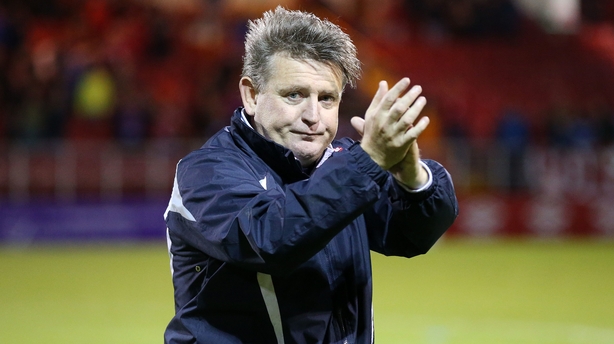 So the FAI's own manual states that financial information from 2017 will form part of their licence assessment for the 2018 season.
I would assume that also applied from 2014 to 2015, 2015 to 2016 and so on.
Yet despite problems every year, Bray have still managed to get a Premier Division licence.
What questions were asked?
What guarantees were given?
On 6 February this year, the FAI announced :
"Following a meeting of the Independent Club Licensing Committee of the Football Association of Ireland, 16 Premier Division and four First Division licences were awarded for the 2018 SSE Airtricity League season."
Bray were one of those clubs.
The possible sale of their ground and building of a new stadium would effectively sweep away all of their financial problems in one go. That would be one solution to this cycle.
The fans, the volunteers, the players, the staff, the league and the history of the club deserves more, but you sometimes don't get what you deserve.
For now, I hope the players and staff can be looked after, and are able to get out and find new clubs on similar or better contracts, it's the least they deserve.
As for Bray Wanderers, watch this space.