Martin O'Neill today offered a passionate defence of his record as Republic of Ireland manager, as he faced the media for the first time since he spoke to Stoke about taking over at the Premier League club.
Speaking after Ireland were drawn against recent foes Wales and Denmark in the inaugural Nations League, O'Neill said the job he has done since taking over from Giovanni Trapattoni in 2013 is viewed far more positively outside Ireland.
On Tuesday O'Neill signed a contract to remain on as Ireland manager until 2020, months after verbally agreeing the deal with FAI chief executive John Delaney.
In the interim O'Neill was heavily linked with the Everton job before the Toffees appointed Sam Allardyce and met with Stoke with a view to replacing Mark Hughes earlier this month.
"I think you need a bit of reflection"
Speaking in Lausanne on Wednesday afternoon, O'Neill said he took some time to reflect on the job after the 5-1 play-off defeat but was "delighted" to remain on as manager of the international team.
"Obviously I was disappointed we lost the game, disappointed we did not qualify for the World Cup, but overall delighted with the effort," said O'Neill.
"I think you need a bit of reflection. John and I, we took a little time. The FAI wanted me to stay on and I was delighted to do so."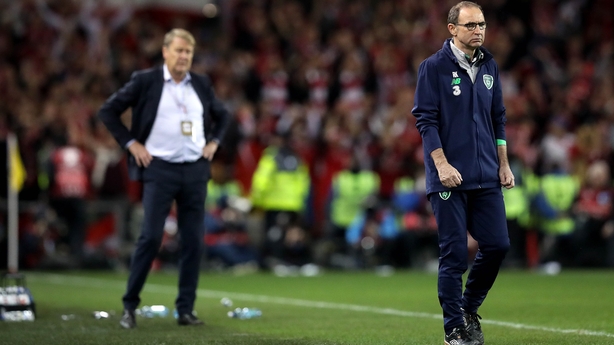 A combative O'Neill then questioned how the job he did in guiding Ireland to Euro 2016 and the World Cup play-offs was perceived differently away from Irish shores - suggesting that was why he was on the radar of Premier League clubs.
"Tell you what might be interesting, the perception of the job I was doing for the Republic of Ireland, like qualifying for the Euros, getting through to the play-offs, getting through from fourth seed to finish second in group and making it through to the play-offs.
"The disappointment of Denmark - we were really trying to go for and get two goals in second half. No point in sitting back in second half and losing 2-1 - the perception elsewhere is very, very positive. Unlike yourself," said O'Neill, who insisted at no point in his career has he walked out of a job.
"You have to check my record. I think John mentioned this about my record at clubs. I don't just disappear after a week. Particularly in this day and age now where managers are coming and going in 6, 7 or 8 weeks. Particularly difficult, I think my record speaks for itself."