FAI chief executive John Delaney is hopeful that Martin O'Neill and James McClean will avoid possible match bans or fines once FIFA disciplinary charges are concluded next month.
FIFA begun disciplinary proceedings last week into the Republic of Ireland manager and McClean following their comments about referee David Fernández Borbalán, who took charge of the 1-1 draw against Austria.
In a frenetic finish at the Aviva Stadium, Borbalán ruled out what would have been a late winner from Shane Duffy and also waved away appeals for a penalty when Jon Walters went down under a challenge from Stefan Lainer.
O'Neill described the Spanish official as being "very poor", while McClean said he was "Austria's 12th man".
Speaking to RTÉ Sport's Tony O'Donoghue, Delaney said they will await next month's decision and is hopeful the pair will escape any further punishment.
"We replied to FIFA's charges, they were registered with FIFA last Friday, and the decision is sometime around the 19th or 20th of July," he said
"I'd hope it's an independent decision that FIFA will make, but I'd hope that there wouldn't be any match fines...I certainly hope not match bans,  but we'll have to wait and see what the FIFA committee decision is."
The pair couldn't hide their unhappiness with Borbalán following the draw at the Aviva Stadium.
"I've seen it back again. It should count, the referee should have given the goal," he said of Duffy's header.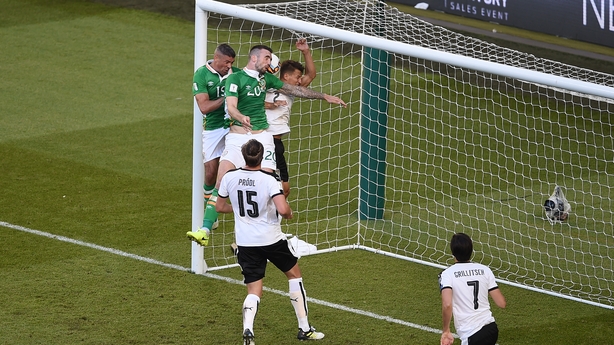 "It is a goal. There is absolutely nothing wrong with it.
"I personally think it typified the referee's performance. He let a lot of things go and if that's the case, then you think, 'let this go'. If he's called a foul on Shane Duffy, I can't see it.
"The lineman thinks he has given a goal and he's almost up at the halfway line before he is called back."
McClean's comments were stronger, as his frustration spilled over after the final whistle.
"I know in this day and age you get fined [for criticising referees], but you watched the game, you tell me," the Derryman said.