John Delaney believes that the Football Association of Ireland have a major financial decision to make over the next 12 months in relation to their outstanding debt and their continued investment in Irish football.
Delegates of the FAI will today receive details of the 2016 accounts ahead of the AGM next month, which will outline how the successful European championships delivered a profit of €4.5 million, while a completion of their bank re-finance deal resulted in the FAI's bank debt now standing at €34 million euro.
Delaney also confirmed that 2016 proved a record year for the association, which resulted in a turnover of over €50 million, and as a result the chief executive believes that the association needs to decide whether to clear their outstanding debts by 2020 or invest further in growing the game in Ireland.
"It was a successful last year 2016, our biggest turnover ever," Delaney told RTÉ Sport's Tony O'Donoghue. 
"We had a turnover of over €50 million, but the key point I think from football's perspective is our banking debt on the Aviva Stadium, [which] is now €34 million.
"Of course it used to be €63 million, so at this stage I think we've demonstrated our ability to pay down debt and 2016 was a very good year for the association, obviously qualifying for the Euros in France.
"I think it reflects well on the association that we now have a very manageable debt of €34 million on the Aviva Stadium and the biggest issue now is do the FAI reduce that €34 million by 2020 to nil or do we in part reinvest bigly, with some big sums into the game?"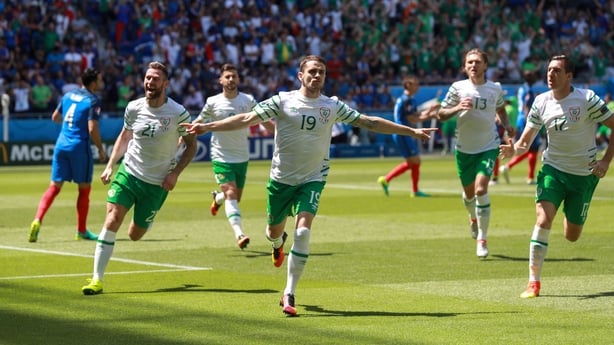 And while Delaney explained that financial plans are not based on qualifying for major tournaments, the chief executive did admit that his own thoughts on the near-future plan may be influenced by the outcome of the ongoing World Cup qualification process as Ireland look to make it to Russia next summer.
"We don't do our finances based on qualifying for major tournaments," added Delaney. "I think we have to get all the facts first, we'll see how the World Cup Qualification goes.
"Please God we'll get to the World Cup next year, we have significant sponsorship and naming rights to be re-negotiated, we have ten-year ticket sale strategies and corporate boxes, so we have a lot of  information to gather over the next six or eight months to make informed decisions.
"So come this time next year we'll put a clear strategy out to our members as to what the next phase of the development of Irish football is and what that reflects in terms of part debt on the stadium or whatever."
Delaney stressed that the association were already investing heavily in Irish football, with last year's figures exceeding €20million, and emphasised that the association were proving very successful in attracting sponsorship and investment into the game, which has led to that record turnover year.
"Twenty million euros went into grass-roots football and underage football last year, so we fund the game significantly.
"The question is how much more do we put into the game or do we reduce our debt entirely and that's a big decision for the FAI board in the first six months of next year.
"When you produce your biggest turnover in the association's history in 2016 that just shows how strong we're developing in sponsorship in terms of summer camps, coach education, grants from UEFA, grants from FIFA, government grants, local authority grants, so there's a good spread of income generated.
"Of course, match-day income too, our season tickets sales and this year in 2017 we expect to pass 15,000 season ticket sales because of the great value we give.
"So I think in general we're increasing our base of revenue generation, it's less dependent than ever, I suppose, on one particular form of income which is good and we're reducing the debt of the association which is key, so I think if you reflect on 2016, it was a very good year for the Football Association of Ireland."
Delaney also confirmed that Niamh O'Donoghue would be the first women to be elected onto the FAI's board.
"I think the real big news for our AGM next month is for the first time the FAI have a woman board member, so Niamh O'Donoghue will be elected next month to the board of the FAI.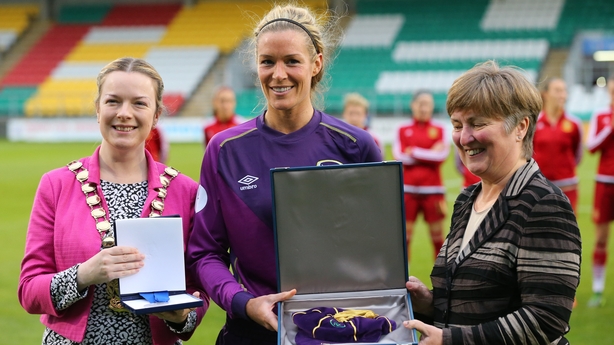 "That will be the first time in the history of the association that we do so. It's the right thing to do, it's something we planned for the last year or two to do anyway.
"I think last year we spent €1.5, €1.6 million on women's football. I was just down at the Gaynor Cup last weekend; there was a thousand girls playing football.
"I've got a role as vice chairperson of the UEFA board, of the UEFA Women's committee... I've just got as well to increase the number of girls who play soccer in this country."