World player of the year Josh van der Flier admitted he couldn't help but revel in the midst of a hard-fought battle against England when the Fields of Athenry echoed around Lansdowne Road.
Robbie Henshaw and Dan Sheehan crashed over for tries in the 61st and 68th minutes, both converted by Johnny Sexton, and the stadium seemed to breath a collective sign of relief, the nerves disappeared and it was clear that that the dream of the Grand Slam was about to come true.
The adopted Irish rugby anthem rang out across the Aviva Stadium and all was good.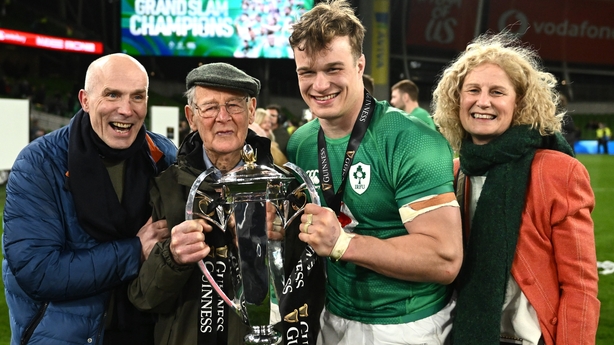 "I was trying not to [enjoy it] but there was a few times I was hearing the Fields of Athenry and the crowd were going mad, it was pretty special," the Leinster back row said following the 29-16 win.
"There were some special moments and I enjoyed them for a split-second and then you just switch back into it and try to get the job done.
"[It's] very special. I don't think it will sink in the whole week.
"I've been trying just to prepare the way I would for a normal game, not think about the consequences of a win, I was just trying to play the game. I'm sure it will sink in soon enough but it's incredibly special.
"It's an unbelievable feeling, just so much pride to play for this country. To do it with this group is incredible. The support has been unbelievable throughout and it's nice to do it for them, and for our families all here at home."
Hooker Sheehan, who was injured in last weekend's win over Scotland, scored two tries, while captain Sexton became the competition's top points-scorer after the first kick of his nine-point haul.
Van der Flier paid tribute to his two Leinster team-mates.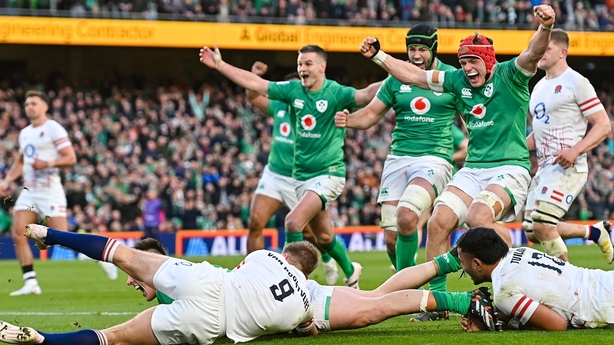 "[Sexton] is a hero, what a man, I'm so happy for him," said the 29-year-old. "To see him going around with the trophies, with his kids, all his family here, he deserves every bit of it and I'm so happy for him.
"[Dan] is some athlete. He took a bit of a knock last week so he was fighting hard to get back fit for this game.
"He was unbelievable. It was a really top performance from him. He's a world-class player and it was great to see him get over the line."
The Six Nations victory sets Ireland up for a genuine Rugby World Cup shot and the Wicklow man believes there is more to come from the team.
"The focus all along has been to keep improving and getting better," he said.
"We'll hopefully push on but we'll just enjoy this for the moment."
Watch highlights of all the weekend's action on Against the Head, Monday, 8pm, RTÉ2 and RTÉ Player.