Andy Farrell declared Johnny Sexton as the best to ever play for Ireland as they capped off a dominant Six Nations campaign with a Grand Slam title.
The Ireland captain was perfect off the tee in the 29-16 win against England, slotting three conversions and a penalty, surpassing Ronan O'Gara as the championship's all-time record scorer on 566 points.
It's a second Grand Slam title for the 37-year-old on the pitch, while he was also involved as an uncapped player in the 2009 success, the latest title being his first as captain.
And after watching his out-half lift the trophy, Farrell had the ultimate compliment to pay his skipper on what was his final appearance in the championship.
"It's unbelievably fitting that, in my opinion, the best player ever to play for Ireland is able to sign off on a Grand Slam on St Patrick's Day, in front of his home crowd," Farrell said of Sexton.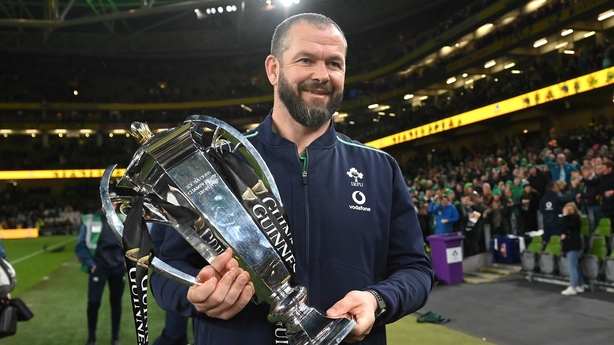 "For captain Johnny here to finish his Six Nations campaign; he's been saying all week that this is what dreams are made of, it doesn't come around that often.
"There's a lot of stars that have aligned over the last eight weeks and accumulated into this evening."
It's a second Grand Slam involvement for Farrell, and a first since taking the head coach job from Joe Schmidt following the 2019 Rugby World Cup.
Under his stewardship Ireland have now added a Grand Slam title to their Test series win in New Zealand, extending their winning run to ten games, and are unbeaten at the Aviva Stadium for more than two years.
And the Englishman struggled to find the words to sum up his emotions after the game.
"I don't know whether to laugh or cry," he said.
"It's a weird feeling at this moment in time. I'm just elated for the boys, just to get it over the line. Because it meant so much for them, especially being here, at home. Only the fourth one in Irish history, you know?
"So we felt a duty that we couldn't let people down. I would say there is a sense of relief to go get the job done, but immensely proud.
"Grand Slams are not just won on nights like this. They're won not just over the eight-week period but all the time that we've been together, we've been building towards this. I'm just glad we got the job done."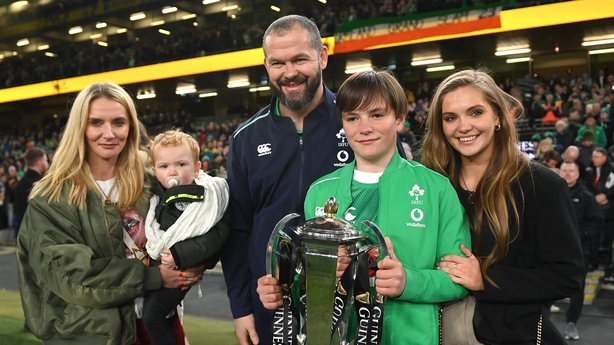 While Ireland outscored the visitors by four tries to one, it wasn't their finest performance of the campaign, leading 10-6 at half time after a first 40 minutes littered with errors, with players after the game admitting to feeling the nerves of the occasion.
But just as they have in their previous four games, Ireland came on strong in the second half and proved themselves to be the fitter, stronger side, and were rewarded with three tries in the final 19 minutes to seal the game and wrap up a deserved Grand Slam title.
"I'm just so glad for the group, it's just so fitting when you look at the year that we've had," said Farrell. "To be able to finish it off like that is so deserving in so many ways.
"Garry Ringrose, getting his 50th last week and he couldn't receive his 50th cap so we've just given it to him now in the changing rooms.
"Josh van der Flier, what a season he's had. What a fitting moment it is to get his 50th cap on such an occasion like that."
The greatest challenge for Ireland is yet to come however, with the Six Nations winners set to have an even larger target in their backs when they turn towards the Rugby World Cup in the autumn.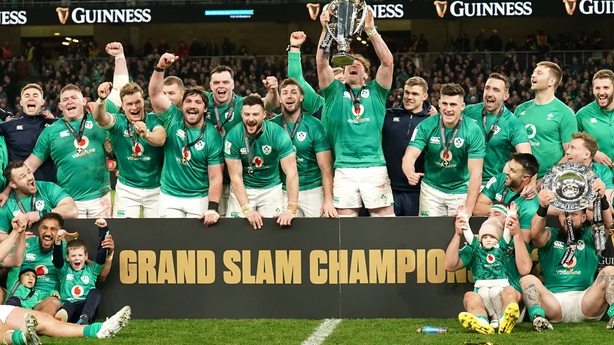 And while Farrell says they will make sure to savour their latest success over the coming days, he expects them to make further improvements to their game before they head to France to try break their World Cup glass ceiling.
"When we dust ourselves down and reflect on this, what is obviously going to stick with us forever is the memory of the togetherness of the group and the adversity that we have gone through, and relished really and come out the other side.
"But, we're a good side that's nowhere reached our potential. I kept saying over the last couple of weeks that that's what we are striving to do.
"Like Johnny said, we'll get a few people back to compete and to train hard and, you know, everyone is going to get better in the summer.
"We'll spend a lot more time together, so we expect our side when we get to the first game of the World Cup to be a lot better than we are. That's the reality."