It's hard to think of any stock in Irish rugby that's risen higher than Ross Byrne's in the last six months.
For more than 18 months it seemed like he was becoming the forgotten man. In the long line of potential heirs to Johnny Sexton's throne, he'd been consistently leapfrogged by younger or flashier models; Joey Carbery, Jack Carty, Billy Burns, Ciarán Frawley, Jack Crowley and even his younger brother Harry.
Always trusted at Leinster to deliver when Sexton was unavailable, he was never truly given the same opportunity at Ireland.
But the closer you get to a World Cup, the more boxes he ticks. Even at the age of 27, he's vastly experienced, with close to 150 appearances for Leinster, and as such a regular in that team, he's acutely familiar with the core of the Irish squad.
On top of that, he's as reliable as anybody off the tee, as his game-winning penalty in the closing stages of Ireland's win against Australia shows.
Having been a late addition to the wider squad on the week of the Australia game, he was also a late addition to the matchday squad when Sexton pulled up injured in the warm-up.
More than 18 months on from his last taste of international rugby, he came off the bench to seal a dramatic Ireland win, and shoot himself right back into contention for a World Cup place.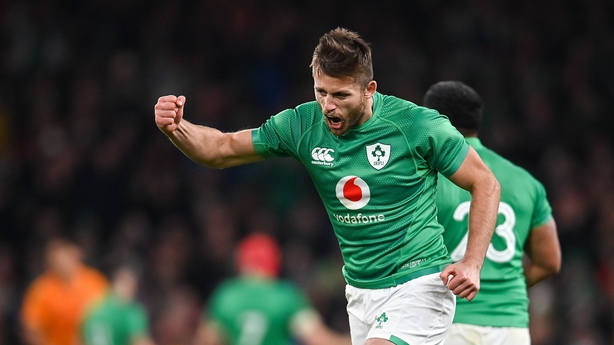 And he admits there were times in those 18 months when he felt his international days were done.
"It definitely crossed my mind, it would cross anyone's mind that the chance was gone," he said.
"But, the only thing I could do was play week in, week out as best I could for Leinster.
"As generic as it sounds, there was no point in me worrying about anyone else. I could just worry about myself."
A few months on from that win against the Wallabies, his Test career looks healthier than ever. He's moved ahead of the rookie Crowley and the dropped Carbery to be Sexton's back-up for last weekend's opening Six Nations win against Wales, and even in his 12-minute cameo at the Principality Stadium he looked sharp, running the attack with real energy in the build-up to their bonus-point try.
After coming in as a late addition to the squad back in November, he's already feeling the benefits of being in camp from the beginning this time around.
"It's great to be in from the start; November was very different, pretty last-minute you could say.
"Whereas to be in from the start now, get full preparation and see how the whole environment works and know the plan inside-out, that's been brilliant.
"As a No 10, you just want clarity. To be in from the start, you get that straight away."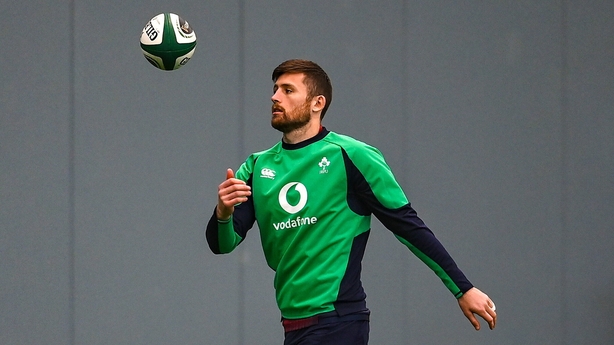 The Irish squad has changed dramatically since his previous Six Nations in 2021, where Ireland were struggling at times to figure their way around Farrell's gameplan, before the first real shoots emerged in the final round that year against England.
Byrne says he sees a huge difference between the squad he last played with two seasons ago and now.
"I think the team has grown massively. You just see how the team have achieved in the last year, they've beaten every team other than France.
"Even what they did in November and in obviously in the summer in New Zealand, and last week as well.
"I think the attack is phenomenal. It's up there with the best in world rugby, I think we probably saw that at times, particularly at the start of the game [against Wales].
"I think we were clinical which you have to be in international rugby but also defensively. There are lots of work-ons from the game at the weekend and there are things we'll have to improve on if we want to beat France but I think overall the team is in a strong position across all areas to be honest.
"I think I have improved. I tried to improve year on year and I think I have improved. A lot of that comes with experience and some of the coaches I've had as well. But it's probably just little things and it's not been one big fix, it's just little things here and there and just trying to get better at that.
"Obviously my strengths as well, it's trying to improve that. Because what you're good at, you've got to make sure you keep improving that as well."
Watch live coverage of Ireland v France (Saturday 2.15pm) on RTÉ2 and RTÉ Player, follow our live blog on RTÉ.ie/Sport and the RTÉ News app, or listen to live commentary on RTÉ Radio 1.
Watch live coverage of England v Italy (Sunday, 3pm) on RTÉ2 and RTÉ Player.