James Lowe says Ireland have to back their skill and fitness when they welcome France to the Aviva Stadium in Round 2 of the Guinness Six Nations this Saturday (live on RTÉ2, RTÉ Radio 1 and RTÉ Player).
It's four years since Ireland last beat France, with Fabien Galthie's side coming out on top in all three of their meetings during this World Cup cycle.
In the immediate aftermatch of Saturday's win against Wales, head coach Andy Farrell asked for his side to stay true to themselves against Les Bleus, who have sucked Ireland into an arm-wrestle at times in their previous meetings, using their superior size to their advantage.
And Lowe says they know they're capable of beating the defending champions if they play the game at their own pace.
"It's imposing a game that we know we can play," he said, of how Ireland can "stay true to themselves".
"It's tight shapes, it's at the line, it's being combative and physical.
"It's very, very easy to say all that, and then you go to France and get walloped in the first few contacts, and you start second guessing yourself. But that's going to happen. It happens in a game where you're going to lose a few battles and have to play a bit smarter.
"But at the end of the day we know we've got a shape that can break down most teams if we get our own stuff right.
"The French are physical, I think it would be silly to say they're not bigger than us. We think we're fitter. If we can get around them, work around into holes and hopefully get a couple of weak shoulders and stay on top of them, it sounds very easy to do but obviously teams struggle to do it. We're just going to go out and play our rugby and see how we go."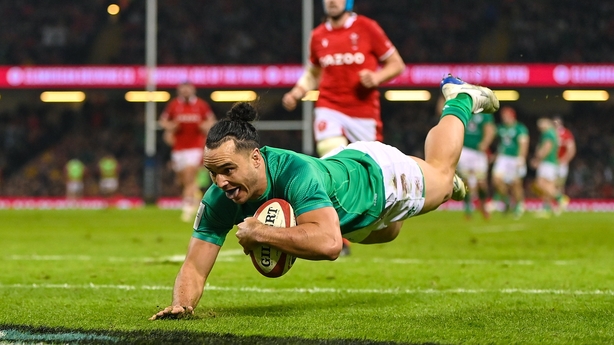 For the first time ever, the world's top two ranked sides will meet in the Six Nations, and both come into the game off the back of bonus-point wins in Round 1.
With Ireland and France on the same side of the World Cup draw, it could also be a precursor for a potential quarter-final at the tournament later this year.
And while Lowe admits a win this weekend would certainly give them extra belief if they were to meet again in October, he doesn't believe it would have much relevance on the World Cup.
We need your consent to load this YouTube contentWe use YouTube to manage extra content that can set cookies on your device and collect data about your activity. Please review their details and accept them to load the content.Manage Preferences
"No, there's still a long time [until the World Cup], but obviously you want to keep building and hold on to momentum for as long as you can," he said, ahead of Saturday's meeting at the Aviva Stadium.
And the wing was quick to dismiss the suggestion that the Round 2 meeting would potentially be an early Grand Slam decider.
"Not really, no, it's the second game of a Six Nations.
"I don't want to get too far ahead of ourselves, and I'm sure they'll be saying the same things. It's the old cliche, one game at a time, and we'll take it like that."
France were unusually sloppy in Saturday's 29-24 win against Italy, needing a big defensive stand in their own 22 to deny Kieran Crowley's side what would have been one of the championship's greatest shocks.
The defending champions had led 19-6 in the first half, but needed a Mathieu Jalibert try (below) on 66 minutes to eventually get them over the line.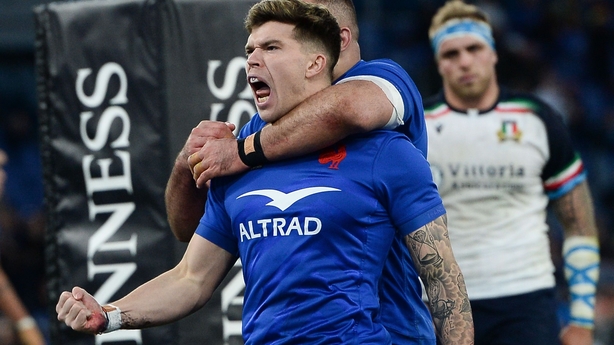 And Lowe believes their scare in Rome will have knocked Fabien Galthie's side right back into shape.
"Obviously it's a whole new beast around the corner," he added.
"They're a world class side, they've shown it for a good couple of years. Their 9-10 combo is pretty scary, their back row is world class, a midfield that's pretty dangerous and a back three that would put the shivers up most teams.
"Individually they've got some pretty good firepower, so hopefully they don't string it all together.
"I know they would be disappointed with their performance against Italy away, and credit to Italy, they fronted up physically. That first half was very messy, I think both sides would say that, and then the second half was a proper Test match. It came down to a few moments that France ended up winning, it was a kick battle, Italy giving away a penalty, went to a maul, got around a corner and Jalibert scored. That there was a telling sign.
"But we know it's a different French beast [this week], the France that we know is going to turn up and we're prepping for that and can't wait for the opportunity to test ourselves against the team that won the Grand Slam last year."
Saturday's win against Wales was Lowe's first appearance since St Stephen's Day, with the 30-year-old having been granted time off in January to return home for personal reasons.
We need your consent to load this YouTube contentWe use YouTube to manage extra content that can set cookies on your device and collect data about your activity. Please review their details and accept them to load the content.Manage Preferences
And after marking his return with a try at the Principalty Stadium, he says he's grateful for the trust shown in him by Farrell, to put him straight into the team after more than a month out.
"I'd told Faz [Farrell] that I had to pop home for a couple of weeks. I had got in touch with Jayo [Jason Cowman, strength and conditioning coach] and all the medicals and everything, we got across everything I needed to do to make sure when I did come back I hit the ground running.
"I came back, straight into Portugal and it was the first time I'd trained with a team for three and half weeks and I felt like I was in great shape. Like I said, I didn't skip a beat. I made sure I got across everything.
"It was nice to be given the opportunity and that trust was there. Faz gave me the opportunity after some good training and to be able to put in a performance that the team was happy with, that's all that really matters."
Watch live coverage of Ireland v France (Saturday 2.15pm) on RTÉ2 and RTÉ Player, follow our live blog on RTÉ.ie/Sport and the RTÉ News app, or listen to live commentary on RTÉ Radio 1.
Watch live coverage of England v Italy (Sunday, 3pm) on RTÉ2 and RTÉ Player.