Try-scorer Finlay Bealham had an emotional reunion with his family following Ireland's Guinness Six Nations win over England.
The Australian-born prop crashed over to secure a bonus-point for title chasers Ireland, who recorded a first win at Twickenham since 2018.
"I had my parents there, who I hadn't seen for the last two and half years with Covid, it was a really special day for the team and for me personally as well," said Bealham, who won his 22nd cap.
"I got to meet them after the game in the crowd and it was a really emotional moment for us, that I hadn't seen them in the last two and half years.
"It was really special for me. It's a day that my family won't forget."
What a moment 📷

An unforgettable day for @FinlayBealham and his family & friends 💚#URC pic.twitter.com/FNuccbInIC

— United Rugby Championship (URC) (@URCOfficial) March 14, 2022
He added: "It was really high pace and physicality. [Andy Farrell] was really proud of the performance. It was backs to the walls stuff but we stayed in the game really well.
"It was brilliant to get on and unreal to score, thanks to James Lowe's carry. It was a lovely team try."
Skipper Johnny Sexton, who kicked 12 points, was also proud that his team pulled through.
"Two years ago, we would have lost that game," said the out-half, whose team meet Scotland next Saturday.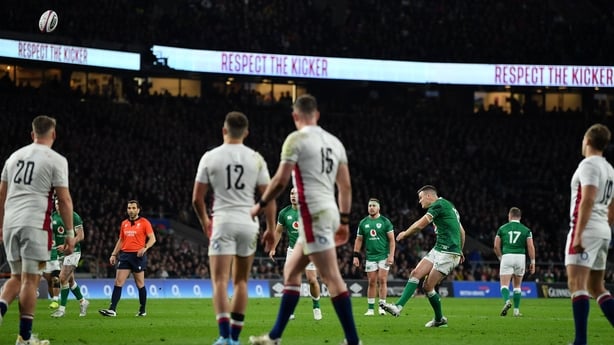 "At 15-15, we wouldn't have had the composure to regroup, but the mental skills development that we've done over the last couple of years really stood to us. Even in the week, we prepared for things like this.
"That's the positive out of it.
"When things can distract you like a team going to 14 men, you need to focus on doing the basics really well.
"At times, we just forced a couple of things. Those things were on so it was probably execution more than decision-making.

"At other times, we didn't play. We tried to kick the ball or didn't shift it to the edge where the space was.
"There's a lot to take out of it and we'll build towards next week now.
"We have a chance to win a Triple Crown chance at home in the Aviva, we very rarely have had a chance to play for something in front of our home crowd.
"Often when we have, it's been away from home.
"There's a big week ahead of us but we'll learn plenty. It will be all focused on Scotland now."