Certain statistics can be interpreted a number of different ways, depending on how full or empty your glass is.
In Ireland's 13-10 win against Australia on Saturday, the Wallabies spent a whopping seven minutes and 16 seconds inside the Irish 22, more than twice the amount of time Andy Farrell's side had done.
For context, in last week's win against Fiji, Ireland had eight minutes of possession inside the opposition 22. The fact that they only came away with five tries for their dominance was a source of huge frustration.
Those that feel Ireland have regressed since their summer series win in New Zealand will point to Australia's dominance of territory and possession, particularly in the first half at the Aviva Stadium on Saturday.
But for the optimist, holding the Wallabies to just one try and 10 total points, while spending a significant portion of the game defending your own try-line, is a major defensive win.
The watertight defence can be appreciated, while also addressing the fact that the hosts brought it on themselves. With 12 penalties conceded, Ireland gave Australia an open highway to attack.
"It wasn't our best, and everyone knows that the opposition always has a say in that, but we added a lot to our own downfall at times and got in our own way, certainly discipline wise," Andy Farrell said after the game.
"I've never seen us be as ill-disciplined."
With a combined 26 points conceded to Australia and South Africa, it has been a sound Autumn Nations Series from the point of view of defence coach Simon Easterby, both in open-field tackles and around the set-piece.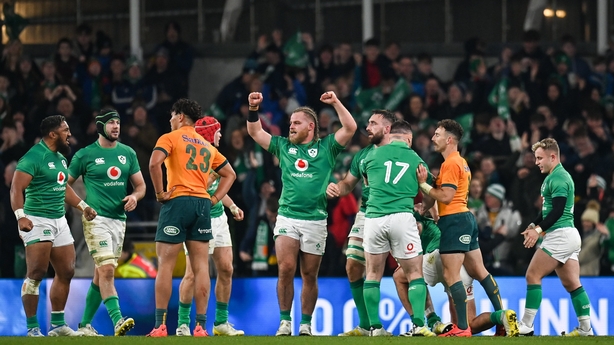 In particular, Ireland's maul defence has been first-class. They weren't for budging against the Springboks a fortnight ago, while in Saturday's win it was the maul that ultimately won them the game in the 79th minute, as Australia infringed just a few metres short of scoring what would have been a game-winning try.
On the other side of the ball, Ireland never reached the same heights as they did in the Six Nations or the Test series against the All Blacks, but they will take comfort in the efficiency of their attack rather than the extent of it.
While playing some exciting, attacking rugby earlier in the year they left a lot of tries out in the pitch, and were often quite wasteful given the amount of possession they had.
There were elements of that wastefulness against Fiji, although the rotation in the squad that day played heavily into it. But against the Springboks and Wallabies they were far more clinical when they got into a scoring position.
As much as "winning ugly" is a cliche, Ireland were losing ugly back in 2020 and early 2021.
"How we judge our attack is pretty difficult because I think we had 30% possession in the first-half and not too much in the second half," Farrell added.
"All in all, when you win, lose or draw, with all the controversy before the game, my gut feeling 10 minutes before kick-off, was: 'Well, look, let's see what we're about as a group. Let's see how we muck in together and help the people that we need to help out.' In that regard, you can't lose."
On an individual basis there were plenty of winners this month.
Garry Ringrose brought his early-season Leinster form into an Ireland jersey, particularly in defence where his reading of the game is now world class.
As we mentioned earlier, statistics need to be interpreted, and a look at Ringrose's numbers after games will likely show up a few missed tackles. The centre seems to have been given licence to shoot up in the line and aim for dominant tackles, where he seems to have put huge work into his technique.
And while he won't always win the collision, he'll loosen the lid on the jar enough for the next man to come in and finish the job.
Jimmy O'Brien came in and played his first three Tests in three different positions, and held his own in each one.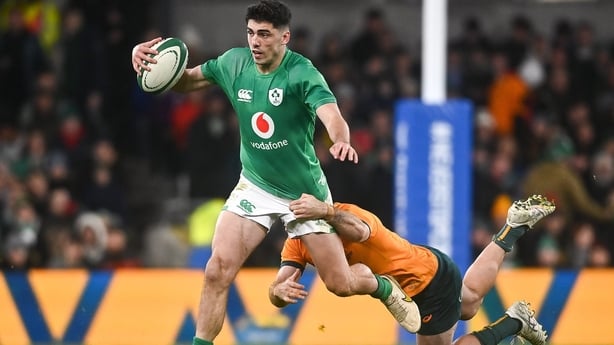 The Leinster man was one of five new caps across the three games, and it's hard to think of a player whose stock price rose higher.
The other big market mover was Jack Crowley, the 22-year-old going from the Ireland 'A' replacements bench to a Test start against the Wallabies in the space of 15 days, while never looking uncomfortable in the surroundings.
The added benefit is in Ireland's out-half depth chart. Three Tests and three different out-halves wearing the starting 10 jersey. With Ciarán Frawley set for time on the sidelines with a knee injury, Crowley is now a real contender for a World Cup place.
"It's great, it's been a crazy few weeks for Jack Crowley but what a journey for him," said James Ryan, who filled in as captain for the final 30 minutes of Saturday's game.
"He was on the Emerging Ireland tour, came in and came off the bench against Fiji, today against Australia and he's been brilliant over the last few weeks.
"Quite a shared confidence him and yeah, I thought he acquitted himself pretty well. That's what we're looking for, that depth and competition for places and it's great to see him and Ross [Byrne] do so well."
The fun really starts now as we round towards 2023 and the World Cup, with the target on Ireland's back getting bigger and bigger according to Andy Farrell.
"Again, embracing the fact that people are going to come here and be at their best - a lot better than what we've faced before, Australia had nothing to lose today, to come try and come here and get a big scalp in that regard," he said.
"That's coming in spades in the next year and it's going to be great for us, for our mentality, going into the World Cup."