It probably wasn't in doubt, but in the last two European games, Peter O'Mahony has nailed himself down alongside the greatest to have worn Munster red.
The 32-year-old will be spoken of alongside the likes of Paul O'Connell, Ronan O'Gara and Anthony Foley when the time comes for him to hang up his boots. If recent weeks are anything to go by, he's not likely to be doing that any time soon.
Time is still on his side to pick up a European medal like those from Munster's glory years, but even if he doesn't, his legacy is unimpeachable.
Sorely missed in the province's round of 16 first leg against Exeter, he returned from injury to inspire their win at Thomond Park against the Chiefs a week later, his player of the match performance one of his most memorable.
You could probably count on one hand how many times he's played better for Munster, but one of those could well be Saturday's quarter-final against Toulouse.
In spite of the French side's victory, the flanker was once again named player of the match, having led the team's siege on the Toulouse breakdown, winning four turnovers among a staggering 19 in total for Johann van Graan's side, and doing so in just 65 minutes before he eventually succumbed to a shoulder injury.
Even the captain's heroics weren't enough to get over the line - although they were 24-14 in front when he was eventually forced off due to injury - as the five-time champions reeled Munster in, before booking a semi-final with Leinster after a 4-2 win in the place-kicking competition.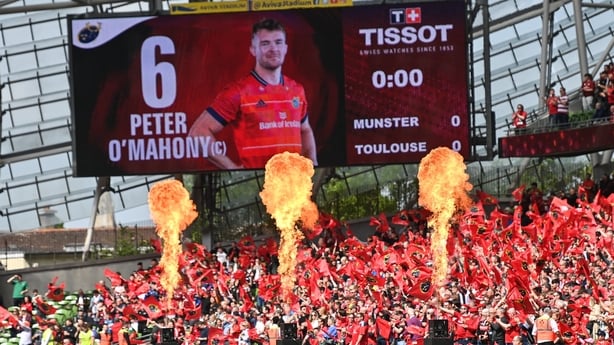 The heartbreaking nature of the defeat left Van Graan in tears as he saluted the Munster fans after the game.
The head coach was still visibly emotional when he spoke to the media afterwards, and his voice continued to crack when he was asked to sum up the impact of his captain.
"I've been fortunate enough to coach a few warriors in my life and I'd say Pete is right up there in terms of being a warrior," he said of O'Mahony.
"What he means to the team, he's a man of action and he continued after the Exeter game into this game and he was phenomenal."
The South African even had to stop and compose himself, as he paid tribute to the flanker.
"Sometimes from a warrior perspective, your mind is still whirring but your body gives way and his body gave way and I think from a respect point of view, he's one of those players I'll look back upon... and say he was a warrior."
"To lose a game in this fashion and when, from a group point of view, you've put your heart and soul into it. So we'll take our time. We're only going to reconvene late next week and we haven't given that any thought."
With this weekend being semi-finals weekend, Munster have two weeks to prepare for their final URC regular season match against Leinster at the Aviva Stadium, before a quarter-final which they hope will be back at Thomond Park.
After 10 consecutive weeks in action, the province's players have been given several days off to recharge the batteries, both physically and emotionally, ahead of their final two, three, or maybe even four games of a chaotic season.
And while Van Graan says they'll use the pain of defeat to drive them on in the coming weeks, he admits there will be some scar tissue to repair.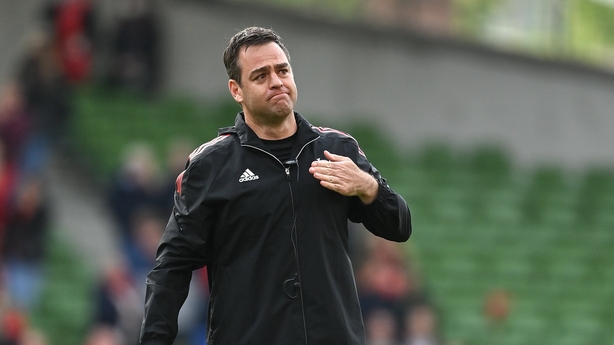 "I'm not going to sugar-coat this one, this will be one that we need to take our time with.
"To lose a game in this fashion and when, from a group point of view, you've put your heart and soul into it. So we'll take our time. We're only going to reconvene late next week and we haven't given that any thought.
"That's as good as we've played in the last few years. You've just got to be on the side of the pitch to see how big that Toulouse side is. They've got world-class players all across the pitch and you saw that today.
"In terms of the 23 Munster men that played today, they were incredible. Whether it was their 247th game [Stephen Archer] or their first game they gave it all they've got. I thought we played with good variety in our game, our first lineout I think everyone thought we were going to maul that and we peeled around the back and scored a few phases later.
"I think some of the semi-finals we've been in before, we haven't played for the full 80. Today we played for the full 100 and all credit to the team," he added.
Van Graan's sentiments were echoed by Niall Scannell (below, right), who says they have no regrets from their performance.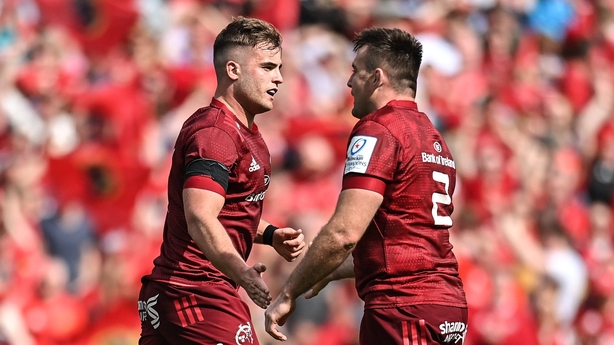 And the hooker says that once the dust settles and they review the game, they will be able to draw huge positives heading into the final stages of the campaign.
"It can't be the peak, and when we turn the page that's probably the way we are going to look at it," he said.
"We'll look at that as a huge stepping stone. There's a lot of guys that maybe haven't played at that level before that are there now.
"A guy like Jack Daly, people might have been surprised to see him on the bench but Jack's been injured for a lot of the season and has worked just unbelievably hard all year and comes on and does that.
"I always knew he was a machine of a chop tackler but he was hitting some fellas there that are world-renowned ball carriers and he's a guy people probably weren't talking about all year.
"A guy like Alex [Kendellen] has done it all year and I think it's a stepping stone for those guys and hopefully that experience will be brilliant coming back up here to play Leinster in two weeks.
"We've huge ambitions in the URC and when you're at a club like Munster you can't shy away from that.
"There's huge expectation to bring home trophies and unfortunately that's the end of the road for one of them, but we still have the URC and we'll look at that as a bit of a launchpad hopefully to put in bigger and better performances because that's the game we're in, high performance. We want to keep getting better."