In his four-and-a-half years at Munster Johann van Graan has always kept an even keel.
In victory, he has been consistently grounded, and in defeat he has always been stoic.
But with his final chance at winning a Heineken Champions Cup for Munster ended in the most dramatic of circumstances by Toulouse, the departing coach allowed himself a deserved moment to let his emotions show.
As he spoke to his team and saluted the remains of the 40,476 fans at the Aviva Stadium, he held back the tears, and after he and his squad gathered their thoughts in the changing room, he spoke to the media from the heart.
"I think... Firstly, I'm incredibly proud," he said, after a long pause while he gathered his thoughts.
"Today was what Munster rugby is about. To lose it like that, that's unfortunately sport, that's the way the rules are. Somebody's got to kick it over and somebody's got to miss.
"If ever there's a day to sum up Munster rugby, it's today. A community of 40,000 people travelling. It was certainly one of the best rugby games I've been involved with."
Their 4-2 defeat in the place-kicking competition was just the second ever in the 27-year history of the Champions Cup, falling 13 years on from it's first appearance between Leicester Tigers and Cardiff in 2009.
Munster and Toulouse ended up deadlocked after 100 minutes of gripping rugby, a 24-24 draw through 80 minutes before a scoreless extra time in which both sides saw dropgoal efforts drift wide.
And when it came down to the place-kicks, Toulouse held their nerve, with Antoine Dupont scoring twice, and Thomas Ramos and Romain Ntamack each scoring one, to send them through to a semi-final back at the Aviva next weekend.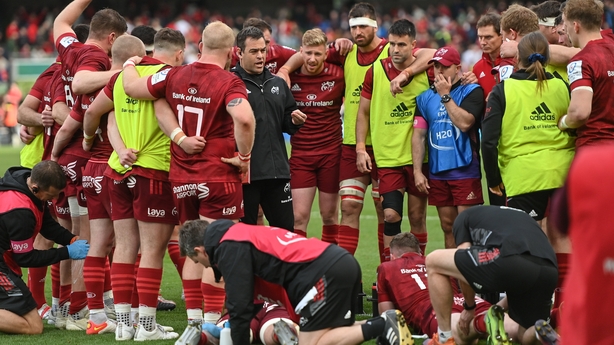 It's the second year in a row the French side have beaten Munster, and while their 40-33 win at Thomond Park a year ago was a painful defeat, this was on another level for Van Graan's side.
"I said to my wife there, from a feeling point of view, this was like the World Cup semi-final in 2015 that I was involved with that we [South Africa] lost 20-18 against the All Blacks.
"That feeling that we gave it all we got, the players gave it all they've got. Management, staff, the people of Munster gave it all they've got.
"We've got to know that this is a game. Everybody associated with Munster rugby will be incredibly proud of the 23 guys that stood up and fought today.
"We left the hotel saying 'to the brave and faithful, nothing is impossible' and I think the way that our captain Peter O'Mahony played, literally when his body couldn't anymore, then Jack Daly coming on to make his European debut in that cauldron - the incredible thing about rugby is it gives you opportunity to experience things like what happened today.
"The tough thing is, great game of rugby, could have won it in the final play of the game, had one or two opportunities, but it's gone now. The sun will come up tomorrow morning," he added.
The head coach also paid tribute to the Munster fans who travelled in their numbers to Dublin, describing the atmosphere as "by far the most incredible I've seen" in his time in Ireland.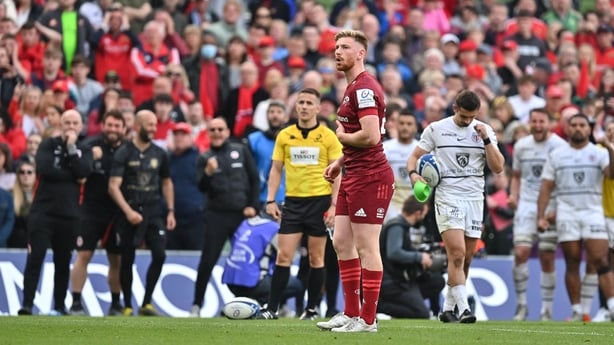 And he also took time to rally around both Healy and Murray, who each missed in the shootout.
"They're obviously gutted, but as I said a few weeks ago we're all in, and win together and lose together.
"All you can ask is that guys give it their all and that's what they've done, to put us in a position to go against the European Champions, in a cauldron like that.
"Nobody on the pitch, not the referee, not Toulouse, have been in a situation like that.
"We actually spoke in the week about the possibilities of extra time, the number of tries, and we were prepared for it. It comes down to literally a kick.
"A horrible way for the game to end from a Munster perspective, but Toulouse are one of the true great European clubs, all credit to them.
"The man on the street never experiences what these 23 men went through today and they'll remember it for the rest of their lives. One kick is the difference and proud of them."