"Do you know Ireland are playing England this Sunday?"
"Yeah, I hear they're sending half a team."
"Will you watch it?"
"I might check in and out."
Greg McWilliams doesn't set too many red lines but getting casual fans of the women's game to sit down and watch his team was one of the pre-tournament targets.
The Ireland head coach said he wanted people like his father and others like the man in the exchange above with this writer to look forward to the games, and to get involved in the side's new adventure after a tumultuous year.
And while the prospect of facing the best team in the world, who have won their last 15 home games in the tournament by an average of 34 points, without some of their more experienced players was always on the cards since before the start of this season's TIkTok Women's Six Nations, it doesn't make their task any easier.
A couple of weeks ago, Eve Higgins, one of the players who will spend this weekend preparing with her sevens sisters for a World Series event in Langford next week, spoke about "doing what's best for the programmes".

A contracted professional, she will go where her bosses decide.
Everyone in the IRFU knows the story, so too rugby media and hardcore Irish fans: playing resources are scarce and must be split between two masters.
It's far from ideal and increasing the player pool is a big part of the IRFU mission.
But for the casual fan, the ones targeted from the get-go, talk of pathways, programmes and funding models means little.
Ireland are about to face their strongest opponents in the heart of England in front of a record crowd at Welford Road and will do so with one hand tied behind their back.
"The casual supporter will look at that and go, 'This is Six Nations country and there's a sevens competition, they've no problem about getting relegated from the World Series, it's not a qualifying event for the World Cup'," admits McWilliams when asked for his message for the floating voter.
"You can break it up whatever way you want to break it up.
"At the moment, we are investing in our pathway and it's really important that we improve and develop the size of the playing population that we have, especially at elite level, the top end.
"If we get more players into that space you are less reliant on a small number of players who are playing both codes.
"It's a tricky one but what I do know is we need to focus on the players who are representing Ireland.
"As a head coach – I want to be really clear about this – I'm picking who I believe are the best players that are going to go out and put on a show and do the people of Ireland proud."
The numbers break down like this: Five of the seven backs who started in the 29-8 win over Italy two weeks ago are in sevens camp.
There are recalls for experienced Sene Naoupu, making her first appearance of the campaign, and Eimear Considine.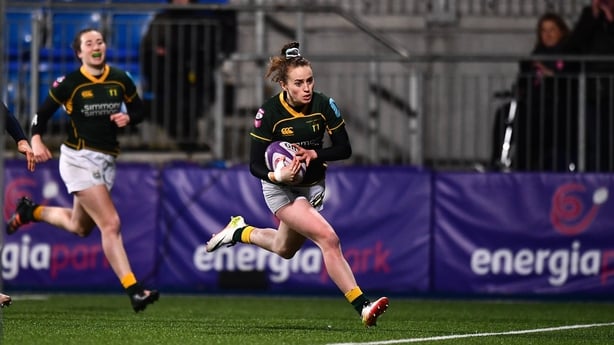 Molly Scuffil-McCabe (above) gets a first start at full-back, while centre Enya Breen and wing Aoife Doyle come back for their 13th and ninth caps respectively.
The half-back pairing of Kathryn Dane and Nicole Cronin keep their places.
Another blow of McWilliams has been the withdrawal due to injury of stand-out lock Sam Monaghan. She's replaced by Aoife McDermott but the rest of the pack started in Cork.
The starting XV contains 245 caps, while the bench has just 39.
They face an England side (759 caps in starting XV) on a 21-game run and who have scored 31 tries in their three games.
Centre Emily Scarratt will win cap number 100 with the hosts boasting a perfect 10 from 10 record against Ireland in home Six Nations games, each time restricting this afternoon's visitors to fewer than 12 points.
"It's going to be exceptionally physical. England are going to be dominant, they still haven't hit their [top] gear," warned Fiona Hayes, a two-time Six Nations winner with Ireland, on this week's RTÉ Rugby podcast.
"They've been playing really well in patches. They are not happy with how they are playing and they are hammering teams by 30 or 40 points."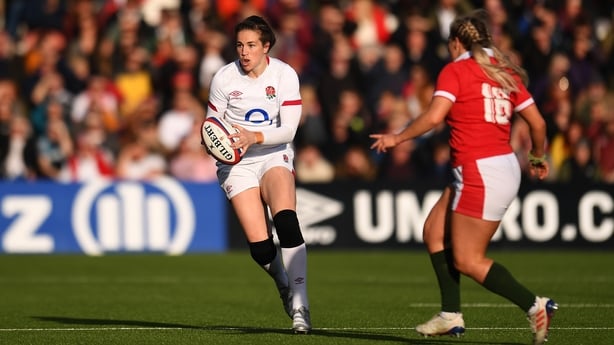 McWilliams wants Ireland to stay in the game for as long as possible to give themselves a "puncher's chance" but this is professionals against amateurs and there will only be one winner.
However, he has also spoken about getting the team to focus on their game and not worry too much about the outcome.
"You want to see that they are developing in areas of the game that we are putting time and energy into," he said.
"There are a couple of things we are trying to do defensively, which I think will put us in a position. There are a couple of things we are trying to do when we have the ball.
"It's a good test for our group. We are going to learn a lot about ourselves.
"You hope that the players can go out feeling confident and in a position where they are comfortable with the plan."
Verdict: England
---
England: Helena Rowland; Lydia Thompson, Emily Scarratt, Holly Aitchison, Jessica Breach; Zoe Harrison, Leanne Infante; Vickii Cornborough, Lark Davies, Sarah Bern; Zoe Aldcroft, Abbie Ward; Alex Matthews, Marlie Packer, Sarah Hunter (capt).
Replacements: Amy Cokayne, Hannah Botterman, Maud Muir, Rosie Galligan, Poppy Cleall, Natasha Hunt, Amber Reed, Ellie Kildunne.
Ireland: Molly Scuffil-McCabe; Aoife Doyle, Sene Naoupu, Enya Breen, Eimear Considine; Nicole Cronin, Kathryn Dane; Linda Djougang, Neve Jones, Christy Haney, Nichola Fryday (capt), Aoife McDermott; Dorothy Wall, Edel McMahon, Hannah O'Connor.
Replacements: Emma Hooban, Chloe Pearse, Katie O'Dwyer, Grace Moore, Maeve Óg O'Leary, Aoibheann Reilly, Michelle Claffey, Niamh Byrne.
---
Referee: Amber McLachlan (Australia)
Assistant Referee 1: Aurélie Groizeleau (France)
Assistant Referee 2: Doriane Domenjo (France)
TMO: Lee Jeffrey (New Zealand)
---
Listen to the RTÉ Rugby podcast on Apple Podcasts, Soundcloud, Spotify or wherever you get your podcasts.
Follow England v Ireland (12pm) in the Women's Six Nations via our live blog or listen on RTÉ Radio 1 Extra.