Previously reluctant to set goals for his Ireland team, Greg McWilliams makes no bones about targetting a win against Italy on Sunday.
The team's opening TikTok Women's Six Nations games have been against semi-professional outfits Wales and France and there is a feeling that a more level playing field exists as they welcome the Italians to Musgrave Park (5pm).
"Momentum in sport, society, as a business - you need to see that the work you're putting in is getting rewarded," McWilliams told reporters after making six changes to his match-day squad for the Cork encounter.
"Like anybody doing anything in the world, whether professional golfer, tennis player, rugby team, soccer team - it's very important to get that win."
The full squad assembled in Cork on Thursday and the former Rugby United New York coach was asked about the challenges of making much-needed improvements in such a short period of time.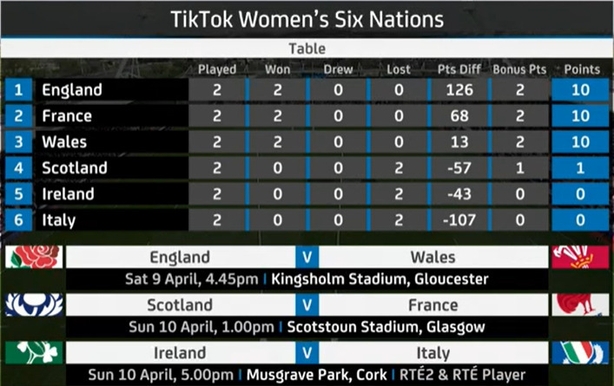 "Modern technology is pretty cool because we can do a lot of work," said McWilliams, whose side lost 40-5 to France last Saturday.
"Monday and Tuesday were pretty busy for us. We had a skills session Tuesday evening and did a lot of work on Wednesday with our sub-groups, if you want to call them that.
"We met in Cork yesterday and went through our 'install day' and went through our unit session this morning. We've got a performance session this afternoon now which we're excited about, which is our fast session, then we have more learnings in the morning.
"It's about staying consistent in your messaging. We have a plan we put in place and we are sticking to that plan.
"When it's on in training, it's on and it's great.
"There's loads of things that we can do as a group to have better execution but then you have pressure on in Test rugby, which is the real test.
"I think the girls have worked hard, been pretty disciplined about what we are trying to get done and we just hope that this weekend we put on a show with less errors.
"In this game of rugby, let's be honest, set-piece, territory and keeping your error-count down, you've a better chance of winning.
"We talk about winning this week and that is absolutely a goal of ours, to keep those errors down. We have the players working hard at it. That's all I can ask for as a coach."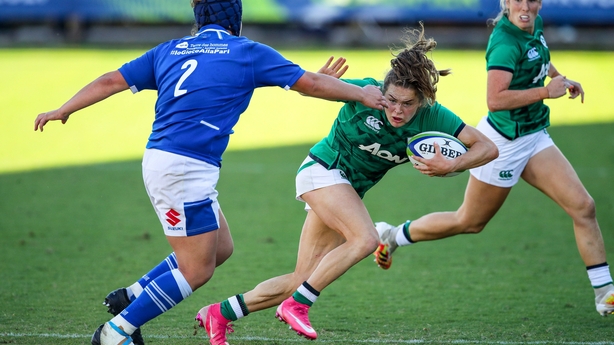 Beibhinn Parsons, Kathryn Dane, Christy Haney and Hannah O'Connor have all been included in the starting XV and McWilliams, after sticking with the same squad for the first two games, explained the thinking behind the switches.
"Christy came on and did a great job at the weekend," he said.
"She's somebody who has been waiting patiently in the wings and this game is all about getting an opportunity and taking your chance.
"Hannah O'Connor is a really good leader in the group, particularly around lineouts. She is very clever. Her experience will be good for quite a young group of players.
"Kathryn Dane was on last week and I thought she did great. It's good to have competition for places, particularly in the half-back positions.
"It was the right time for Kathryn to come on now that there's a young buck [Aoibheann Reilly] knocking on the heels. It's time for her to put a marker down, so the timing is right for that.
"The back three, it was important to give Bei a full game. Lucy [Mulhall] has been doing really well, particularly from her GAA skills.
"She's very good in the backfield, so we start with her at full-back."
Listen to the RTÉ Rugby podcast on Apple Podcasts, Soundcloud, Spotify or wherever you get your podcasts.
Follow Ireland v Italy (Sunday 5pm) in the Women's Six Nations via our live blog on rte.ie/sport and on the RTÉ News App or listen to live radio coverage on RTÉ Radio 1.