The recent signs have been good, but Saturday's visit to Paris will represent a true test for Ireland's forward pack.
Through November, the Irish forwards dominated, and it continued against an inexperienced Welsh side in Round 1 of the Six Nations, with Ireland losing just two of their 120 rucks in the entire contest while stealing an excellent 5% of Welsh ball on the ground.
However it's the role of the Irish forwards in open play that is impressing most, combining a relentless physicality in the contact zone with a subtlety in their handling and link-up play that is creating indecision and forcing mistakes in the opposition.
They've been capturing the eye for their work in attack, particularly the likes of Tadhg Furlong, Tadhg Beirne and Andrew Porter, but that work starts in defence where they have brought aggression and meanness.
Had it not been for a loose offload by Beirne shortly before full time, Ireland would have shut-out Wales for their first time in the Six Nations, and while it was a try Andy Farrell said they were unhappy to concede, the attempted offload from Beirne was not one he'd likely attempt in a tighter game.
Those seven points were all Wales could get from the contest, and in reality they never looked close to breaching the Irish tryline. Even during their brief period of dominance between the 20th and 30th minute, they struggled to make any inroads into the Irish defence with the bulk of their possessions coming in a series phases across the 22.
Their speed off the line and aggression in the contact area can be summed up in the amount of dominant tackles they met Welsh carriers with. Of the starting eight forwards, half of them hit 10% or better when it came to dominant tackles, including all three of Furlong, Porter and Kelleher. By contrast, just one Welsh forward hit the 10% barrier.
It's important to note that the French pack of forwards Ireland will face this weekend is arguably the strongest they will have come up against since Farrell took over in 2020.
In Cyril Baille, Julian Marchand and Uini Atonio, they have a front row that are just as physical as Furlong, Kelleher and Porter, and drove through the Italian scrum like a Land Rover last Sunday.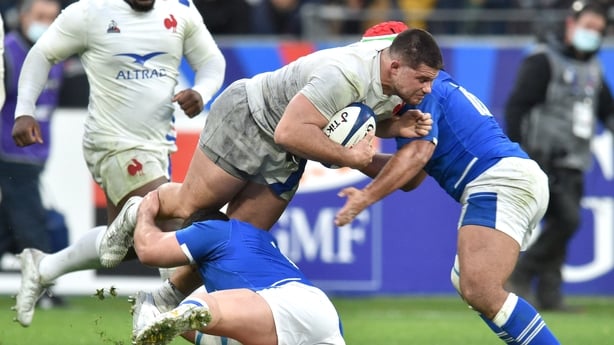 The scrum could be an area of concern for Ireland; while the stats will show Ireland's 100% ball retention at the setpiece against Wales, they came out the right side of a couple of 50:50 decisions from Jaco Peyper, with Porter in particular highlighted as someone who earned a lucky call or two.
Ireland have thrived off fast ball in recent months, and that's something France were very, very good at stopping in their opening round win against Italy.
Through their last four games, Ireland's forwards have carried the ball into contact 347 times and passed 173 times, for a combined total of 520 positive involvements on the ball, which over the course of 80 minutes is fatiguing.
More than half of Italian rucks lasted longer than three seconds, with just 46.8% of their rucks being under the three-second mark. More than 20% of their rucks went longer than six seconds.
Contrast that with the speed of play on French ball, with 65.9% of their rucks clocked at three seconds or less.
Against Wales, Ireland kept the ball moving with 71.43% of their rucks in the zero to three second bracket. Their dominance in the tackle, combined with their desire to compete for the ball on the ground saw them slow the opposition down with 40% of Welsh rucks lasting more than three seconds, compared to Ireland's 28.5%.
But what's setting Ireland apart is the relentlessness of their attack and the amount of phases they're willing to quickly move through.
We've previously spoken of the large increase in passing we saw from the Irish forwards in November, with that trend continuing in the first round of the Six Nations, with Ireland's forwards combining for 38 passes, 12 of which were from front row players.
It matched up similarly to their numbers from the Autumn Nations Series, with Ireland's pack averaging one pass every 2.07 carries, and while that ratio is almost identical to that of France's last four games, and even more weighted towards carrying than England and Scotland have done in recent games, the quality and quantity of those plays have set Ireland apart.
In terms of their sheer involvement on the ball, Ireland's numbers are blowing past their contemporaries. Through their last four games, Ireland's forwards have carried the ball into contact 347 times and passed 173 times, for a combined total of 520 positive involvements on the ball, which over the course of 80 minutes is fatiguing.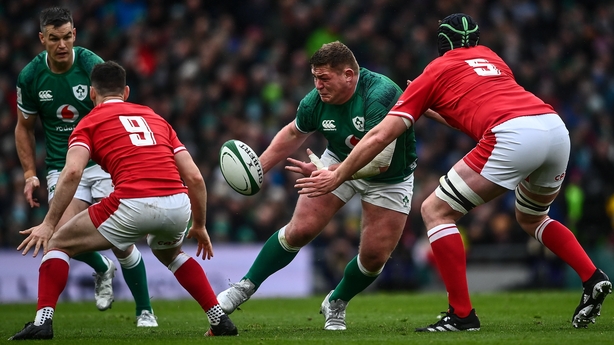 Their dominance of possession - Ireland have had the majority share in all 20 of Farrell's games in charge - means that figure of 520 is far above their Six Nations rivals in the last four games.
France's total in that period is 363, and comparable to Ireland in the fact that they both played New Zealand and Argentina in their last four games. It also accounts for a larger group of players, with France using a 6:2 split on their bench for three of those four games.
Likewise, England have taken the 6:2 split on the bench for three of their last four, but their forwards' have been involved on the ball just 300 times, and their recent games have seen their forwards carry more and pass less.
Scotland's total of 290 combined passes and carries from their forwards is even lower, although Gregor Townsend's side have arguably had the toughest run of fixtures in that four-game spell.
While Ireland dominated possession throughout Farrell's time in charge, their early use of their forwards was a lot more predictable, heavily weighted towards carrying rather than distribution, and with less mystery as to who would receive the ball.
Tadhg Furlong may like to play down the impact of his ability to carry the ball square to the line and pass just before contact, but the difference it makes it huge.
He and Tadhg Beirne in particular have been used consistently in recent games as a first receiver, with Beirne getting the first touch in the phase leading to Bundee Aki's try on Saturday, and Furlong almost creating a second Ireland try later in the game when his flick to Sexton just before the tackle opened up the gap for the out-half to move through.
🔥 What handling from Tadhg Furlong! #IREvWAL #rtesport
📱 Live updates - https://t.co/AUQCX8pxw0
📻 Listen - https://t.co/wUq1XxhF4x
📺 Watch - https://t.co/sDDUomkeEU pic.twitter.com/9t4ihhhl3s

— RTÉ Rugby (@RTErugby) February 5, 2022
Tomorrow, it will be Joey Carbery rather than Sexton in the out-half role with the Ireland captain ruled out due to a hamstring injury, and the Munster man will be hoping for similar gaps to be created.
"Sometimes it's me passing to them and them giving it to one of our centres or someone out the back," Sexton said this week.
"We have been doing some really good things in our attack but there was lots of stuff that if we had done it slightly better against Wales, we might have had a couple more scores.
"That's where we're striving to get better, like we have done for the last two years."
By using the likes of Furlong and Beirne and any other physical ball-carrying forward as first receiver, Ireland can create simple moments of indecision for the defence, who are caught between the stools of committing to a tackle and watching out for an offload.
If they solely commit to tackling Furlong they may well stop him at the gainline, but they're leaving themselves exposed on the chance he throws a pass out the back door to Sexton as he did in the above clip against Wales.
But if they try anticipate that pass and he holds onto the ball instead, he'll have run through them before they even have time to react.
That slight delay in decision-making leads to soft shoulders in defence, and collisions won by Ireland, before the cycle of possession continues all over again.
They could do it against Wales and Argentina and Japan and even New Zealand in November, but doing it in Paris against France, and doing it with Carbery rather than Sexton behind them would represent a significant step for this Irish pack of forwards.
Listen to the RTÉ Rugby podcast on Apple Podcasts, Soundcloud, Spotify or wherever you get your podcasts.
Follow all of Ireland's Six Nations games via our live blogs on rte.ie/sport and on the RTÉ News App or listen to live radio coverage on RTÉ Radio 1. Watch live TV coverage of Wales v Scotland (12 February, 2.15pm) on RTÉ2 and the RTÉ Player.