James Ryan's two trips to Stade de France could hardly have been more different.
The most recent was Halloween night 2020 for the final round of the Covid-delayed Six Nations, as Ireland were taught a lesson by the French in the second half of their 35-27 defeat.
But his first experience of the away trip to France was also his first taste of Six Nations rugby; the opening round of the 2018 championship, Johnny Sexton and 'Le Drop' silencing the 82,000 crowd in Saint-Denis.
It was Ryan's fifth Irish cap, with the then 21-year-old midway through his remarkable run of early career success which saw him play 23 games for club and country before experiencing defeat, winning a Six Nations Grand Slam, Heineken Champions Cup and Pro 14 title along the way.
"It was incredible," the lock said when asked about the 15-13 win in 2018.
"The whole week was just class. I didn't anticipate starting that game at all at the time and I was in the team and it was amazing, to be involved in a game like that was incredible.
"I just remember the noise in the stadium, the French were really getting behind their team and really getting involved in the game.
"The last time we went there (2020), there were 80,000 empty seats so this weekend there will be 80,000 people there and that's another part of it, the crowd definitely play a part.
"I suppose we'll have to do our best to quieten them, for want of a better word.
"You see how good French teams are in general, even domestically, French clubs are always tougher to beat when you go and play them away from home. I think it influences them as well. They love playing at home and they love having their crowd behind them.
"They get involved in the game, be it a kick, a penalty or a score, they really get behind them so I think they do play a part. It's great though, it's exciting for us as well.
"You want to go over there and play in these kind of atmospheres so we're looking forward to it."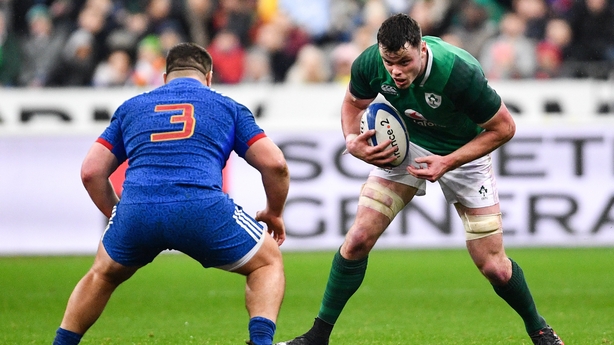 While France will be favourites heading into this Saturday's Round 2 meeting in Paris, they looked scrappy at times in their bonus-point 37-10 win against Italy on Sunday, going through the motions before their strength in depth eventually showed against Kieran Crowley's side.
And with Ireland getting off to a rare fast start in the Six Nations in their own bonus-point win against Wales, the winner of this weekend's meeting in the French capital will become the overwhelming favourite to lift the trophy on 18 March.
"We know it's an unbelievable opportunity," added Ryan, who is set for his 42nd cap this weekend.
"Weeks like this don't come around often so we're trying not to think too much about the occasion and just focus on our own performance, even though I've talked about the stadium and the atmosphere and how great that is.
"Faz (Andy Farrell) would be big on our performance and measuring our performance this weekend rather than the outcome. That's what he's big on and that's what we'll focus on again this week.
"We were happy, it was a good start," he said of the Wales win. "Probably the good thing about it is, as Faz said and he was right, it was a good start but there was a lot we could be better at.
"So it's a good place to be with this week in mind. The general feeling was that we have another level in us so loads to improve on and work on and it's an exciting week.
"This is one of the fixtures that you want to be involved in, away in the Stade de France, it's such an amazing stadium and these are the games you want to be involved in so it's a great feeling to the week so far."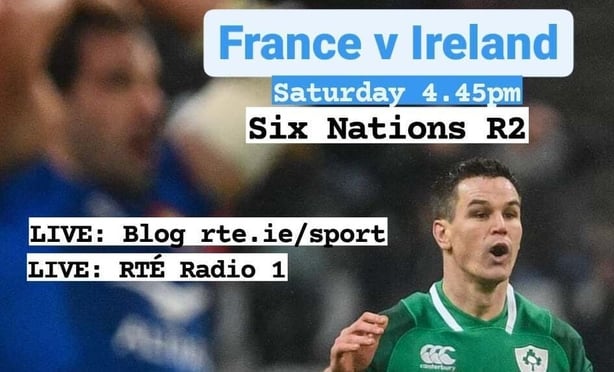 While confidence in the group is high off the back of a nine-game winning run, Ryan is wary that form can quickly be lost in Test rugby.
"I think confidence is important as well, really important.
"Probably at the same time, I know what we spoke about last week, in 2018 we beat New Zealand at home in the Aviva and it was a massive win, the first time on Irish soil... then we rocked up and got steamrolled in the first game of the Six Nations.
"So I think we're pretty grounded. We know that it's a new campaign now and it's not starting again but there can't be any complacency, we've got to keep pushing forward.
"Even though we were happy with last week, this week is another challenge again and a good opportunity for us to keep pushing our boundaries."
Follow all of Ireland's Six Nations games via our live blogs on rte.ie/sport and on the RTÉ News App or listen to live radio coverage on RTÉ Radio 1. Watch live TV coverage of England v Ireland (12 March, 4.45pm) on RTÉ2 and the RTÉ Player. Highlights on Against the Head, RTÉ2, Mondays, 8pm.