Bernard Jackman believes the circumstances of Munster's Heineken Champions Cup victory over Wasps is likely to be a "turning point" for the province.
Johann van Graan's side were depleted, missing 34 squad members because of Covid-19 quarantine measures, following their recent ill-fated United Rugby Championship trip to South Africa but rallied to get their European campaign off to an excellent start with a 35-14 away victory in Coventry.
"Things fell into their hands a little bit with Wasps having five withdrawals late and then a red card but Munster were there to play and it could be a turning point for them," Jackman told RTÉ's Morning Ireland.
"This win is going to give them huge energy but also it's kind of reconnected the fans and the club game back with Munster again because a lot of these youngsters are playing week in, week out in the All-Ireland League and it's special for those clubs to have players do that on the grand stage for Munster.
"It's a little bit like when Connacht got stuck in Siberia in 2016 and they talked about how it moulded them. I just think this could be a turning point for Munster in terms of connecting with the wider group and potentially the fans again."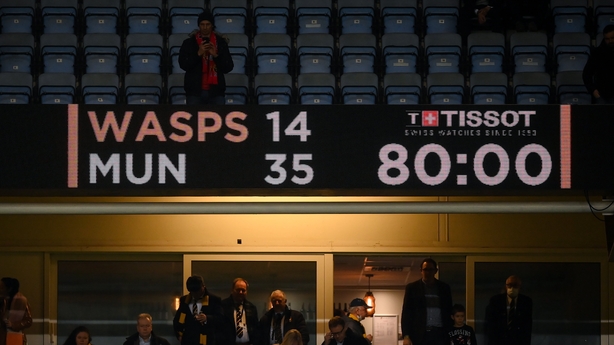 Describing the win as "brilliant" and "typical backs-to-wall Munster", Jackman added that the team had benefited from quickly deciding to put faith in their young players to fill the void left by those who were unavailable.
"The masterstroke was that they decided early that they were going to trust those youngsters to fill the gaps," he said.
"So they had two weeks preparation and it seems as if the senior players really put an arm around them and showed them the way.
"Obviously, Peter (O'Mahony) and the senior players stood up but Patrick Campbell, Ian Costello the stand-in coach said that was a small crowd for (Campbell) because he played in front of 50,000 people when he won an All-Ireland minor football medal with Cork and he got a brilliant try. He's been playing week in, week out for Young Munster in the All-Ireland League.
"Scott Buckley, the hooker, was Man of the Match on debut, Daniel Okeke making his debut and they all stood up to be counted."