Connacht coach Pat Lam says there is no reason European games can't be played in Siberia again - despite the nightmare trip his squad is enduring as they try to get back to Ireland following their Challenge Cup victory over Enisei-STM on Saturday.
It will now be Tuesday before the squad - which has been split into three groups in an effort to come home separately through Paris, Amsterdam and London - arrive back in Ireland.
But Lam urged that further games hosted by Enisei-STM in their home base at Krasnoyarsk should take place in September or October when the weather is not as severe.
He has attached no blame to their hosts or EPCR for their nightmare trip home - they were grounded when a technical fault was discovered in their French charter aircraft.
"It is just something that has happened. It was important that they staged a game in their home city, nobody planned for that plane to break down.
"I definitely wouldn't have the game there again in November, we would need to do this in early September or October but that wasn't possible with the World Cup. It's tough to come in these conditions.
"It's a little bit of a dampener on a very good trip. We should have been home on Saturday night. Probably the worst news was trying to split the team into three, we didn't want to do that, but there was no guarantee the plane was going to be ready maybe till end of the week so it was the only way to get home and that was the priority.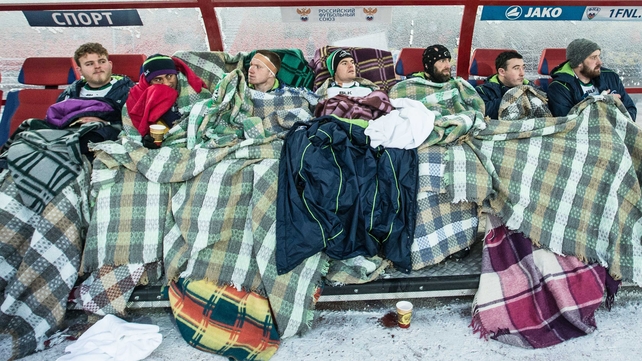 "One group was going via Amsterdam, one was going through London, and one had to go through Paris. Then myself and four players got off-loaded so we had to wait at Kraynoyarsk for eight hours till the other group showed, and when we arrived in Moscow, everyone was delayed as we had to get new visas and missed connecting flights.
"I am pretty proud of how the management, players and everybody is just getting on with it. It's been one challenge after another. One day we look back at it and say it made us tougher," he said.
The terrorist attacks in France also had an impact on Connacht's return and Lam said what happened there put their own difficulties into perspective.
"What happened in Paris was devastating and it had an effect on everything, planes were delayed and just trying to squeeze everything in.
"It is like in a game, you plan for everything but if something happens it is how you deal with it. These are the challenges in life, we have had a fair few over the last few days, we haven't slept for over 30 hours. We did our review the other night at midnight trying to get back into Irish time and we will now need to do draft four of this week's schedule.
"You look at the map on the plane and you see Moscow and you can see Ireland but when we were in Krasnoyarsk there was no sign of Ireland on the map"
"I haven't ever really encountered anything like this. We have had flights delayed and things like that but here we have had to deal with visas, delays, changing hotels, all in one go. Sometimes one or two of those things can happen but not all together, and not so far from home.
"Even when we got to Moscow we said it is nice and warm today and it was minus 4. But we have had to deal with minus 20 to 30 on this trip. But the good thing is you look at the map on the plane and you see Moscow and you can see Ireland but when we were in Krasnoyarsk there was no sign of Ireland on the map.
"We are getting closer to home. It would be wonderful to get home and get our minds around a shortened preparation for Brive [on Saturday]," he added.
By last night one group was on their way to stay in London, another to stay in Amsterdam and a smaller group remained behind in Moscow and will return on Tuesday via Heathrow.