Former Ireland captain Claire Molloy has called for more accountability in women's rugby, as those running the game pick up the pieces following a disastrous 2021.
Molloy retired from Test rugby in the wake of Ireland's unsuccessful World Cup qualifying campaign, which came just a few days after a scandal surrounding the conditions provided for the final round of women's inter-pro games in Donnybrook.
And last month, Molloy's Wasps team-mate Cliodhna Moloney publicly called out director of rugby Anthony Eddy over comments he made in a media appearance. Eddy had been defending the resources being put into the women's game by the IRFU, as well commenting on the reasons for Ireland's World Cup failure.
"I suppose we, as a player group, have been very accountable to our failures going forward," said Molloy, who along with Simon Geoghegan was yesterday inducted into the Guinness Rugby Writers of Ireland Hall of Fame.
"Obviously we need to look at the broader picture of the women's game and there is accountability across the board that needs to be sought in terms of how we go from here.
"If we look at the progress in the last eight years of the women's game, unfortunately it has been a downward decline.
"So, I think what we would like to see going forward is just accountability that we haven't let the outcomes of the 2018 review that was proposed and the goals set by the IRFU and the committee, going forward.
"How does that look in terms of their own internal and independent review and what outcomes will be changed from that? How we will we address this? How will we catch up with teams like France and England in terms of strong domestic league structures?"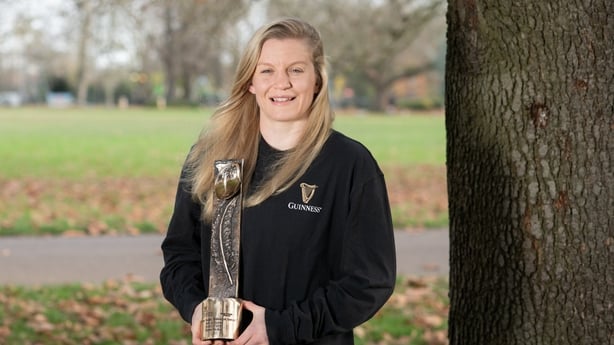 Molloy retired from Test rugby following the World Cup qualifying tournament, as she looks to further her medical career, which she admits has often played second fiddle to her rugby.
The Galway native, who won two Six Nations titles with Ireland as well as being part of the successful 2014 Rugby World Cup group, had lost her place in Adam Griggs's first team during the final months of her international career.
And the flanker says her final campaign as a international was the toughest she can remember.
"I think the last few months for myself have been difficult. Obviously being dropped after the France game, picking up an injury and being probably not as fit as I would have liked in terms of different niggles over the last six months.
"I suppose it has been the most injury-ridden season I have ever had.
"That is obviously difficult as an athlete who relies so much on keeping fit and getting around the field and striving for that high level of performance.
Watching the Spain game was probably one of most painful experiences I've had on the side of a pitch
"It's frustrating and I suppose I began to have a real lack of confidence. When selection is not going your way and you have been so lucky and privileged that it has for so many years, I have been lucky to wear that number seven shirt and then when it's taken away, reflecting on it, I would love to have had more confidence in myself and say, 'Look, you'll get there. You'll play well again.'
"But I definitely think it played into the last month of my career. I was probably at my lowest confidence I have ever been at as an international player.
"Watching the Spain game was probably one of most painful experiences I've had on the side of a pitch.
"That last 20 minutes against Scotland, I kind of forgot about all that and just played the way I could. I wish that had been my output the entire time but it's just difficult.
"Don't underestimate the pressure to perform. I wish I had done better. I wish I had been confident and backed myself. But that wasn't to be the case," she added.
With Greg McWilliams set to take over as head coach in 2021, Molloy is confident that the former Ireland assistant can make some short-term gains, even if England look to be pulling further and further clear of the rest of the world.
The strength of the English game, Molloy says, is stemming from the highly competitive Premier 15s competition, which has grown enormously since it's introduction in 2017.
"What they have seen in the last four years is the investment in the league has built a competitive structure to become a building ground and a pathway for highly successful athletes," Molloy said.
"You look at the nominees for world player of the year and that's three English athletes.
"I can only comment on what I have experienced and proper investment in the AIL, creating a competitive high performance environment for that to be the breeding ground of 15s players."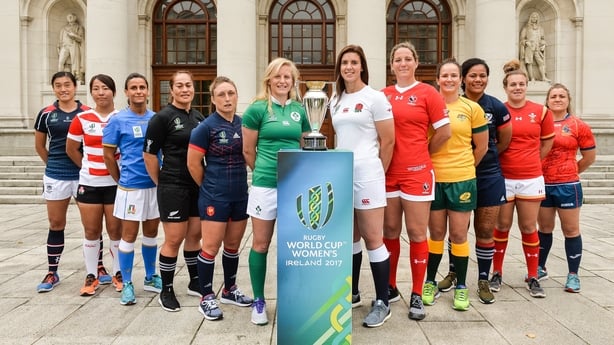 Molloy is one of a growing Irish contingent playing in England's Premier 15s competition, with seven of last month's squad on the books of English sides.
That number became eight last week when second row Nichola Fryday joined Exeter.
The exposure they're getting to top level players and coaches does come at the cost of the AIL however, which is being drained of its best talent, something Molloy says the IRFU need to be wary of.
"There are talented girls playing the game, we just don't want them lost to the ether in AIL or having to seek opportunities outside the country to play the game.
"You look at the vast number of Irish players in Prem 15s playing the game to develop themselves best as athletes.
"Well, it would be great to have an AIL that attracted players back.
"We need to build the strength of the league and not continue to have a talent drain going out of the country. The experience that AIL girls are missing out on is playing against the Cliodhna Moloneys, Linda Djougangs, Lauren Delanys, Leah Lyons, Anna Caplices, Nichola Frydays.
"You learn more about yourself playing against those players and you get challenged. We need to breed homegrown players and create a competitive league that's desirable."
With Molloy and Ciara Griffin - who succeeded Molloy as captain - retiring in recent months, one of the first jobs Greg McWilliams faces will be who the new leader of the team is.
And while it's a decision Molloy believes will be made by the coach rather than the playing group, she believes her Wasps team-mate Moloney is one of the standout candidates.
"I think the likes of Cliodhna Moloney is one of your most experienced players, and your automatic starter. Greg needs to look at a player that will be one of the first on the team sheet.
"Kathryn Dane's developed in game management and really thrived in the last three years, she's a potential.
"Nichola Fryday has moved to Exeter to develop her game, a second row, lineout leader, player of the match in Ireland against USA, so I think there are some strong leaders with experience behind them that could be considered," Molloy added.