As a masters student in public relations and strategic communications, Maeve Óg O'Leary may have been as much use to the IRFU off the pitch as she was on the pitch last Friday.
While the latest women's rugby controversy gathered pace, the Munster flanker was preparing for the biggest game of her career.
While many in the Irish women's rugby community will look back and wish to forget the last week, O'Leary will remember it forever for her Test debut, replacing captain Ciara Griffin for the final 17 minutes of the 20-10 win against the USA at the RDS.
"She just told me to keep my head," said O'Leary when asked what Griffin told her as they passed on the touchline.
"We were in defence obviously on the five-metre line. She told me to get low and just work hard. She's just a leader and anything she says goes.
"It was an amazing experience. Obviously this summer, I got the chance to play Interpros with Munster coming from my club in Blackrock. So that was a big step up.
"And then coming out here, I felt kind of prepared but that first international cap is obviously a huge step up in tempo. But I loved it, I was able."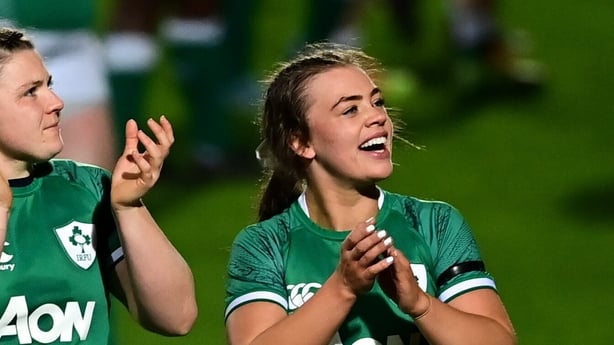 Her first intervention was a crucial one, a last-ditch dive to prevent a US try, which would have seen them draw level.
"It was my first moment. Ciara said to me to get low out there and that was literally what I had to do. The other girl was coming hard so I needed to get under and hold her up. That was special to have that as a first moment in your first cap," she added.
O'Leary is a multi-sport international in a household of multiple international sportspeople. A former underage and senior Irish international in softball, she's the younger sister of former Connacht Pro12 winner Shane O'Leary.
Shane, who has won 13 caps for Canada (the country of their mother's birth) and is currently playing for French Pro D2 side Rouen Normandie, made a late dash to Dublin on Friday to make sure he witnessed the latest O'Leary Test cap.
"Shane is so excited for me," she said.
"He literally flew in from France on the morning of the game to watch me. So that was kind of a surprise so that was really special for me.
"He has been such a help along the way in terms of my game, giving me feedback. But he's always so positive, ensuring I enjoy myself and knowing I'm here for a reason.
"He's been a very positive influence in my rugby career so far.
"Loads of people, my close family, aunts and uncles and loads of my friends travelled up as well so it was an exciting time."