Part of my day job as a director of communications is to advise people ahead of speaking to the media.
Currently I perform that role for the equivalent of Sport Ireland here in in the UK, and previously I've advised the Prime Minister in my role as a spokesperson in Downing Street and the Chancellor of the Exchequer in my time at HM Treasury.
It was in that context initially, and not as a voluntary advocate of women's rugby through my website Scrumqueens.com, that I read the transcript of Anthony Eddy's interview this week with the press.
From the language he used – describing how the IRFU has "thrown" money at the women's game, to his refusal to take any responsibility for overseeing the demise in a once successful programme, I can safely say I would have sat with my head in my hands if I had been advising Eddy.
The interview and the subsequent fallout did more however than highlight what not do to do when the team you oversee are preparing for a test match, it has also shone a blinding light on several disappointing issues surrounding the Irish women's programme.
To take this interview in isolation, it reflected disharmony between the present group of players and those who lead the programme, and I personally found it deeply uncomfortable to hear someone in a position of leadership pointing fingers downwards at a group who have much less of a voice – many of whom I know are afraid to speak up for fear they will no longer be picked to play for Ireland.
In any role for any organisation, if you have taken on a successful programme and overseen its decline - as is exactly the case here - you expect some level of introspection and some level of accountability. The players, as we have heard this week, have held up their hands – the man who is paid to lead, support and champion them, has not.
Eddy's role, among others, is to help create the environment within which the team can succeed – and his failure to accept this presents a fundamental problem, which unresolved will lead to more failure – and we all know that success is what sport at this level is judged on.
And we are talking here about significant failure.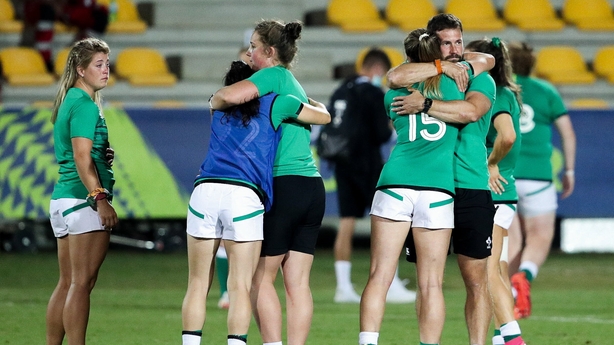 Eddy took on the role with Ireland ranked fourth in the world and a few months after he arrived, they won the Six Nations. Public targets were set in 2017 to take the game through to 2023 – all but one of those have been missed - not least Olympic and World Cup qualification.
His interview is indicative of a culture at the top of the IRFU which believes that the players are lucky to be there, lucky to have the investment they have and one which clearly does not listen to how their mostly amateur players are feeling. The difference between what those in charge think the women's game needs to succeed and what the women's game actually needs is vast.
If it was shocking to see a current player feel aggrieved enough to air her views in a match week as Cliodhna Moloney did, it was clear from the subsequent avalanche of posts from recently retired players – including legend Claire Molloy – and her teammates, that the problems within the programme are deep-rooted.
We have unfortunately been here before.
Those of us who have been involved in women's rugby in Ireland – I played for a decade in Cork and was a committee member of the Irish Women's Rugby Football Union as far back as 2001 – have come to expect cyclical flareups which all bear familiar hallmarks.
This year alone the union has had to issue two public apologies - both relating to the embarrassing scenes in the Vodafone Women's Interpros, where players were getting changed beside bins and vermin.
There have been countless crises, from the debacle in Pau some years ago, to the way the IRFU handled the 2017 World Cup fallout, to turning down a rare opportunity to play test games against Australia to name just a few.
Former Irish player Jeannette Feighery perhaps put it best when she described the cycle as a "merry-go-round of outrage, media attention, IRFU silence or wilful side-tracking while waiting for the commotion to die down, followed by inaction and empty words."
This time, the IRFU is hiding behind a review into the national team's failure to qualify for the World Cup.
There was a review too after the disastrous 2017 World Cup exit - far from helping to make improvements, things slid even further.
So what next?
Before we can even begin to start talking about structural changes and a shift in resources, there needs to be a reset between the players who are feeling like Moloney - and I understand there are many - and those in charge at the IRFU.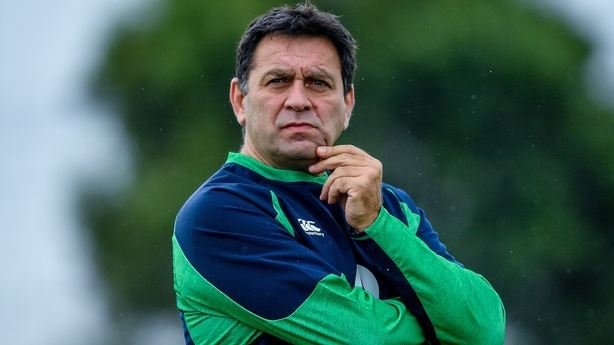 What we can deduct from the past few days is that communication between the management and some of the senior players is broken and you cannot succeed in that context. That David Nucifora – Eddy's boss – called Moloney after she posted her tweet, not to listen to what she had to say about her views on her director of rugby, but to take her to task on posting something, says it all really.
Trust in a high-performance setting is key and there is little evidence that this exists here. Players should never feel they can only be heard through social media.
Second, we need others involved in the leadership of the game in Ireland to step up, demand answers and lay out their vision.
There is a board responsible for how the game is governed in Ireland. These 25 people (22 of whom are men, making Ireland the worst performing union in relation to gender equality on boards in the top 10 women's nations in the world, but that is for another day) have a responsibility to the whole game.
They must demand answers and they must demand better. Most have them have been there throughout the many such crisis which have emerged in the women's game over the past few years.
Where are they and what are they doing about this?
And then we clearly need new targets for both the women's sevens and 15s programme which come with a clear action plan for how these will be met, encompassing whatever new structures need to be created.
The players I have spoken to this week have simple asks - more commitment, a tangible plan, honesty, transparency and perhaps leaders who sound like they respect and care about the women's game.
It's 2021, surely that cannot be too much to ask.