Ireland captain Ciara Griffin declared herself the "proudest person in Ireland", after her side closed out their most difficult week with a hard-fought win.
Following a week in which Cliodhna Moloney publicly called out the director of women's rugby Anthony Eddy, Ireland were able to park their emotions for 80 minutes, to grind out a 20-10 win against the USA at the RDS.
Ireland had to withstand a sustained block of USA pressure to see out the win having been camped in their own 22 for much of the final quarter when leading by just seven points, before marching down the pitch to see out victory.
The celebrations that followed the full time whistle were beyond the usual scenes that would greet a standard Test victory, the last five days having taken more out of them mentally and emotionally than it had physically.
"I think I'm the proudest person in Ireland tonight with that group in there," declared a beaming Griffin after the game.
"They're solid, they pick you up when you're down, they always have your back, so I couldn't be prouder of that group.
"When you cross the line with your team-mates like that, you want to get the win. What it meant for us as a group, it was just all of us getting behind each other, backing each other, showing how together we are as a squad.
"Obviously, there was a bit of relief as well. We trusted our processes, we kept edging away. It wasn't perfect at times but we kept battling and kept battling and we got the win.
"It was the first time in nearly two years that I've looked up to a crowd and my family were there. It's just brilliant and of course you're going to relish every moment. This venue was sensational so we loved every minute of it," she added.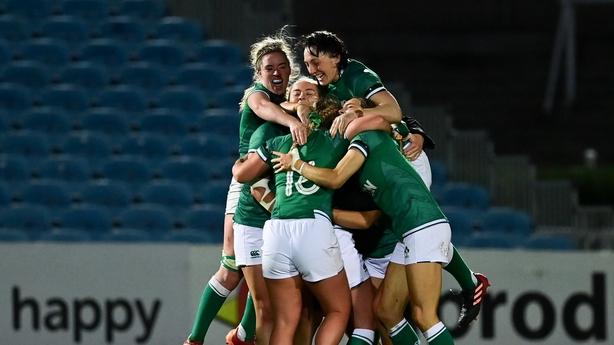 There's more rugby to play in this window as Japan visit Dublin next week, in what will be a final game in charge for head coach Adam Griggs.
It remains unclear whether or not Lindsay Peat will feature next.
The 41-year-old hasn't announced her retirement, but rumours swirled before kickoff that tonight's game would be her last in an Irish shirt after 38 caps.
Peat led the team out onto the pitch at the RDS, and was given the 'bumps' by her teammates among the post-match celebrations.
However, Griffin wouldn't be drawn on the significance of those moments.
"Lindsay is just such a sensational player and has given so much to this jersey.
"She deserved her time in the spotlight with the crowd. Getting to lead your country out is a massive honour and it's something from all her years of commitment, something that was deserved and well-needed.