In November 2020, Ireland's struggling forward pack reached their breaking point.
The turnover in playing and coaching personnel since the previous year's Rugby World Cup, coupled with the disruption that the Covid-19 pandemic brought, left Ireland looking like a team and in particular a pack of forwards that seemed lost among each other.
The scrum and lineout, areas that had been foundations of the Irish game in Joe Schmidt's era, were crumbling. The scrum was evidently a work in progress as the players got used to John Fogarty's setup, but the lineout was the major concern.
The Autumn Nations Cup defeat to England at Twickenham turned concern into crisis. On paper, it looked bad but not horrifying; losing four lineouts of 16. The nature of how the set-piece functioned was more worrying. When England contested Ireland ball they either won it or made the recovery messy. When they chose not to contest, they shut Ireland off on the ground.
Change was badly needed, and on 7 January, change arrived.
"Paul O'Connell Joins Ireland Coaching Group," was the title of the press release, enough to make you drop a cup of coffee in slow-motion.
It was an appointment that was badly needed, both in terms of what O'Connell could bring to the coaching group, but on a more basic level it lifted the mood around Irish rugby.
A 108 cap legend of the game. Superman in a green tracksuit, a whistle instead of a cape.
There were legitimate questions around his coaching pedigree though. The former Ireland captain had spent one season working with the Irish U20 team before joining Stade Francais as forwards coach in 2018.
However, he spent just one year in Paris, departing in 2019 due to a reportedly strained relationship with their head coach Heyneke Meyer.
Given the size of the task he was being handed by Ireland coach Andy Farrell, questions around his experience were fair.
So far, he's given convincing answers to those questions.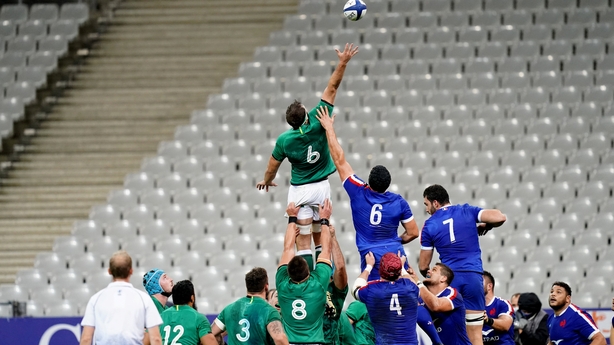 To look back on some games from the 2020 campaign, the lack of confidence among the forwards is visible.
In open play they seemed reluctant to trust their skills, instead hammering at the wall in the hope of knocking it over.
On Monday, we broke down how expansive the Ireland forwards had been with the ball against Japan, passing 41 times, 18 higher than their Six Nations average.
Going back even further, those numbers continue to shrink.
In both the 2020 Six Nations and Autumn Nations Cup campaign the starting forwards passed the ball on average just 20 times a game, although that's a figure bloated by their 33 passes against Georgia in what had been an open and wild contest.
In their three other games they failed to reach 20, with that figure falling to as low as 11 against Wales.
Under O'Connell, Ireland treat opposition lineouts as an opportunity to attack. They challenge relentlessly and with greater conviction.
While Mike Catt can take large credit for upskilling the forwards around the pitch, O'Connell is driving the workrate and mobility, and it speaks to a coaching strategy that's connected between its components.
Each area, whether it be attack, defence, lineout, scrum, transition play or the contact zone is looking like it's designed for the players who are using it.
O'Connell's lineout improvements have been huge, on both sides of the ball.
In defence, Ireland look to be challenging in the air if at all possible, and challenging aggressively.
Looking back at their two trips to Twickenham in 2020, Ireland's strategy on English lineout ball seemed to be waiting for them on the ground rather than contesting in the air.
For the most part, Ireland waited until they were close to their own line to challenge the throw. When they did contest, it looked lethargic.
Under O'Connell, Ireland treat opposition lineouts as an opportunity to attack. They challenge relentlessly and with greater conviction.
In the Six Nations they led the table with eight lineouts stolen directly. Three Irish players (James Ryan, CJ Stander and Iain Henderson) had multiple lineout steals, the only country where more than one player had pinched multiple lineouts.
Against Scotland they were prolific, picking off three clean steals, while forcing Scotland to turn over a further three times. From eight lineouts, Scotland retained possession twice.
Even with such aggressive commitment to contesting opposition ball, there's no real increase to the opportunity cost.
The aerial press isn't leaving them as exposed on the ground because of the chaos being created. On top of the eight direct steals, they turned over a further six lineout balls in that Six Nations. Their 19% turnover rate would have been even higher had England not done extremely well to retain all 17 of their lineouts in their defeat in Dublin in March.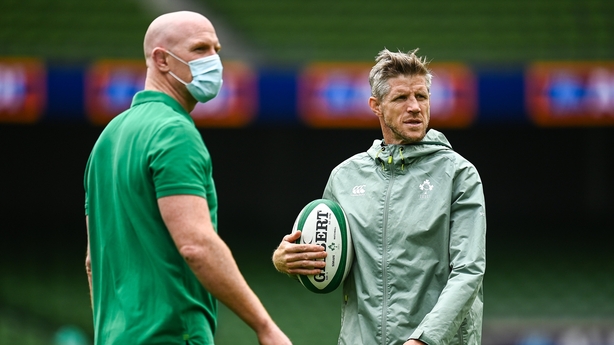 ---
On their own throw Ireland have stabilised under O'Connell, and working along similar numbers to before the capitulation of the Autumn in 2020, which started with three lost lineouts in crucial areas away to France in Paris.
To the eye, the changes made are relatively simple but are all about efficiency.
To use the Six Nations defeat at Twickenham as an example, Ireland's lineout lacked any real imagination. While the numbers show Ireland's setpiece had a reasonable return that day (14 out of 16), it's largely down to England's lack of contest, preferring to shut Ireland off on the ground which they accomplished all afternoon.
Looking individually through those lineouts, Ireland's strategy seemed to centre around getting into the air before the opposition. On the vast majority of throws, the movement was minimal or non-existent. There was no sleight of hand to draw time and space, no pod dummying to jump. It was traditional front, middle and back of the lineout ball. Ireland were easy to read.
There was one glaring example from late in the game, and although Ireland eventually retained possession, it suggested a lack of confidence and imagination.
Close to the England line, Ireland had the throw into the lineout, firing a hard ball into Ultan Dillane who was in the front jumping pod. However, the referee hadn't been ready and blew the play up to go again.
For the initial throw, Maro Itoje had been marking James Ryan in the middle of the lineout as we can see below. Itoje is circled in yellow, while Ellis Genge is circled in red.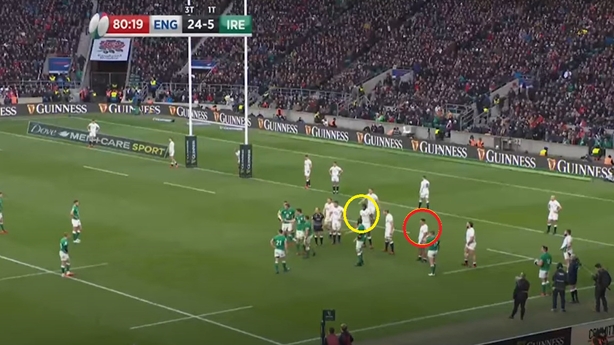 Realising what Ireland tried to do initially, Itoje gets Genge to swap places with him straight away, so that he's marking Dillane side by side.
Despite showing England their hand, Ireland don't adapt the call, and make the exact same play, with Dillane ultimately doing well to even retain possession under Itoje who knew exactly where the ball was going.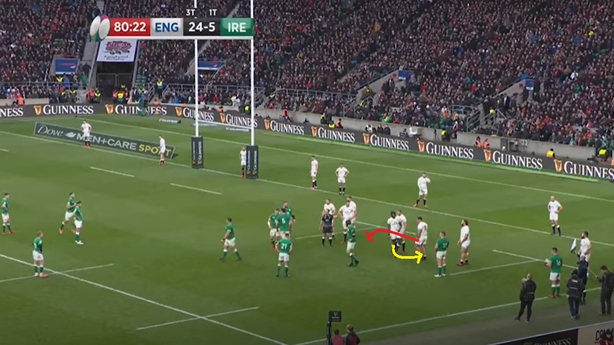 Under O'Connell, Ireland's lineout strategy looks far more layered. Regardless of who is jumping, there's more movement and more deception and more fluidity to what they're attempting, which is ultimately creating uncertainty for opposition, which in turn leads to more time and space.
Ireland's opening try against England in that brilliant win in March of this year is the perfect example; Iain Henderson's run to the front of the line occupying Charlie Ewels, Beirne's jump taking out Itoje and two lifters, while Jack Conan's drift opened space for Keith Earls to burst into the line and score. Mike Catt was the architect and O'Connell was the builder.
---
The short-term gains are also attributable to the instant respect O'Connell commanded in the dressingroom. While some of the Irish squad played alongside him, others looked up to him in their formative years.
Those on the outside often see him as an enforcer and a motivator, and while you wouldn't doubt he has those attributes, any reference to him from the players is centred on the word "detail".
"The detail that Paulie's adding at the lineout: it's nothing mind-blowingly new," Iain Henderson said during the Six Nations.
"It's the ability to be able to continue to coach and to re-coach the small things that everyone, in inverted commas, 'already knows', and to ensure we're staying on top of that."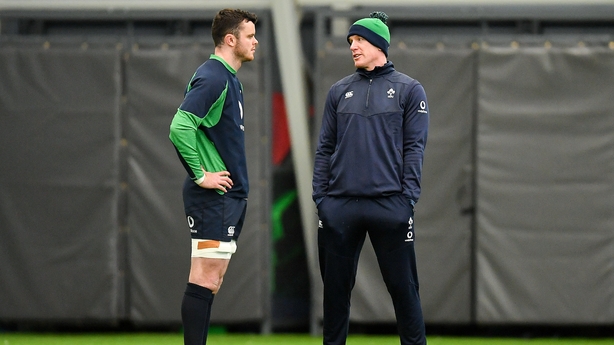 James Ryan echoed those thoughts.
"I think it has improved in this campaign really, which has been great. I wouldn't say there has been a massive change to the nuts and bolts of our lineout.
"I think what he has introduced is little small intricacies and just levels of detail that really make a difference at this level, which has been great."
Even those who aren't familiar with O'Connell's day-to-day workings have spoken of that detail. Earlier this season O'Connell visited the Sportsground to cast an eye on Connacht training which brought a natural "edge" to training, according to Jack Carty.
"What struck me was that there was players walking through the corridor and Paul knew every one of them," Carty continued.
"It didn't matter if it was a player in the academy or a player in the senior team, he knew every player by name and greeted them by name.
"I thought that was a really lovely touch, to be fair, and shows the level of detail he goes into.
"It was fascinating to see."
This afternoon's visit of the All Blacks will be the biggest test of his coaching credentials in his 11 months of international rugby. Aside from the obvious challenge the All Blacks pose, there's a master and apprentice narrative running through today's contest.
New Zealand's forwards coach John Plumtree and scrum coach Greg Feek are both former Ireland assistants, the former playing an influential role with Ireland in the 2013/14 season before returning home, while Feek's tenure running Ireland's scrum made their setpiece as good as any in the world.
Aside from Ronan Kelleher and Caelan Doris, Feek has coached all of Ireland's 13 forwards in the matchday squad, a familiarity O'Connell doesn't have the luxury of boasting.
O'Connell will have to find a way to negate that. So far, he's found one.
Listen to the RTÉ Rugby podcast on Apple Podcasts, Soundcloud, Spotify or wherever you get your podcasts.
Follow Ireland v New Zealand via our liveblog on RTÉ.ie/sport and the RTÉ News app, watch live on RTÉ2 and the RTÉ Player or listen to national radio commentary on RTÉ Radio 1's Saturday Sport.