Ireland kick off their Autumn Nations Series against Japan on Saturday afternoon.
It's a fresh start for Andy Farrell and his Johnny Sexton-led team with all the talk from the camp focusing on a different perspective on the World Cup, which is just two years away.
Ireland had struggled for form at the start of Farrell's tenure but it feels as though a corner had been turned with a strong finish to the last Six Nations campaign and a positive developmental campaign in the summer.
From my understanding, Farrell is very much liked and respected as the head man.
He has changed the atmosphere in camp and it seems to be something that the players are willing to speak about in public situations.
However, the former England dual code international now has to pick his team for this series which will also indicate where his head is at with his World Cup squad, even though there are still a couple of Six Nations campaigns and other international games to play in between.
The tension will build as the competitions become more important and players will understand that it becomes less experimental, they will know much more about their position in the squad.
What we don't generally understand about picking a team is that as the general public, we only ever speak about who should be starting.
Often that comes with provincially-tinted glasses on too, without considering the reality of the situation when picking a team and managing a squad.
The expectation is that Farrell will have to go very strong because of the quality of opposition facing Ireland across the next three games.
Japan play a really entertaining, yet effective, style of rugby and are well capable of causing an upset.
Then it is the world number one team, New Zealand, and the ever challenging Argentinians, so experimentation could go horribly wrong if too much of it is done.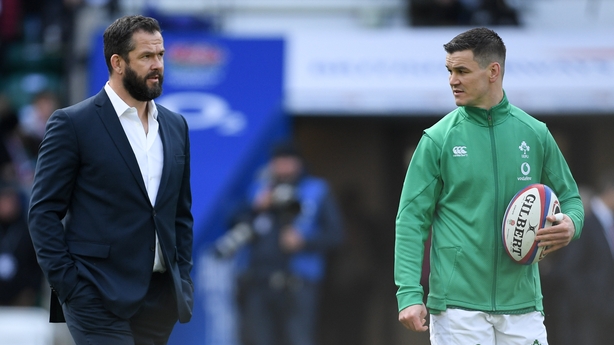 Some of the public perception is that Sexton, 36, won't be at the top of his game by 2023.
I would say to write him off at your peril, the reality of the selection in the No 10 jersey is far more complicated than picking your favourite back-up.
I believe that Jack Carty should have been in the squad and he could have challenged for the jersey in the next two years because of his maturity as a 29-year-old, experienced out-half.
However, that would mean that Harry Byrne's development, or anyone else for that matter, would have been stunted and he might as well not be thought of until the 2027 cycle.
The other side of this is that Sexton is currently the captain and the general of the squad.
If you 'rest' him for the Japan game, he may just about swallow that disappointment of not playing in the lead-up to the All Blacks game, but he won't take too many voluntary rests, especially when you need games to build momentum as a player and to gel as a squad.
It's easy to say that Joey Carbery needs the game time, or Byrne needs to be given a chance, but that comes with the conversation that needs to be had by Farrell with the likes of Sexton.
I don't think he's going to take that lying down, and with the stage he is in with his career, he'll know when he needs to manage himself, but as a competitor he's not going to give a free run at the jersey to anyone else.
Sexton isn't the only one.
You've got guys like Conor Murray, Peter O'Mahony, Keith Earls and Cian Healy.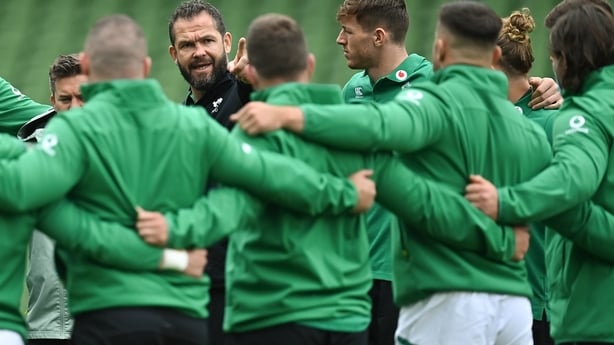 These conversations and management decisions are going to be difficult for Farrell.
Of course, this is part of his job. I don't think the conversation would be too difficult if the head coach believes that these guys are passed it, but they're not.
It's more of a case of the supporters wanting to see the next exciting talent coming through.
For those who don't have to put their head on the block, they would nearly name 20 starters.
It's easy to keep naming players that 'should' be starting, but it's much harder to have the conversations with the guys that won't fit into the team.
For example, who is Farrell going to pay in the centre?
I assume Garry Ringrose will play at 13. Will it be Bundee Aki, who hasn't played many games of late, or Stuart McCloskey who has much less experience at international level but is the heart of the Ulster backline?
You'd hear or read the players speaking about the impact that Aki has on their performances with his communication on the pitch, something that we won't know from the stands.
Where does James Hume fit in? You'd hear shouts for him to get an opportunity but are you dropping Ringrose to get Hume some development games? I don't think so.
And it will all get a lot harder when Robbie Henshaw returns because quite often he holds the key to the biggest Irish performances.
---
Hansen earns Ireland call-up ahead of Japan clash
---
Look at the Irish back row.
Is Tadhg Beirne a 6? O'Mahony is the dog in that pack and shows his leadership in the biggest games but you also have Gavin Coombes, Caelan Doris, Josh van der Flier and Nick Timoney.
They all have their own reasons why they should play games but when you put them against each other and thrash it out, everything becomes a lot harder.
What balance do you need? Does it depend on who else is being selected?
You need a physical workhorse, someone who is good on the ground and a ball carrier.
Or can someone be good in two out of three of those roles? It's a more complicated task than what people think.
When you are thinking about who should play the next series of games for Ireland, it's important to take a moment to look at who you would have to drop before you select the team.
Put yourself in Farrell's shoes and the conversations he has to have.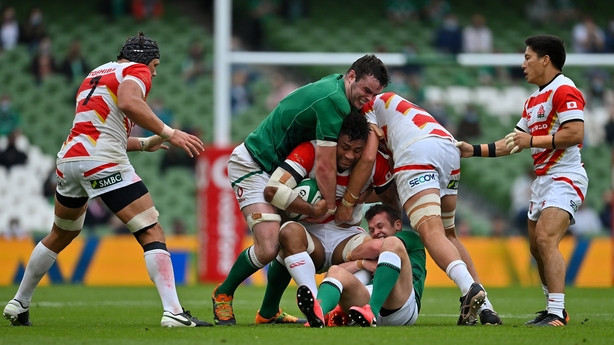 Can you justify the selections?
Will that argument stand the test of the discussion with the other player being dropped?
Will they have enough evidence to make you question your selections and doubt yourself? Or do you have enough information to back up your own selection?
There can't be many of us that have seen all of the games that these players have played in recently, never mind the training sessions and communication in Irish camp that we aren't privy to.
I always say that selection, or more accurately dropping players, is the worst part of the job.
At amateur level in the AIL you are having an impact on someone's hobby and enjoyment and maybe in a small number of cases it will impact their potential for a professional career.
In Farrell's situation, you are dealing with someone's career, their earning potential, their family and lifestyle.
It's a difficult role and it's going to become more difficult for Farrell with the intensity of these competitions heating up in the next two years.
Follow Ireland's November internationals v Japan, New Zealand and Argentina via our live blogs on RTÉ.ie/sport or the RTÉ News app, or watch live on RTÉ2 and RTÉ Player. Live commentary on RTÉ Radio 1.