It's not quite as high-profile as the out-half succession plan, but Andy Farrell has a bit of a selection dilemma at hooker for the Autumn Nations Series.
It's one of the good dilemmas to have though.
In the blue corner stands Ronan Kelleher; Leinster's first choice, started Ireland's last two Tests, called into the British and Lions squad as injury cover this summer, an explosive and dominant ball-carrier, three tries in three games so far this season.
In the red (and white) corner is Rob Herring; Rory Best's long-term Ulster deputy, Andy Farrell's preferred choice in the Six Nations this year, veteran of more then 200 games for his province, match-sharp with five games so far this season, and arguably the best lineout thrower in Ireland.
The likelihood is the both Herring and Kelleher will play against both Japan and New Zealand, with the squad's rookie Dan Sheehan held in reserve until the final game of the month against Argentina.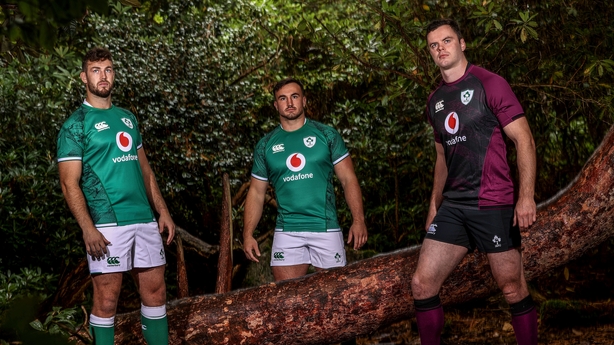 You could make a compelling case for both players to have the number 2 shirt on their back though, to the extent that Farrell may not even have to commit to an answer. It could be a horses for courses selection; Kelleher probably has the greater physicality, Herring has the edge at lineout.
"I think it's always been a pretty competitive position with Heff (Dave Heffernan), myself, Rob (Herring) and obviously Sheeno's (Dan Sheehan) coming in," says Kelleher, as he assesses the hooking options available to Farrell.
"And it's had brilliant performances and it's always been a competitive position. I'm definitely going to be putting my hand for the number 2 jersey.
"We'll see how we go in training and make sure we're ready to go for the game."
While Kelleher's raw ability and eye for the tryline has never been questioned - seven tries in his last four games to be exact - there has been scrutiny on his lineout throwing.
"I think another good way of describing - I think Dave Heffernan said this to me - is basically like being in a boxing match and then having to step away to take a golf swing"
It's an area of the game he's constantly working on with Leinster forwards coach Robin McBryde, himself a former hooker for Wales.
"In Leinster we have got a net and a few different throwing games and stuff like that.
"So we do a fair bit of work with Robin McBryde as a group of hookers. So we do a fair bit with him and a lot of it would be around technique, a fair few of it would be about getting consistency in your own rhythm and your own flow to your throw.
"So, yes, both in terms of throwing we have a net and a couple of different little throwing aides as well."
Alongside goal-kicking, it's a pressurised task, one of the few individual moments in an otherwise 80 minute collective.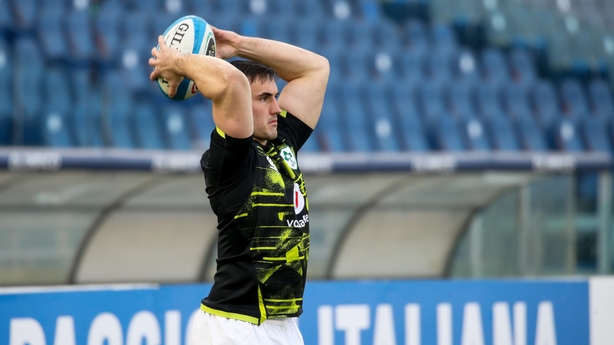 When the ball doesn't go to hand, it's the hooker who invariably gets the blame despite the fact that a successful lineout relies on a multitude of team factors; the throw, the timing and quality of the lift, the pictures being painted by the jumper to create the space, the reaction of the opposition.
"I think another good way of describing it - I think Dave Heffernan said this to me - is basically like being in a boxing match and then having to step away to take a golf swing," Kelleher explains.
"You are in the heat of battle and then you have to stop and perform something very technical.
"That has always stuck with me, that's always good way of putting it.
"You can't get too bogged down and especially on the pitch if a throw doesn't go your way because there's multiple factors that might have played into it.
"So you can't really be over-analysing it as you go. You just have to kind of park it and move on and then focus on the next one when it comes."
---
Kelleher's experience this summer with the British and Irish Lions this summer probably sums up the uniqueness of the Covid-impacted tour.
Initially being beaten to the squad by Jamie George, Luke Cowan-Dickie and Ken Owens, Kelleher was drafted in as training cover for the pre-tour camp in Jersey, while George and Cowan-Dickie completed their club commitments.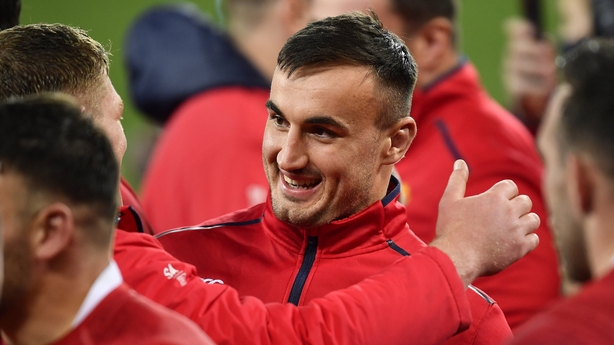 He clearly made an impression in Jersey though, with Warren Gatland calling him up to the squad during the tour in South Africa as additional cover, but didn't feature in the 2-1 Test series defeat.
"It was a great experience and great to get to know the lads and all the coaches," he says.
"I suppose the feedback I got was that they had the experience over me and they had the consistency over that many years"
"Obviously slightly disappointed not to get a bit of a run or anything. But I can't be too disappointed with it. To go from nowhere, not in the squad to being brought out to train alongside them is still a really positive experience.
"Also the lads are great and took a lot of learnings from it. But ultimately it also drove in me that I'm not far off, I felt it was a pretty competitive bunch as well. That was one of the big takeaways from it. I felt confident out there.
"I suppose the feedback I got was that they had the experience over me and they had the consistency over that many years.
"But that was all a big factor and yeah, in terms of what I learnt from them over there, they were all great in terms of helping me, giving me little nuggets of information to help me kick on in my game.
"But that was the big thing I suppose. Just kind of their experience, their experience being there in big games."
Being among the touring party for Australia in 2025 is an obvious goal but there are plenty of milestones to reach before that.
Barring injury, Kelleher should have his first experience of the All Blacks later this month, when they take on Ireland at the Aviva Stadium.
It remains to be seen whether he'll be wearing the number 2 shirt or the number 16, but he admits he's been given feedback on his game by forwards coach Paul O'Connell and scrum coach John Fogarty.
"I suppose just I don't want to give too much away, but just consistency but just that you get the full 80 minute performance really.
"It's obviously an area I've worked on in terms of being the most physical, of being vocal on the pitch, almost not going into your shell. But yeah, it's obviously it's something that I've been working on in Leinster, that physical aspect of the game really.
Listen to the RTÉ Rugby podcast on Apple Podcasts, Soundcloud, Spotify or wherever you get your podcasts.
Follow Ireland's November internationals v Japan, New Zealand and Argentina via our live blogs on RTÉ.ie/sport or the RTÉ News app, or watch live on RTÉ2 and RTÉ Player. Live commentary on RTÉ Radio 1.