Connacht centre Tom Daly says he wants to remain in Andy Farrell's plans after receiving his first taste of the international scene this summer.
The former Ireland 7s captain earned his first call-up to the 15s squad this summer ahead of the games against the USA and Japan.
It was just reward for a breakthrough season for the Carlow native, who scored five tries in 23 games for Connacht, winning the Players' Player of the Year and Fans' Player of the Year awards out west.
But while the now-28-year-old earned his first international call-up for the summer Tests, he didn't make the cut for selection, and is still waiting for that first senior cap.
Listen to the RTÉ Rugby podcast on Apple Podcasts, Soundcloud, Spotify or wherever you get your podcasts.
Speaking ahead of Friday night's United Rugby Championship visit of the Bulls, Daly said just being part of the two-week camp was a lifetime ambition.
"It was a dream come true, probably a dream I've had since I was a child," he said.
"It was good for it to eventually become a reality, probably took a bit longer than I would have liked and a bit longer than a lot of other players in the country but just to be there was class.
"I think coming towards the end of the season it was maybe on my mind a little bit, I knew I would have been close enough to making the squad because I had that good year and eventually when I did get that email through I was absolutely delighted.
"The two weeks in there were class, I learned loads. Definitely a higher standard than I've ever trained and played at before."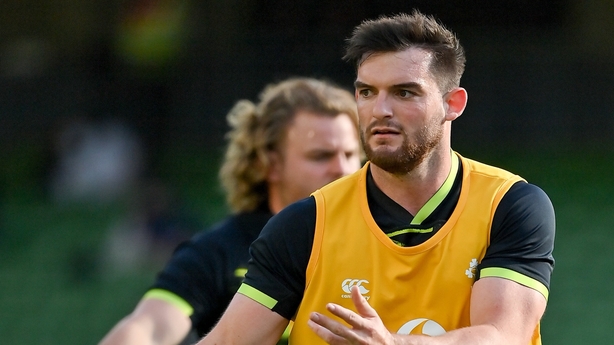 Despite the admitted frustration of returning to Galway without his first cap, the former Leinster centre says he was given reassurances from Farrell that the door is still open for him to return.
In order to do that he needs to retain his form from last season, and showcase his point of difference.
He said: "I suppose just starting regularly for Connacht again, same as last year and putting in some big performances, and I think just consistency, backing up big performances with another big performance.
"I think I bring a lot of energy both side of the ball, and continuing to do that, and the kicking game is something different that I would have on some centres in Ireland, and trying to use that throughout games as well.
"Just little bits like that, that you have to play to your strengths and show your uniqueness. It's a stacked position in Ireland and plenty of lads are banging on the door to get in there."
Most importantly, Daly says he left the international camp a better player than when he entered it, tapping into the expertise and knowledge of his fellow centres, and learning the subtle differences between being a good provincial player, and a Test player.
"I definitely learned a lot defensively; setting up off set pieces, I learned a lot off the likes of Chris (Farrell) and Stu (McCloskey) and even Humey (James Hume) who was in there as well," he added.
"Just stuff that other provinces might do different to us, that I could bring into how we defend here.
"Then in attack, just being involved in every phase, not trying to wait for a ball to come to you, to go looking for work, trying to get on the ball as much as you can and be as loud and vocal as you can to the forwards, directing them and just being really confident on the pitch and confident in your own abilities.
"Just little things like that. The speed that things happen, and the intensity was probably the biggest change that I'd seen from before."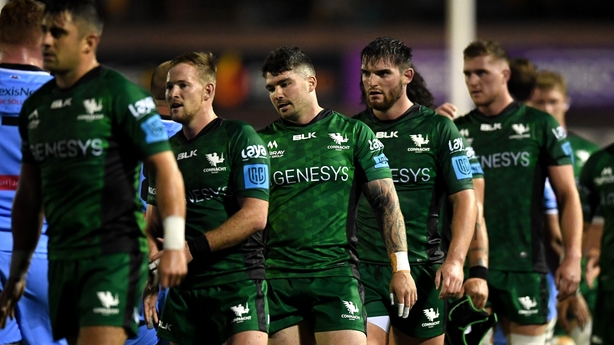 If Daly wants to get back into the mix for November, it starts in the URC.
Those looking to impress Farrell have six games to do so before the November Test matches against Japan, New Zealand and Argentina.
The first of those six didn't go well from a Connacht point of view, beaten 33-21 away to Cardiff in what was Daly's 50th appearance since joining the side in December 2018.
Next up, the Vodacom Bulls visit the Sportsground this Friday, looking to bounce back from their own disappointing start to the season.
Daly says they need to take a leaf out of Leinster's book, and keep the pace of the game high against the big South African outfit.
"They're definitely a big, physical team and their backrow in particular will cause trouble, so I think this is the perfect game for us to show, hopefully, that new game plan and play a fast brand of rugby, and play on top of them, and play at a quicker pace than they're used to, so that's the plan this week.
"We worked very hard over the pre-season and they're probably bigger men, man for man, I'm sure they have a few kilos on us. I'm sure that helps when you're coming into the later part of the half, you're always going to have that little bit more energy hopefully.
"They're big men and they're strong, but they're well able to play rugby and well able to offload and play a wide, wide game .
"They have threats all over the park, and I don't want to stereotype them by saying they're just big massive ball carriers with a maul and scrum but they're well able to play rugby as well.
"It's definitely a formidable challenge and one we're looking forward to."
Follow Dragons v Leinster via our live blog on RTÉ.ie/sport or the RTÉ News app, watch live on RTÉ2 and the RTÉ Player or listen to national radio commentary on RTÉ Radio 1.