10 April must seem like an age ago for Adam Griggs.
Following a lengthy lay-off due to the coronavirus, which saw the previous Six Nations campaign abruptly halted, the Irish girls, surely sick to their back teeth of 18 months of training camps, bounced off the pitch in Cardiff Arms Park.
Wales 0-45 Ireland. Seven tries, shut out. Happy days.
Fast forward five and a half months and Griggs's side face a must-win match against Scotland in Parma later today (5pm, live on RTÉ2, RTÉ Player, RTÉ Radio 1).
Beibhinn Parsons, a rare beam of light in an otherwise dark fortnight for women's rugby in Ireland, says it's "unthinkable" that the team won't qualify for Rugby World Cup 2021, which will be played in New Zealand next year.
The record since that day in Cardiff reads played four, won two, lost two.
The defeats came to France and Spain, the shock result from two weeks ago.
But it's both the manner of the losses and the victories (both over Italy) that will have given Griggs most cause for concern.
Yes, they got the results (25-5 in the Six Nations, 15-7 in this tournament) but it was a case of making slightly fewer mistakes than their opponents.
Lineout malfunctions, shaky scrums, basic handling errors abound. Mistake compounded by mistake.
The four performances, with the bulk of the same personnel involved, minus Hannah Tyrrell, since the opening Six Nations game stand in stark contrast to that match.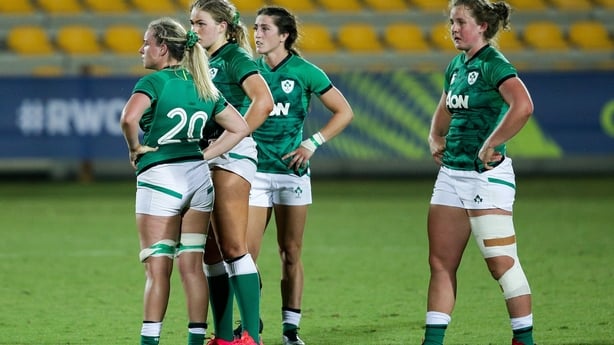 "The Welsh game was a day when everything went right for us and shows how dangerous we can be," Griggs told RTÉ Sport.
"Back then it was a different journey.
"This is four teams going for one goal, it's very much knockout rugby so the pressure teams apply, and even the desire of the opposition, puts much more stress on your attack.
"The last couple of weeks show we still have room for improvement.
"We know we can get back to those heights but it's about controlling the pace of the game and the ball quality we can give our forwards and backs.
"So we have to take this tournament for what it is, knockout rugby and that brings more pressure to it."
It doesn't exactly explain the basic mistakes made in the Six Nations games and a repeat of anything like the last four matches is going to give Scotland, who have lost their last two games to Ireland in 2019 and 2020, a hell of a shot.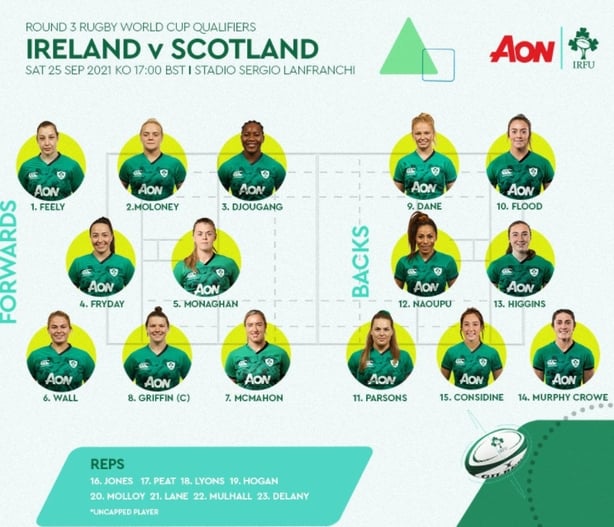 Captain Ciara Griffin says putting it right is about addressing the issues on a technical and mental level.
"It's a bit of both," says the No 8.
"Obviously there are individual skills on the pitch that you can focus on and practice but it's off the field as well: realising what resulted in that breakdown or whatever, and sometimes it is just individual errors.
"That's on us as individual players and recognising that and just taking the time. I'd be very much focusing on the next job so it's not so much dwelling on what happened but focusing on what you can do to rectify it."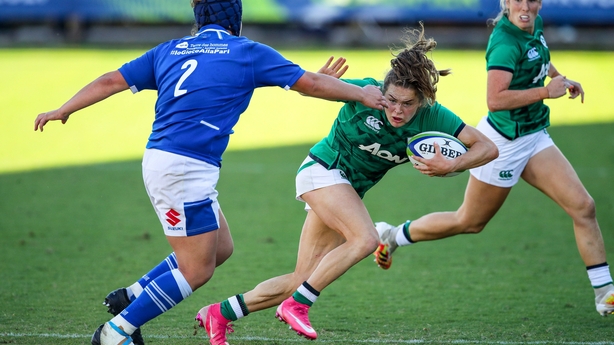 The management and panel have not been shy in their praise of Parsons, who has two tries to her name in the last two games.
Getting the ball to the Galway flyer as often as possible looks likes Ireland's best chance, however, Griggs was not tempted to move the 19-year-old in-field as he named an unchanged team to the side that beat Italy.
"Her strengths at the moment are finishing opportunities and beating players one-on-one," said the New Zealander, who has been in charge since 2018.
"At the moment, that suits us, her being on the wing and we have a good centre partnership in Sene [Naoupu] and Eve [Higgins] to provide that ball.
"So in the future, you can certainly see her skillset moving into midfield. But at the moment, we're quite happy with where she's at."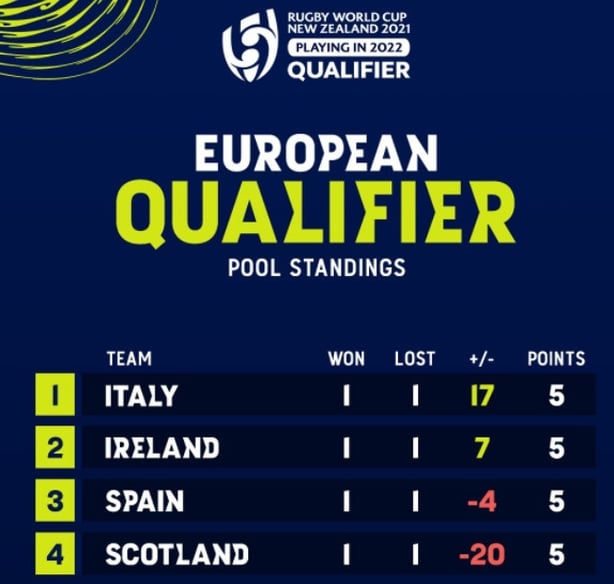 Ireland want Italy to beat Spain in the 2pm kick-off, which would mean an Irish win, with the same number of match points, over Scotland would ensure qualification.
That's because the first qualifying criteria if teams are level on points is head-to-head.
Should Spain beat Italy without a bonus point then Ireland would need to get the full five points from their game to take the top spot.
Whoever finishes second in the table earns a repechage shot against Colombia, Samoa and an Asian qualifier.
That Ireland will know exactly what they need come their kick-off is just the rub of the green, according to Griggs.
"I wouldn't [say it's unfair] because we wouldn't have been able to put ourselves in this scenario from the first weekend's games," he said ahead of the match-up with Bryan Easson's side, who beat Spain 27-22 last weekend.
"It's just the way the table has turned out with everyone on one win and one loss.
"I don't even think World Rugby would have planned for such a final day.
"To be honest, I just think it's the luck of the draw that we're playing last and we'll then have an idea what we need to do.
"We've discussed those earlier on in the week so by this time around the captain's run and into the game it's in the back of our minds.
"It's probably more as a coaching group we will keep an eye on those things.
"Essentially the message to the group is we want to win this game, whether we want to finish first or second. We need to win."
Listen to the RTÉ Rugby podcast on Apple Podcasts, Soundcloud, Spotify or wherever you get your podcasts.
Follow Ireland v Scotland live Saturday, 5pm, via our live blog on RTÉ.ie/sport and the RTÉ News app or watch live on RTÉ2 and RTÉ Player or listen on RTÉ Radio 1