Ciara Griffin says Ireland must treat next weekend's game against Italy as a cup final with a third-place finish in the Six Nations up for grabs.
Yesterday's harrowing 41-point loss to France in Dublin sets up a play-off at home to Italy, who beat Scotland 40-21 in Scotstoun.
The squad was on a high following last weekend's big win over Wales but were completely out-played by Les Bleues, who ran in eight tries (one a penalty try) to Ireland's two, and Adam Griggs' side must now pick themselves up.
"It's not finished yet," said the skipper.
"We've another cup final next weekend and we've to get ready for that. We know the work we've put in, all the work into that jersey. Things didn't go our way and we made errors.
Ireland maul over for their second try through Emma Hooban https://t.co/bwxlyfLOUF #WomensSixNations #IREvFRA pic.twitter.com/FbpL4Shc2E

— RTÉ Sport (@RTEsport) April 17, 2021
"That's what you learn from against world class teams. We learned about those areas and those areas now can be picked up and improved for next weekend. That will be one area covered.
"Every woman out there, from 1 to 23, we kept going to the 80-something minute. No one dropped their head. The scoreboard, you couldn't change it after a while unfortunately.
"We kept focusing on us and going forward, just protecting our line, kept going and kept going for that second try. I'll take a lot from that for this group in terms of that mental toughness.
"That's going to help us leading into this week, that mental resilience. I think a big thing was our physicality and our aggression. We didn't sit back and we kept going."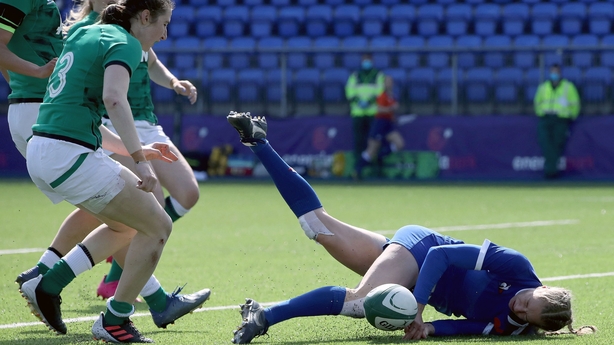 France operate on a semi-professional basis, while the Irish side are amateurs. Speaking before the match, the team acknowledged that and Griffin was asked how quickly it became apparent that there was a huge step up in class from the Wales outing.
"We knew from the word go it was going to be a different animal here with France," the 27-year-old told RTÉ Sport.
"You see the way they play. They're quite expansive, they're also physical, quite a skilful team.
"If we sharpened up a few areas and didn't get away penalties and give them easy yards…if we nullify and eliminate that, we're in a good place going forward.
---
Realism required after heavy loss - Briggs
---
"The French were clinical. They had their work done. You could see they came out firing.
"They wanted to play rugby and prove a point as well. Again, we've to focus on us and fix our errors. There were a few errors out there that we will work on.
"We can learn by focusing on us. Focusing on our process, what we can control. Not playing into their hands at times. We'll do our revision, we'll do our footage review and our analysis."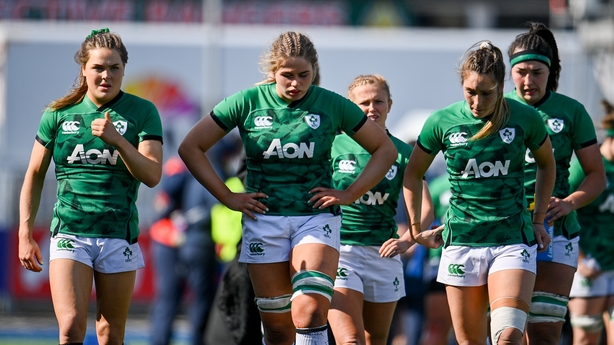 Much of the focus in the build-up had been on in-form Béibhinn Parsons but Ireland, who, between bad passes, knock-ons and handling errors made 28 mistakes in possession, struggled to feed the winger in the early stages.
"We always have a game-plan to use our backs, to use everyone like that, but you've to play what's in front of you at times," said Griffin.
"If France gives you a different picture that you can't go wide straight away, we have to adapt on the fly there.
"Punch, punch and then try and play it. Sometimes we couldn't get it to the width in terms of that French defence and that pressure.
"It's up to us then to adapt. Realise that and go to plan B, which we'll work on this week."
Ireland head coach Adam Griggs says errors, decision-making and indiscpline cost his team today but is confident they will bounce back to finish third #WomensSixNations #IREvFRA pic.twitter.com/lQ8ZruNeoU

— RTÉ Sport (@RTEsport) April 17, 2021
Head coach Griggs, who took over in 2017, said his side is determined to secure third spot.
"You can understand they are a bit down at the moment, a bit low on energy," said the New Zealander.
"The bodies are sore, when you have a loss the body always feels a lot more sore than it might be in a couple of days.
"We spoke as a group that we've got to take the learnings from this game and show that we are the third-best team in this competition.
"The only way we can do that is by going out next week and putting on a performance that we can be proud of and if we can do that we want to leave no doubts about where we sit in this championship.
"I think we probably let them play a little too much.
"We spoke about our line speed and really trying to force errors on them and in the first 10 minutes we did that and we forced some mistakes but then we sat off a little bit and they're just too good to let them play at you.
"We've got to make sure that the way we start a game in that first 10 minutes, bringing that energy, we have to maintain it.
"If you don't do that it becomes an arm wrestle and against France it was far too difficult to try and get that back."