Former Ireland international Niamh Briggs said the present Irish squad needed to be playing a greater number of games at a higher level after their sobering 41-point loss at home to France in the Six Nations.
The resounding victory over Wales in Cardiff last weekend sparked bullish talk in some quarters that Ireland had clicked and were primed to mount a proper tilt on the two big powers in women's rugby in the northern hemisphere.
This notion was ultimately proven to be a chimera as Ireland were brutally dismantled by a semi-professional French side who were far superior in every facet, dominating the hosts physically and taking their chances clinically. The result was put beyond doubt well before half-time.
Speaking on RTÉ Sport after game, Briggs, who won two Six Nations titles with Ireland in 2013 and 2015, said some realism was necessary in assessing where Irish women's rugby is at compared to France.
"We need to be a little bit objective in terms of where both those squads are. We spoke beforehand about where France were in their evolution.
"There are definitely areas where Ireland were poor today - in terms of defensive issues, in discipline issues with 20 penalties conceded.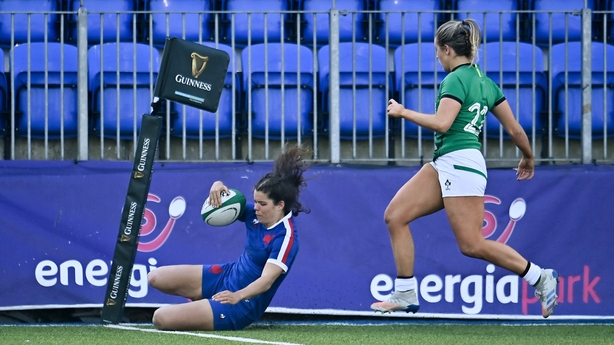 "But let's be realistic in terms of this group of players. Bar Boulard, every single French player in their squad today has been playing rugby since under-8s. Bar Beibhinn Parsons, Dorothy Wall and Eve Higgins (ours haven't).
"There's a huge disparity there. But in my objective head, and if I take myself away from this team and this situation, I can see why there is (that disparity). There are so many outside factors.
"These girls need to be playing games of this level all the time in order to be able to grow.
"That game against Wales last weekend, bar giving them a bit of confidence, they probably didn't learn a huge amount."
Former international Niamh Briggs believes Ireland should be judged more on next week than a one-off result against a team that have played a lot more rugby. #WomensSixNations #IREvFRA pic.twitter.com/jSdpmjGhEf

— RTÉ Sport (@RTEsport) April 17, 2021
The physical disparity between the teams was evident throughout but Briggs pointed to other kinks within Ireland's game which were partly the result of too few games at a high level, a problem which became particularly acute in the past year when they played just once between February 2020 and April 2021.
"It's very unfair to bombard them. I'm not unrealistic and I'm not afraid to critique these players. But I'd prefer to critique them in terms of things they should have done better - Line speed, matching numbers, covering spaces on the edge - and they didn't do that today.
"They'll learn a huge amount from this. They'll learn way more from this than they will next week (the third-placed play-off against Italy). In terms of their defensive shape off scrums, in terms of the backfield being able to anticipate plays.
"It's like a game of chess almost in terms of your ability to read the play and as backfield player, that only gets better the more you play you play at this level. Anytime, there was a line-break, there almost seemed to be a score.
"They're all easily fixable things. I'm not saying that if we fix them, we'll go and beat France. But if we fix them, it's a better performance.