CJ Stander views Rassie Erasmus' labelling of Ireland as a "soft" team as a challenge and has promised to keep the insult in store for their next meeting with South Africa.
Before Covid-19 interrupted proceedings, Ireland were due to face the Springboks this autumn, with the game originally scheduled for last Saturday.
But Ireland now head for Twickenham to meet the physical challenge of World Cup finalists and Six Nations champions England, who have easily accounted for Andy Farrell's side in their last three meetings.
Listen to the RTÉ Rugby podcast on Apple Podcasts, Soundcloud, Spotify or wherever you get your podcasts.
Erasmus, the former director of rugby at Stander's Munster, made the comment in a documentary when comparing how Wales, their World Cup semi-final opponents, would be different to Ireland.
"They are not softies, they're not like Ireland," was the quote, which former South Africa U20 captain Stander addressed at a press conference today.
"It's a bit of a challenge, you know, because if that is his view and that's what he believes then I would like to, not really prove him wrong, but I'd like to show him what we can do is what we've done before," he said.
"That is a big statement to make and he put it out there, that's his prerogative, that's his thought of us.
"It's not going to be easy to change his view but lucky we are not playing against them this weekend; we'll get them at some stage."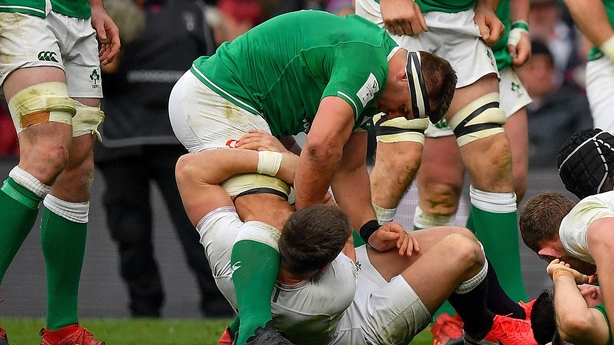 Ireland's most recent defeat to Eddie Jones' side came in February, just before the lockdown and the visitors to Twickenham that afternoon failed to get to grips with their hosts' physicality in-your-face style, with Stander himself getting involved in an altercation with Owen Farrell, son of the Ireland head coach.
"Was there? Only joking," smiled the 30-year-old, who will win his 44th Ireland cap on Saturday as one of four changes to the team that beat Wales.
"We got caught at the right time, the right place. Those things happen in a game, especially against England, they try to get in the game that way.
"Look it, if there is a scuffle and I am in the middle of it, I know I am backed by the team and so is everyone else.
"On the pitch this is just another guy, you just want to get into him and do your thing and afterwards there's actually a few laughs.
"I think if I was a bit younger and bit insecure, [I'd think] I'm going to be in trouble here. Look, we've got a job to do and [Andy is] there, he's our head coach.
"He backs us and we back him. We go up against England and it's us against them. He backs us."
While boss Farrell insisted the team didn't use the story of Argentina, who beat New Zealand for the first time ever on Saturday, as an example of how to overcome underdog status - "No, we haven't spoken about it at all" - Stander said the 25-15 win has been a topic of conversation among the players.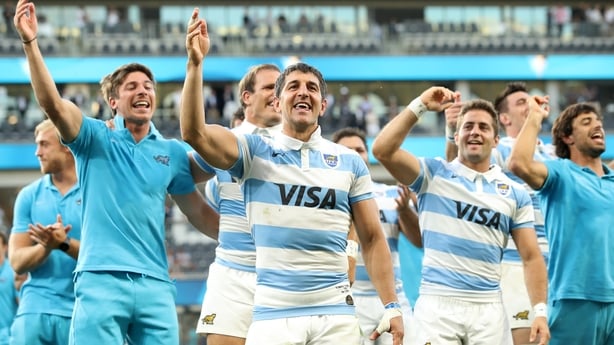 "It was an unbelievable game to watch," said the back row forward.
"It was one of those ones you remember where you were.
"The biggest thing there was they enjoyed playing for their jersey, for each other and they came out and firstly played their game, didn't make a lot of mistakes.
"Their tackle count was up there so that makes a big difference.
"You can see they really wanted to be in that jersey and they wanted to play for each other. We've looked at that game as individuals, we spoke about it in small groups about that victory.
"I don't want to go back in history but when we played New Zealand [in 2018], I think cohesiveness against a team like that is important."
Follow England v Ireland this Saturday via our live blog on RTÉ.ie/sport and the RTÉ News app, watch live on RTÉ One from 2pm, or listen to live updates on RTÉ Radio 1's Saturday Sport.