A new coach, a handful of new players, same old story.
Ireland were out-muscled, out-fought and, worst of all, out-thought against England, just as they had been 12 months ago to the same opposition.
Of the XV that started last year's game, only Rory Best and Garry Ringrose did not feature yesterday.
That the team failed to evolve at all in 2019 is well documented. What we saw against Scotland and Wales was supposed to hint at least that a corner was turned.
But what we learned in Twickenham is that England did not have to deviate from their game plan or come up with anything too clever to notch up a third facile win in a row over the Irish.
"Silly," said Johnny Sexton in the post-match interview about how they continued to play into England's hands with tactics that suited their blood-thirsty band to a tee.
England were content to let Ireland have possession safe in the knowledge that their guests did not know what to do with it. Time and again slow ball was shifted out to isolated attackers, who could surely hear snarling and ravenous beasts waiting to gobble them up.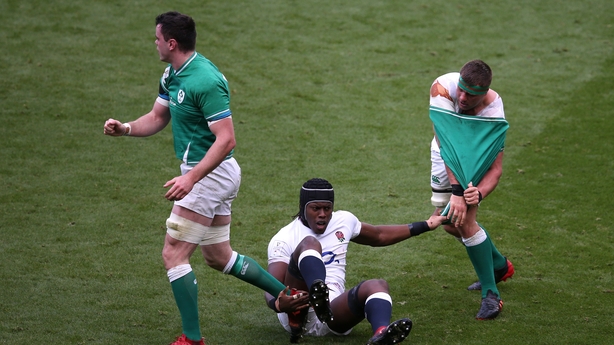 There were 15 turnovers, many of them entirely predictable as the likes of Itoje and Tuilagi and Lawes pounced like a pride of lions on a wounded prey.
Their first-half dominance was a sight to behold.
Eddie Jones quip that if it was a cricket match they could have declared was a suitable analogy from an Australian but if this mismatch had happened in the Coliseum in Ancient Rome the crowd would have left at half-time out of pity for the Christians.
Anyone who travelled to south-west London and spent five quid on the Ref Link is unlikely to have handed over better money all weekend.
Jaco Peyper, who had a better outing than usual, had his hands full dealing with Sexton and Owen Farrell and Conor Murray, all in fine voice, but his mic also picked up the crystal clear English accents yessshhiing! and whooping and screaming in delight. They loved this contest.
You got the exchanges from James Ryan, Kyle Sinckler and Ellis Genge, and the rest of the back-chatters for free.
"Were they up for it more than us?" Farrell asked rhetorically in the post-match press conference. Make no mistake, England wanted this more.
All that talk of reminding the players what 'Irishness' was during the week, with a visit from the singer of successful rock combo U2, proved fruitless.
If you asked any of the English guys after the match what song would sum up 'Irishness', Desire would be last on the list.
To those who put 114 points on board in three games, the song might be a little ditty off the October album, 'Is That All?'
"It was like being stuck in the same game," said Sexton comparing their last two championship meetings with the Red Rose.
Small things again, he laboured to point out, make the difference – "you might throw your eyes up to heaven when you hear that" – but on this evidence it's the big things running down the middle that are causing the problems.
Ireland knew the power play was coming, and they could do nothing to prevent it.
If the IRFU have any say in South Africa's reported attempts to get into the tournament, they'd be well advised to black-ball.
Farrell, known for his defensive prowess, will have to come up with a solution, and soon.
Italy, without a win in 25 Six Nations games, will be game for a while before fading out, but a re-invigorated France, probably going for a Grand Slam with a 9pm kick off on a Saturday night in Paris will look at the performance yesterday and smile.
Their young guns can bring a physicality similar to England.
And when teams are at home on the final day, and going for a Grand Slam, as Ireland found out last season against Wales it's next to impossible to stop.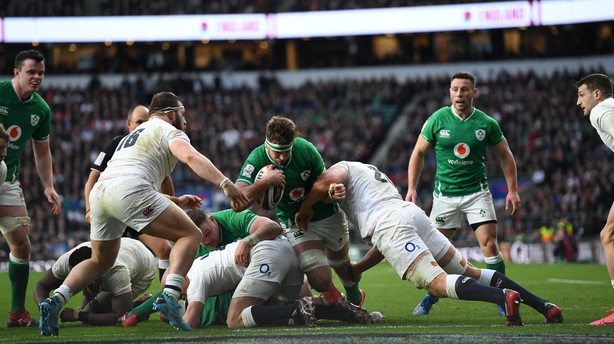 The introduction of Caelan Doris, Ultan Dillane, Ronan Kelleher and Ross Byrne did serve to improve matters, albeit England played like they knew they had won the game at that point.
"I thought they did really well," said Farrell of his replacements.
"I thought we played some decent stuff towards the end but obviously a little bit too late. You don't want to be playing your best rugby when the game is over."
It will be a long fortnight for a lot of the players who have to look inward for answers to the same questions that cropped up in 2019. Farrell, it seems, may have to look further down the list to see who can develop what he wants to achieve with his new side.
Asked about changes, he said: "We'll see, we'll see how people pitch up, who needs a game
"We've got people going back to their clubs, we've got a fallow week and people will be refreshed anyway. We'll assess the game and what's best for the team."
What's best for the team is not necessarily be what's best for some of the players on the team.There are tough decisions to be made.
On the face of it three homes wins in Farrell's opening Six Nations, and defeats away to the two traditional powerhouse teams isn't so bad.
But if they go down to Les Bleus, in the same fashion as they did to England (three times) and New Zealand - that is, without a shot being fired – then real big problems are coming down the line.
Intriguing times.