It was a positive end to the season for Leinster in the west end of Glasgow on Saturday night.
They beat the home side to defend their Guinness Pro 14 title, and go some way to making up for defeat in the Champions Cup final two weeks ago.
Cian Healy tells RTÉ Sport's Michael Corcoran that it was important for everyone in the province that they got the result.
"It helps clarify what we have done for the season," he said afterwards. "The last one there hurt us a bit, and took a bit of regrouping, and we're pretty happy with how we bounced back there.
"It was tough graft. We had to change a bit of our game plan, mid-game, and start adding a bit of pressure rugby.
"I thought everyone dug in well in what was a battle of a game. It was pretty attritional, and we backed ourselves in the contact area and came up well.
"But it was worth it."
In wet conditions at Parkhead, Leo Cullen's side fell behind to an early Matt Fagerson try. But they hit back almost immediately through Garry Ringrose.
Healy's own try gave Leinster the lead with just under thirty minutes on the clock, and they never fell behind after that.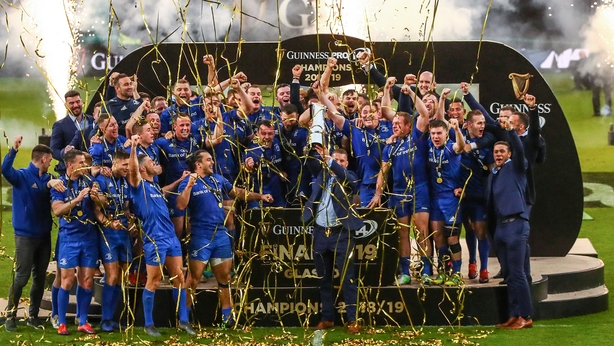 "It was a bit slippy, but not the worst," was Healy's view of the weather. "We knew it was coming. The backs knew, and made us do all the work as well. Some days you have to do it, and it's worthwhile at the end of it to go to that place.
"It was just about control, and about keeping that territory in the right part of the field and not starting to play silly rugby. You could see from the first-half that it was a bit of a grafter of a game.
"It was a real 'roll the sleeves up' job. That was the mentality for the second-half. If the backs did get the chance to get a bit of flair, they could go for it, but it was big hits, and big carries, and clean outs, and look after the ball."
The crowd of 47,125 was a record for the final, and Healy paid tribute to those who had crossed the Irish Sea for the game. 
"We had a lot of Leinster support there. I don't know how many there was, but there was enough flags going around.
"It's noise, and support, and you hear the chants, and it spurs you on that little bit. When you hear your team do well, and the place goes a bit wild, it's nice. It's an enjoyable part of the game."