Stuart Lancaster insists his phone isn't hopping with job offers and he is very happy in his "rewarding and fulfilling" role at Leinster. 
The Leinster senior coach is being linked with a return to his homeland on an almost weekly basis in the media, with clubs like Harlequins and Saturday's opponents Bath frequently being mentioned. 
There was even speculation that Lancaster could be in line to return as England head coach once Eddie Jones departs, which would mark a spectacular turnaround given the circumstances surrounding his exit from that post in 2015. 
Speaking to RTÉ Sport however, Lancaster said the offers haven't been flying in and strongly suggested the media reports were off the mark.  
Leinster senior coach Stuart Lancaster is just 'ploughing along' #rterugby pic.twitter.com/qOSHXV0BBD

— RTÉ Rugby (@RTErugby) December 10, 2018
"I certainly am very happy here," he said.
"I've really enjoyed the opportunity to coach at such a top quality club. I enjoy the time when the internationals are here and when they're away I enjoy the time coaching the younger lads.
"So it's a very rewarding, fulfilling job. I gave up a while ago planning too far ahead in my career because I was contracted to England until 2019 and that changed very quickly! 
"I'm going to just keep enjoying what I'm doing. If you look after yourself and do a good job as a coach, things should look after themselves.
"I'm not going around throwing my CV anywhere and I'm certainly not getting many phone calls. I think people are putting 2 and 2 together and making 5.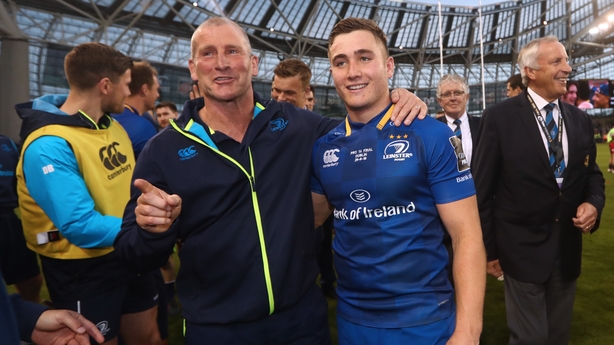 "This is a high level. You're pretty much coaching the majority of the Ireland team, who are ranked the second best team in the world. And a lot of them are Lions. So, you've got to be on point every day of the week for 40 weeks of the year. And that's the rewarding part of the job." 
Leinster face into a return clash against Bath in Dublin this weekend having scraped a messy win at the Recreation Ground on Saturday. 
Lancaster speculated that a number of the players may have been rusty given their layoff since the New Zealand game and said that the team needed to do the basics better this weekend. 
He said: "Quite a few of the players hadn't played since the New Zealand game. A few had played against USA. I think that was part of the equation.
"It's very hard to replicate the intensity of a (near enough) Test match in a training session. Three weeks out and we definitely looked a bit ring rusty. But I thought we improved as the game went on and I think we'll be better again this week.
"We need to be better at the basics if we're going to win at the Aviva. 
"If you'd sat in our review this morning, you'd think we'd lost. That's the mindset of the group. We want to get better and we want to improve. There's certainly no patting on the back going on."