The warm glow of Saturday's incredible Six Nations defeat of France still flickers in the Irish camp, but CJ Stander knows major improvements must be made to prevent Grand Slam dreams going up in smoke.
Jonathan Sexton's marvellous last-gasp drop goal stole victory and broke French hearts in Paris.
It got Ireland out of there with an opening-day Six Nations success and the opportunity to build towards a championship title and possible Grand Slam shot at Twickenham on St Patrick's Day.
There's a lot of rugby to play first and Conor O'Shea's Italy will hardly roll over in Dublin this Saturday, but Stander believes his team-mates can take a lot from a gutsy first win, not least the knowledge they can produce when the pressure is at its highest.
"There's a lot of things we can fix to give us a better opportunity next time," he told RTÉ Sport's Michael Corcoran.
"There was a lot of character shown in the last 41 phases to get Johnny into that position.
"We've all watched and been part of games where that mistake happens and that's the end of it. When you stand up and wait for a ball, that thought goes through your head, but we all knew as a collective we needed to win certain battles to get Johnny in that position.
"In fairness everyone stepped up and took the ball with confidence.
"There was a lot of mental focus. In the first six phases you think, 'do I still have enough left in me?' After that you just switch off and go to a dark place. You put your head down, make sure you go forward and look after the ball. It's a place a lot of us have been to in previous years. 
"It felt longer than 41 phases. You lie there and it felt like the ball was flying forever (for Sexton's kick). When it happens and the whistle goes there's a lot of emotion and excitement."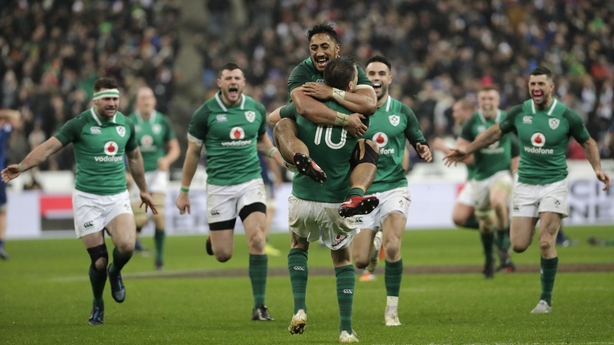 The Azzurri were dogged and brave in their 46-15 loss to England in Rome but ultimately lacked the quality to trouble the reigning champs.
And although anything less than an Irish victory at the Aviva Stadium would be considered a disaster, Stander warned nothing can be taken for granted.
"Italy showed what they can do as a team (against England). We always know you've got to start the game well. If you give them an in, they're going to make it a tough day.
"They've got experienced players we've all played against and again it's going to again be a very physical battle.
"If you slip up once, it's probably the end. Paris is a tough place to go. If we can work on and fix what we did prior to the drop goal, we can push on." 
On Josh van der Flier, who has been ruled out of the remainder of Six Nations with a knee injury, Stander added: "It's a tough one. Josh is a player who comes into the squad and brings a lot of energy. He's a guy who lifts everyone up with his spirit. He's going to be missed."