Steve Hansen has reacted angrily to Warren Gatland's demand that referees clamp down on New Zealand's "dangerous" targeting of Conor Murray by phoning a radio station to call him "desperate".
All Blacks boss Hansen called Radio Sport directly to answer British and Irish Lions head coach Gatland's call for greater protection of scrum-half Murray.
Gatland was frustrated by what he felt were deliberate tactics from the All Blacks, claiming they were diving "blindly" at Murray's standing leg whenever he launched a box kick in Saturday's 30-15 defeat to New Zealand.
The Lions boss raised the issue chiefly out of safety concerns, but Hansen took such exception to those comments that he called a radio station to hit back.
"It's predictable comments from Gatland, isn't it?" Hansen told New Zealand's Radio Sport.
"Two weeks ago it was we cheated in the scrums, last week it was blocking and now he's saying this.
"It's really disappointing to hear it, because what he's implying is that we're going out there to intentionally injure somebody and that's not the case. I guess he might be a bit desperate.
"We've never been like that and as a New Zealander I'd expect him to know the Kiwi psyche."
Lions assistant coach Steve Borthwick refused to be drawn on the issue, other than to insist he had never had any experience of one set of players deliberately attempting to injure another.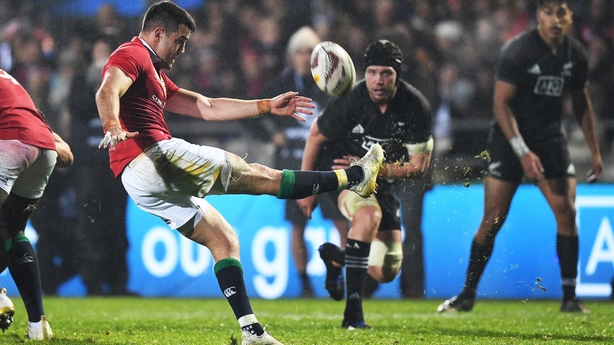 Asked if he had ever seen that behaviour between opponents, Borthwick said: "I've certainly never experienced that, no.
"Rugby at the top level is an intense competition where both teams are trying to apply as much pressure on the opposition as possible."
Murray has been targeted directly when box-kicking in the past, with Munster reacting furiously when claiming Glasgow had targeted the Ireland scrum-half in their 14-12 Champions Cup win at Scotstoun on January 14.
France's Jerome Garces will referee Saturday's second Lions Test against New Zealand in Wellington, with Gatland saying he will raise the issue in meetings with the officials later this week.
"There were a couple of times from Conor Murray where there was a charge-down where someone dived at his legs," said Gatland.
"And I thought that was a little bit dangerous.
"And after he's kicked he's been pushed a few times, and pushed to the ground.
"It's just making sure he's being looked after and protected and not harassed after he's box-kicked.
"So we'll probably just get some clarity from the referee later in the week.
"We can't complain about the referee in terms of the way he controlled the match."
When it was pointed out to Gatland that Murray had received similar treatment in the past, the Lions boss replied: "Yeah he has, yeah, and it's a little bit tough.
"When you see someone dive at someone's leg and it's blind, you feel for the player, and it's a little bit concerning that they are actually not trying to charge the kick down, because they are nowhere near it. They are actually diving blindly and hitting someone's leg.
"So for me it's just about protecting the players, making sure they are safe and that's my biggest concern.
"So I'll just be asking politely that the officials look at that and make sure they protect him."