Munster supporters have paid tribute to coach Anthony Foley outside the stadium following his shock passing overnight in Paris.
The fans observed a moment of applause in memory of Foley's three-decade contribution to the province.
They also sang an emotional version of the Fields of Athenry in memory of the head coach.
Les supporters du @Munsterrugby saluent la mémoire de Anthony Foley 2/2 pic.twitter.com/uZ4VrBilYo

— Racing 92 (@racing92) October 16, 2016
Joe Stack reflects on the decorated career of Anthony Foley https://t.co/jcGdKIG0mG

— RTÉ Sport (@RTEsport) October 16, 2016
Former Ireland head coach Eddie O'Sullivan expressed his deep shock at the sudden passing.
Echoing the sentiments of many within the rugby world, O'Sullivan admitted it is hard to comprehend the news from France.
"I'm completely in shock," he said. "Words don't come easily on an occasion like this.
"I'm caught for something to say when such a part of Irish rugby, Munster rugby, a guy you knew for years as a player and a coach, suddenly he's gone.
"It doesn't stack up logically.
"Talking about him in the past tense, it's hard to get your head around it."
Anthony Foley, 1973 - 2016 #RIP https://t.co/OigP9I0SmL

— RTÉ Sport (@RTEsport) October 16, 2016
The Killaloe native enjoyed some of his greatest days in a green jersey under O'Sullivan after falling out of international favour after his debut in 1995.
Foley's return coincided with O'Sullivan's involvement in the management team as both assistant and head coach and was a permanent fixture in Irish squads under O'Sullivan up until his final international against Wales in 2005 and the RTÉ rugby analyst explained why he was such a fan.
"He wasn't the biggest number 8 in world rugby, he certainly wasn't a phenomenal athlete, but he had an incredible rugby brain," he said.
"Not just his skillset, and his skillset was fantastic as a number 8, but he had this intrinsic understanding of the nuances of the game as a number 8 which was crucial.
"He knew when to run, when to pass. He knew at certain times of the game it was more important to speed it up or slow it down.
"That kind of knowledge and understanding of rugby is hard to come across.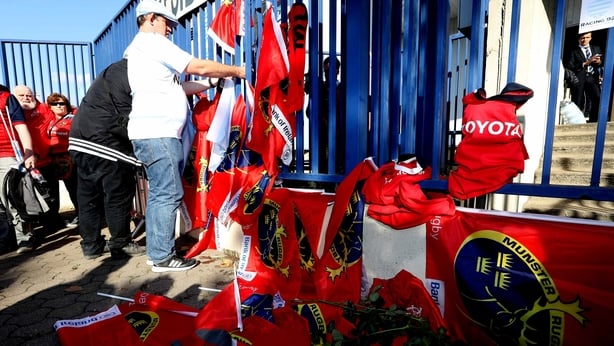 "He always had the understanding of the mechanics and dynamic of the game. He was able to manage the team on the field with good decision making.
"He had this rugby brain that you can't really coach.
O'Sullivan said it was inevitable that such a shrewd rugby man would move into management and added it was his leadership that set him apart and earned the respect of his peers.
"Leadership is a very specialised skill. It's about knowing what to say and when to say it."
"It's about skill and timing and he had that."