Ireland head coach Joe Schmidt says the extent of Robbie Henshaw's knee injury is unclear, but will not be making any call-ups for the deciding third Test against the Springboks this weekend.
South Africa's 32-26 win over Ireland, after trailing 19-3 at the interval, ensures that all eyes will be on Port Elizabeth on Saturday for the winner-takes-all encounter (4pm, commentary on RTÉ Radio 1, live match tracker on RTÉ.ie).
Henshaw was forced from the field of play during the disappointing defeat in Johannesburg with a knee injury and was replaced by Ian Madigan.
Today it was confirmed by Ireland team manger Mick Kearney that the Guinness Pro12 winner is travelling home for further assessment and Schmidt admits that it is unclear how long the Leinster-bound centre will be sidelined for.
"He's got a knee problem," he told RTÉ Sport.
"He's gone back to get further investigation around what the process is from here. We won't know about that really for a week or two, what's he's going to have done, whether it's anything at all, whether he's just going to have to rehab it.
"It's unfortunate for Robbie who obviously is in great form."
Madigan could take over for Saturday's game again and Schmidt feels he has adequate cover to partner with Stuart Olding.
"We have Jared [Payne] who came come forward, Tiernan [O'Halloran] can go to the back. We have Luke [Marshall] who can go back in at 13, he's played with Stu [Olding] before.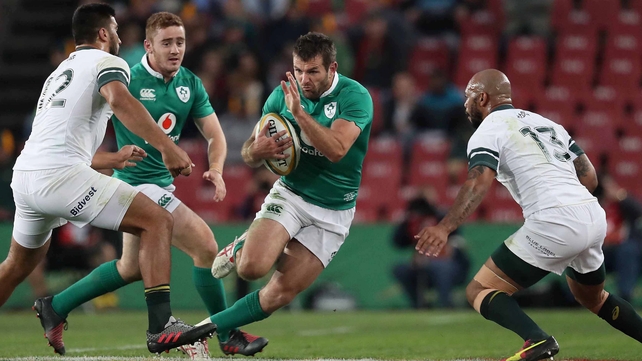 "Keith Earls has also played in the midfield for us. We have a few different options."
After the highs of the win over Allister Coetzee's side in Newlands, the Kiwi admitted that defeat last time out had a "full and draining effort" on the squad.
Schmidt said the impact on playing such a high-intensity match at altitude cannot be overstated and also highlighted the influence it has on the substitute strategy.
"It's one of the difficulties with altitude. You can't really contribute as much until you have your second wind," he said.
"If you are only going on with 10 minutes to go, you need that again to get your second wind. We felt the players who were in the rhythm of the game were in the best situation to keep that going.
"It's never as simple as just putting players on, or saying 'he'll freshen things up'.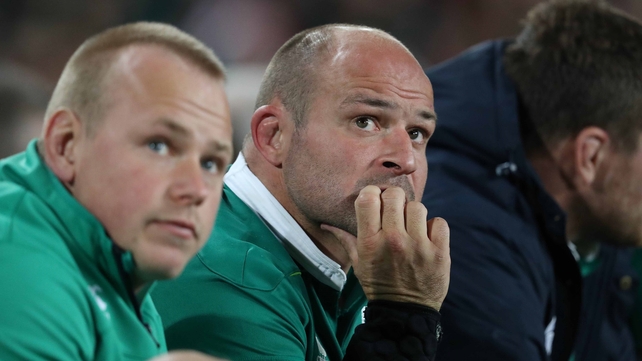 "We'll hopefully have a few fresh bodies this week and that will help boost the level of energy.
A four-hour flight delay yesterday didn't help preparations – "Having to be pushed on to a late flight meant that our whole day was put out of kilter" – in what would be a historic series win if Ireland can manage to regroup in Port Elizabeth.
After winning the first match by six points and falling a week later by the same margin, Schmidt admits it is all to play for in a tour that has already seen history made.
"It couldn't be more finely balanced.
"As disappointed as we are with the last 20 minutes last week, what people thought might happen on this tour and what the players have put onto the pitch are two different things."
"The belief that was still alive in the team, it was special" - Allister Coetzee
Coetzee meanwhile said the comeback victory was one of the most satisfying of his career.
"It was actually one of those special moments in a coach's career where you've been looking into the barrel and players can turn it around like that, and just the belief that was still alive in the team, it was special," he said.
"The belief in itself, the belief in the plan and they all came to the party.
"It's quite an extraordinary win against a quality Irish side, a side that has played together for some time and a side that knows how to put the squeeze on, and yet when our ball-carriers started to carry with pace, running at the opposition with nice good body height.
"We sort of got huge momentum. I think they couldn't handle that well and that's when we got confidence and got in behind them. So it was a really pleasing turnaround for us."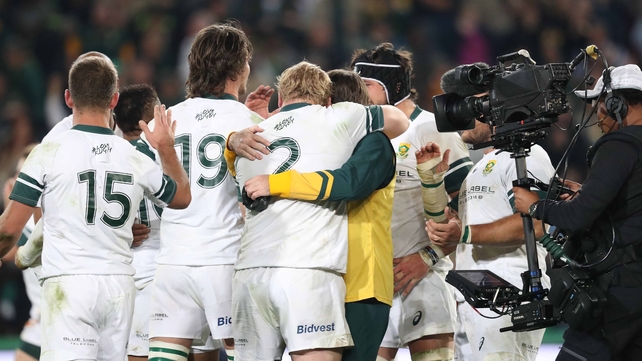 And Coetzee believes the momentum is firmly behind is side ahead of Saturday's deciding game.
"I would like to think so," he said.
"It's not just about the momentum of the team but a better belief in the team. There's been massive belief in what we've been doing and what we're trying, and, like I explained to the players, it was never going to be finished by game one.
"It might not be ready by year one, or year two, but we know where we want to be going into the future.
"But you need to win for things to fall in place as well, just to confirm the systems, to confirm the support and the back-up that we have, that we've got the right team and the right calibre players, that the bench are making an impact when they come on in the second half and gelling as a team."