Joe Schmidt says he takes responsibility for Ireland's World Cup failure and conceded that things could have been done differently.
The head coach has stepped down after six and a half years in charge, during which time he became the most successful Ireland manager and led to the team to number one in the world rankings.
However, the New Zealander also oversaw two underwhelming World Cup campaigns that culminated in a complete no-show against his native country on Saturday, losing 46-14 in Tokyo.
Many former players and managers have since come out and criticised Schmidt for failing to evolve Ireland's game since dominating in 2018.
This, critics argued, made them an easy target when the serious business began.
The loss to New Zealand was the team's fifth of the year.
We need your consent to load this SoundCloud contentWe use SoundCloud to manage extra content that can set cookies on your device and collect data about your activity. Please review their details and accept them to load the content.Manage Preferences
He told RTÉ Sport: "I'd dispute [those comments] massively.
"If you have a look back at that first half [against New Zealand] we go through some phases in the lead up to them kind of knocking the ball down and getting a five-metre lineout.
"We've created a really good overlap and I think we've done it using the ball really effectively.
"We created plenty of chances; even in the Six Nations we scored more tries than the winner [Wales].
"I'd just say it's not for lack of effort. We certainly wanted to play with a fair bit of width.
"Maybe we built [the World Cup] into a self-consuming monster.
"We didn't play as well as we could. I have to take responsibility for that. If I had my time over I might do it a little bit differently.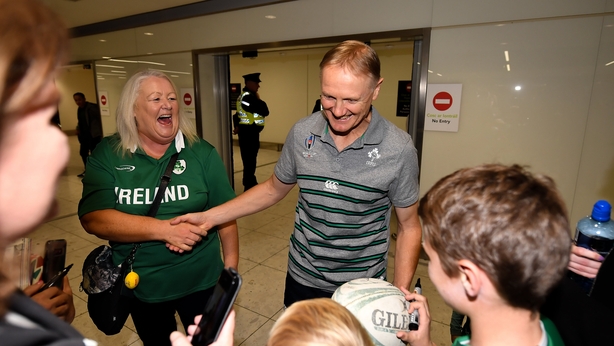 While Schmidt said there were "no real excuses that I can offer except other than human factor" he did reveal that he had some injury concerns over players prior to the game and that weather conditions affected the side.
"One of the problems we did have in Japan was how slippery the conditions were, particularly with the high humidity," he said as the squad arrived back in Dublin.
"We had a few doubts on players, even on the Thursday and we had guys on standby right until the warm-up before the game, so that is not an ideal situation."
Asked if he had regrets about team selection or game plan, he said: "Not really, there were some guys who didn't have great games and they would be probably even more disappointed than anyone else but that can happen on the big stage.
"A number of those guys who didn't have great games have had a lot of good games for us, great games for us in the past, and against the All Blacks.
"One of the regrets is we slipped up against Japan, we would have been on the other side of the draw and I think the winner will come from our side.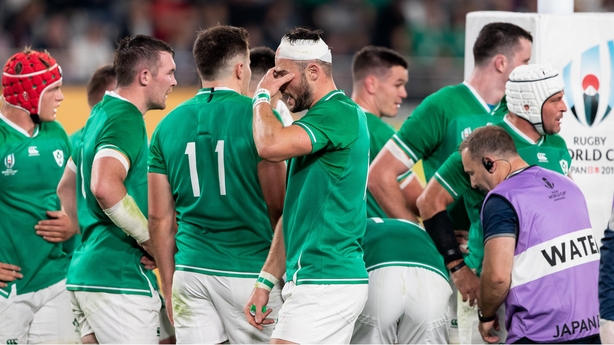 "Probably the most disappointing thing is that the All Blacks are a super team and you have to be at your very best to compete with them. They were very good on the day and we actually created some really good chances in that first half.
"On the back of opening them up or having opportunities they basically scored a couple of tries on our errors.
"I had an expectation that they were going to be very good, I just didn't think we would make uncharacteristic errors.
"I felt that we were a little bit rushed in our preparation but we were in a good place and there are no real excuses that I can offer except other than human factor that sometimes things don't work out as well as you'd like them [to].
"There was no lack of effort, maybe a heightened anxiety. Just because sometimes when you want things too much there's a danger that you try too hard."
Listen to the RTÉ Rugby podcast on Apple Podcasts, Soundcloud, Spotify or wherever you get your podcasts.
Follow the Rugby World Cup semi-finals this weekend via our live blogs on RTE.ie/Sport and the News Now app, or watch live on RTÉ2.