Former Ireland coach Eddie O'Sullivan says the heavy loss to New Zealand on Saturday laid bare the extent of the team's regression in 2019.
Ireland beat New Zealand in a memorable Test match in Dublin last November, a victory which put the seal on a glorious 2018 for Joe Schmidt's team, in which a Grand Slam and a series win in Australia was also achieved.
2019 has been a very different story. Prior to today, Ireland lost four of their 12 matches this year, with several of the wins arriving after underwhelming performances against inferior opposition.
There were heavy losses to England and Wales in a worrying Six Nations campaign, another alarming defeat to Eddie Jones' men in Twickenham, and then that shocking loss to Japan in the second World Cup pool game.
Throughout it all, there was a nagging sense that rival teams had figured out Schmidt's side and Ireland's attacking patterns grew more leaden and predictable.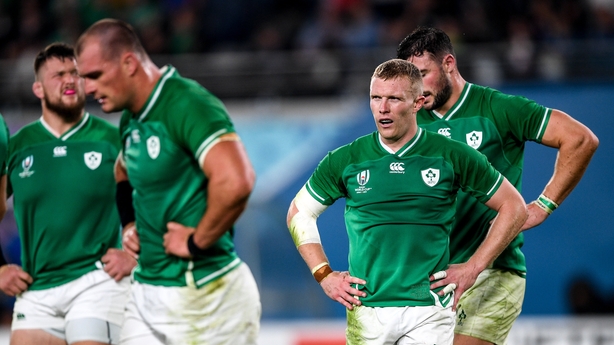 For O'Sullivan, the manner of today's defeat to New Zealand was galling, but the cracks had begun appearing long before the two teams took the field in Chofu.
"If New Zealand beat us, fair enough. But we were demolished. We weren't at the races," O'Sullivan said on RTE Sport's live coverage of today's quarter-final.
"We kept looking for a silver lining in the cloud as the game went on but it just got darker and darker. We got beaten up in every facet of the game.
"A team who had the best defence in the competition got torn to shreds. We lost collision after collision. We made a bundle of mistakes and got completely outplayed.
"Losing to New Zealand is no shame. What's hugely disappointing is the nature of this defeat. It was an absolute tonking.
"All roads had led to this quarter-final but there were cracks appearing this year. The cracks persisted in the pool games but we kept thinking there was one big performance in this team. But we just haven't got it.
"We haven't progressed, we've regressed.
Eddie O'Sullivan: 'There were cracks appearing this year... We've regressed. It's one thing losing to New Zealand, it's the manner of the loss that's hard to swallow' #NZLvIRE pic.twitter.com/aXI0wmnVY0

— RTÉ Rugby (@RTErugby) October 19, 2019
"We looked at Ireland less than a year ago playing against New Zealand, and were much more expansive, we were animated in our attack. We regressed this year, back into the trench warfare.
"We continued with it in the Six Nations, we continued with it in the warm-up games, we continued with it in the pool games. We kept playing down that one-dimensional alley.
"We ran out of ideas very quickly when we had possession.
"There's so much work gone into this team, they've achieve so many goals, they've hit so many targets, that we expected better. It's going out with a whimper rather than a bang.
"If we lost a tight game, that happens, it's tournament rugby. But the gulf today was as big as it ever seemed to be."
1991 World Cup winning out-half Michael Lynagh suggested that several of the more experienced Irish players may have hit their peak a year and a half ago.
"When a team lose to say, Ireland, they say how are we going to compete with them? Ireland set the benchmark (last year).
"Other teams over the last 15 months have gone past that benchmark and Ireland seemed to have stayed where they were.
"And there's a few players, great servants that they are, maybe they were at their peak 15 months ago. They're not quite there where they used to be.
"Most World Cups are won by teams with really strong experience in key positions but a good blend of youngsters that do all the running for them. That's where New Zealand are at the moment."
'There's a few players, great servants though they are, maybe they were at their peak 15 months ago' - Michael Lynagh on Ireland falling behind #NZLvIRE pic.twitter.com/JjOvIdKTlP

— RTÉ Rugby (@RTErugby) October 19, 2019