The end, when it came, was not pretty. These World Cup quarter-final exits never are.
The 46-14 loss was their seventh defeat at this juncture and the biggest World Cup defeat in Irish history.
It shone a spotlight on the gap between notions and execution at this level.
Ireland didn't become a bad team overnight, so the cliché goes.
It's true, of course, but what they did do, starting with the loss to England in February, was stand still for nine months.
And when you want to play with the big boys – i.e. teams with real aspirations of getting to the last four in a World Cup – then standing still is the same as going backwards.
"We haven't progressed, we've regressed," said Eddie O'Sullivan.
New Zealand realized 11 months ago that they needed to adapt, Ireland believed that they could keep going back to a well that had served its purpose but had sprung a leak.
"You have to evolve and it's clear that Ireland haven't," said former Ireland captain Donal Lenihan on RTÉ commentary.
Ireland, after defeat to England twice, Wales and Japan, were consistent in their denials that something was badly wrong.
Ireland crash out: Reaction from Japan with @treacyj @LenihanDonal @KEITHEARLS87 and @irishrugby fans #NZLvIRE #RWC2019 #rterugby pic.twitter.com/Z3eGaVhGG8

— RTÉ Rugby (@RTErugby) October 19, 2019
One thing, they said, was definite; the team was not in disarray, not in need of a massive overhaul and not going to change its ways.
"There is a lot of stuff which Joe has drilled into us that are the foundations of our game," said Rory Best before the record defeat in Twickenham two months ago, at which point they had suffered two damaging defeats that appeared to suggest that they had been figured out.
"Ultimately, you have to go back to that." With what we know now, did Best believe that was the correct path to take?
The more the players came out with reasons why it would be all right on the night the more it sounded like they were trying to convince themselves.
"There is definitely enough quality to go into a World Cup and do well with what we have," Conor Murray said after Twickenham.
The blips were just blips, all four of the defeats prior to today were waved away as simple one-offs that wouldn't be allowed to happen again.
Best after the Japan defeat: "We bounce back well, and this group understands what we need to do to play well.
"We understand our core values, and we know we weren't as good in those areas against Japan."
Small things just not going right, the details, they stressed.
The small things, are, of course, the big things and when it comes to a Joe Schmidt team the small things are the only things.
Schmidt said the team were "bullied" after the first England defeat and he hit the nail on the head.
And, as noted before, the thing about being bullied is that long after the nose bleed has stopped, or the black eyes healed, the psychological effects remain.
"We would certainly encourage the genuine supporter not to lose faith with the team; the team will definitely turn up in Japan," urged Schmidt after losing to Wales.
Deep down the bullied want to avoid the playground, keep out of the way of the bruisers.
But try as they might to talk their way out of it, the body language on the field betrayed a team that had lost its swagger and was just waiting for the end to come.
The Grim Reaper appeared clad in black and was in no mood to mess around.
The team that Joe built, bespoke to win a World Cup quarter-final for the first time, shattered on contact with heavy hitter in the form of Steve Hansen's All Blacks.
"They failed, and failed pretty badly," said Bernard Jackman on analysis duty on RTÉ Radio.
Let there be no doubt, New Zealand were superb on Saturday night in Tokyo. Joe Moody left Tadhg Furlong in the shade, Kieran Read and Beauden Barrett both outstanding.
"They know what to do when it comes down to it," said James Downey.
"The quality that they have across the park, and how they can flick a switch and transition [to attack is amazing]."
That explains some of it, but when leaders like Johnny Sexton and Murray look at some of the basic errors they made they will know they gave the All Blacks too many chances for a team with serious intentions.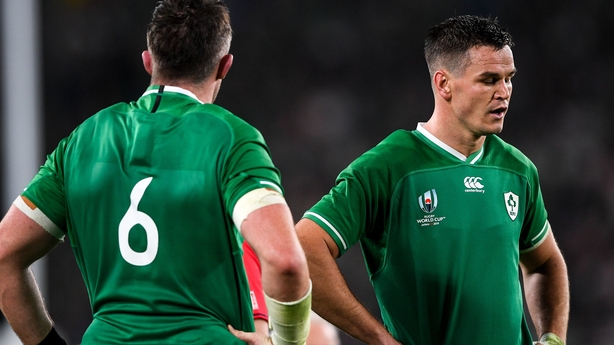 There were 17 turnovers, 29 missed tackles and three touch kicks that went astray, along with numbers handling errors.
"That error-count does make it incredibly hard [to take]," said Schmidt after the game.
"I don't really have a reason for that, other than on the night there was always anxiety, there's always guys who might over-reach and as a result you don't get the performance that you're looking for."
Asked to account for the team's massive drop off from 2018, Rory Best, the brilliant servant to Irish rugby, who has now retired, said: "Because right after the November series when we played the All Blacks last year, we decided to make sure that this [quarter-final] was our target.
"Maybe it consumed us a little bit and we got distracted from our game-to-game focus."
On Ireland's overall campaign, former captain Brian O'Driscoll summed it up: "Ireland have not played well here at all, they have been really, really poor.
"There were high hopes with this side to get that first illusive semi-final. From where we were, we felt we could get there."
In the end, they didn't get close.
The ashes will now be raked over but whatever emerges won't change the fact that once again, and despite all the preparation that went into the tournament, Ireland failed to make any serious impression on a World Cup.
After beating all before them in 2018, Ireland have once more exited at the World Cup quarter-final - the panel pore over it #NZLvIRE pic.twitter.com/mSj0SEbB4q

— RTÉ Rugby (@RTErugby) October 19, 2019
Listen to the RTÉ Rugby podcast on Apple Podcasts, Soundcloud, Spotify or wherever you get your podcasts.
Follow the Rugby World Cup semi-finals this weekend via our live blogs on RTE.ie/Sport and the News Now app, or watch live on RTÉ2.