With Ireland's Olympic silver medal winning O'Donovan brothers broken up for the World Rowing Championships, the focus falls on another pair of oarsmen from Skibbereen.
Paul and Gary O'Donovan claimed a historic silver at last year's Rio Games and were pushing hard to upgrade that to gold by overhauling the French crew of Jérémie Azou and Pierre Houin who beat them in Brazil.
Big brother Gary pulled out of this week's worlds in Sarasota, Florida due to a viral illness that 'compromised his preparations', though he has still travelled as a reserve.
This means that Paul will race in the men's lightweight single sculls, defending the title he won in Rotterdam last year.
With no lightweight double sculls, the best hope of a medal for Skibbereen Rowing Club, and by default Ireland, are the men's lightweight pair of Mark O'Donovan and Shane O'Driscoll.
Shower  Sarasota style! #hot #humid #wrchamps @RowingIreland @ballincollig_cu @scoileoinboys @sportswomenIRL pic.twitter.com/q41PvHLL7v

— Sanita Puspure (@SanitaPuspure) September 22, 2017
The O'Donovan-O'Driscoll partnership from West Cork remains unbeaten across three World Cup regattas this season and they won the European Championships too, meaning they are looking to crown a remarkable 2017.
In all, Rowing Ireland have sent nine athletes, competing in six boats, to the United States with live coverage on RTÉ from Thursday to Sunday.
Along with the men's lightweight single sculls and lightweight pair, there's Patrick Boomer and Fionnan McQuillian-Tolan with a newly-formed partnership in the men's pairs. They failed to advance to the A final after finishing in fifth position in Tuesday's repechage.
Sanita Puspure, born in Latvia but a long-time resident of Cork representing the Old Collegians club, takes part in the women's single sculls following on from her 13th place finish in Rio.
Skibb's Denise Walsh is in the women's lightweight single sculls and the pair of Aileen Crowley and Aifric Kehoe have already taken to the water in the women's doubles.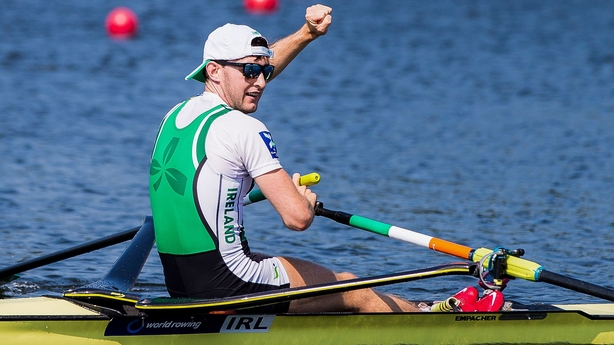 In all, the small town of Skibbereen will make up just under half of Ireland's team and in Paul O'Donovan, Mark O'Donovan and O'Driscoll provide Ireland's leading contenders for a place on the podium.
Paul O'Donovan will face stiff competition from Poland's Artur Mikola Jczewski, who has taken two World Cup golds this season, Swiss European champion Michael Schmid and Hungary's Peter Galambos in a strong field that has attracted entries from 30 countries.
O'Donovan and O'Driscoll are hot favourites to win the lightweight pairs and in their official guide's preview, World Rowing doesn't even bother to mention any of the rest of the field such has their dominance been this season.
I don't eat too much before a race because I have to weigh in and sweat a little to make the weight - Paul O'Donovan
In competitive rowing, sculling means that each rower has two oars - one in each hand. Straight-forward pairs, fours and eights have one oar each.
To give all shapes and sizes a chance to win, since 1996 races have been divided into two categories, with lightweight men having to be below 72.5kg each or as part of a crew with a 70kg average. For women, those weights are 59kg and 57kg.
The lightweights have to make weight the day they compete, so they must weigh in just like boxers before a fight.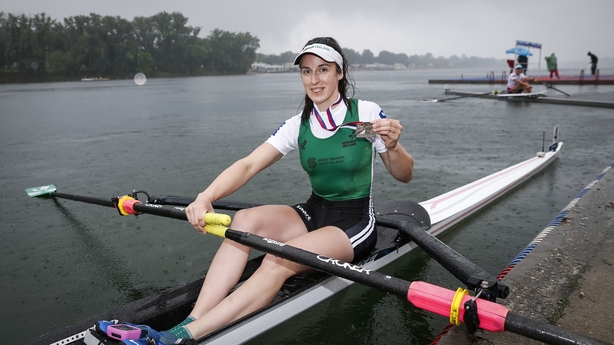 In a recent interview, Paul O'Donovan was asked what was his preferred pre-race meal. Predictably, he said he loved steak and spuds after getting off the water, but revealed he often fasts in the build-up.
"I don't eat too much before a race because I have to weigh in so usually I am too fat and have to sweat a little to make the weight," he explained. "After doing that I eat some bread and jam to give me energy to do the race, but not too much or I could get sick."
All races at Olympic and world level take place over a distance of 2,000m, in this case on the purpose-built lake in Nathan Benderson Park, which is a flooded former mine.
There are eight lanes, each 13.5m wide, with usually only six used during races. Crews are seeded by an expert committee before competition to ensure that the fastest boats are separated in the early rounds.
There are heats and even boats that don't qualify directly go into repechage races, which offer them another path to the semi-finals and finals.
Every boat eventually goes through to a final, A, B, C and so on, depending on how many nations are in the category, to sort the final placings with medals only given out in the A final.
In all, more than 900 rowers from 69 countries will be competing in Florida this weekend, where organisers decided the world championships would go ahead as planned despite the damage left in the wake of the recent Hurricane Irma.
Ireland's other Rio Olympic finalists, Sinead Lynch and Claire Lambe, aren't currently competing. Lynch is taking a break and concentrated on triathlons this summer while Lambe is studying for a masters in engineering in Cambridge, who she helped win the women's boat race earlier this year.
Live coverage of the World Rowing Championships will be broadcast on RTÉ2 from Thursday to Sunday. Coverage starts on Thursday at 3.0pm, Friday at 4.30pm, Saturday at 4.30, Sunday at 3.30 with a highlights package at 8.0pm on Sunday