Conor McGregor has announced his retirement from mixed martial arts after a career that made him the sport's first global star.
A combination of charisma and a sledgehammer left hand propelled the Dubliner to the top but he appears to have called it a day rather than attempt to scale the mountain once more.
Here, we trace his rise to fame and fortune, which has often been controversial and never dull.
Early days
Born in July 1988 to Margaret and Tony, McGregor was raised in Crumlin alongside sisters Aoife and Erin.
He attended Gaelscoils in Harold's Cross and Tallaght and played soccer with Lourdes Celtic before trying his hand at combat sport with Crumlin Boxing Club at the age of 12.
McGregor was a Dublin novice champion at 16 but ,when the family relocated to Lucan shortly after, he was introduced to MMA by friend Tom Egan.
A plumbing apprenticeship was undertaken and abandoned after 18 months and a TKO win in his first MMA bout encouraged him to turn professional and start training with career-long coach John Kavanagh.
Turning pro
McGregor made his professional debut with a knock-out win over Gary Morris in 2008 and won three of his next five fights, in various promotions, losing on submission to Artemij Sitenkov and Joseph Duffy.
Donegal man Duffy, who later also joined the UFC, was the last man to beat him for five and a half years.
McGregor started to make waves in the Cage Warriors, a European equivalent of the UFC, and after six consecutive knock-outs, claimed the featherweight and then lightweight belts in successive bouts in 2012.
Upwardly mobile in the UFC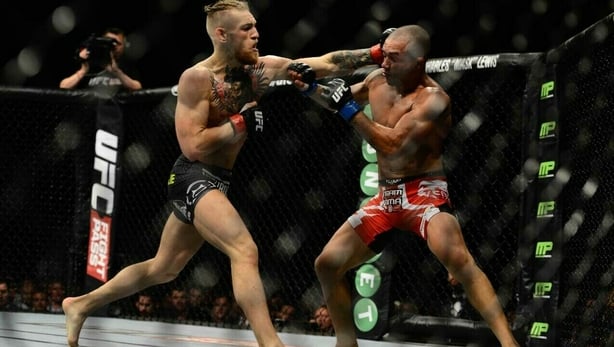 The Dublin 12 native made his debut in the big show in August 2013, stopping Marcus Brimage in Stockholm, after which he drew attention for successfully demanding UFC president Dana White award him the night's $60,000 knockout bonus - "Dana… 60 Gs, baby!".
A rare fight to go the distance followed as he outpointed his future successor as featherweight champ Max Holloway in Boston, though McGregor suffered a torn cruciate ligament in victory.
A first UFC appearance in Dublin cemented him as a firm favourite with home fans. After stopping Brazilian Diego Brandão in the first round at the Point, and winning his first 'performance of the night' bonus he offered the rallying cry: "We're not just here to take part… we're here to take over."
McGregor was walking the walk as well as talking the talk and gained further bonuses for dominant TKO wins over Dustin Poirier (his Las Vegas debut) and Dennis Siver. But the real test of his credentials was soon to follow.
All over Aldo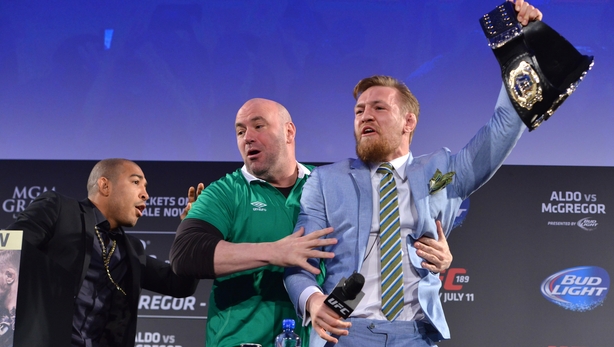 Jose Aldo had been the reigning featherweight champion for over five years and hadn't lost in a decade.
McGregor was lined up to challenge him in July 2015 but, after the Brazilian suffered a rib injury, Chad Mendes was instead disposed of for the interim title.
The title fight was refixed for December and an international publicity tour ensued, during which McGregor snatched Aldo's belt in Dublin and in Rio made reference to 'invading his favela on horseback'.
Come the night of the bout in Vegas however, McGregor delivered on his trash talk in style, knocking Aldo out in just 13 seconds.
WOW! @TheNotoriousMMA KOs @josealdojunior in 13 seconds. 🇮🇪👊 #AndNew #UFC194 https://t.co/53rqGJ2OhB

— UFC on BT Sport (@btsportufc) December 13, 2015
Diaz on the double
Prior to his shock victory, McGregor had stated he wanted to "destroy the division, and then I'm going to take the lightweight division as well."
He quickly switched attention to the latter goal and a unification bout with lightweight belt holder Rafael dos Anjos, another Brazilian he taunted as an 'American Gringo', was arranged for March 2016.
Two weeks before the fight, Dos Anjos was forced to withdraw due to a broken foot.
Nate Diaz (18-10), who had lost to Dos Anjos 15 months previously, stepped in and McGregor agreed to do battle at welterweight (155lbs) due to his opponent's lack of time to prepare.
Despite now taking to the Octagon almost two stone heavier than he was against Aldo, the Irishman was a heavy favourite.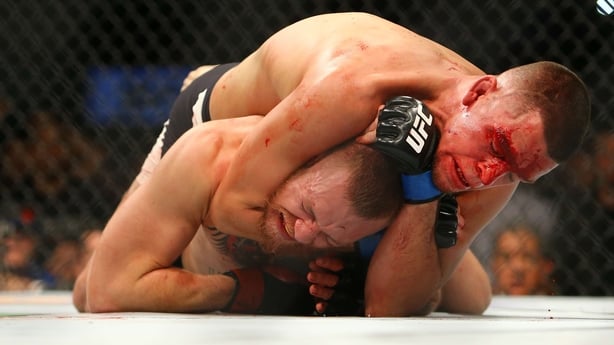 Things didn't go to plan however, as Diaz absorbed the punishing left hands that lighter fighters could not and he inflicted McGregor's first UFC defeat with a second-round submission.
After the loss, McGregor said he would "face it like a man, like a champion, and come back and do it again."
He was true to his word and, despite the apparent folly of a rematch with a man who had beaten him despite having no time to train, arranged to face Diaz again that summer.
Failure to attend a press conference led to McGregor being dropped from UFC 200 though and the Dubliner's first 'retirement' - "I have decided to retire young.Thanks for the cheese. Catch ya's later."
Fences were sufficiently mended for the bout to place in front of a celebrity crowd that August and McGregor dug deep to beat Diaz on a unanimous decision at UFC 202, dropping the American three times in the early stages but forced to survive takedowns as he was taken to five rounds for the first time.
History-maker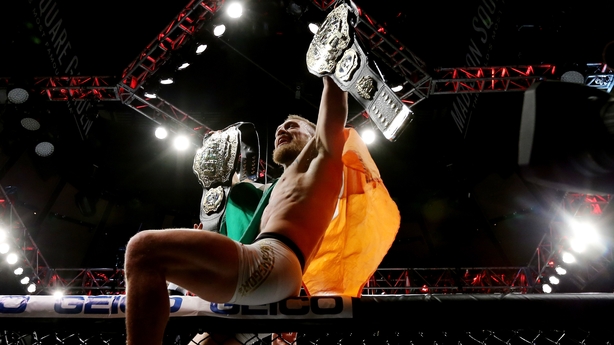 His reputation and swagger restored, McGregor returned his attentions to becoming a double-weight champion.
Eddie Alvarez had beaten Dos Anjos while Conor was chasing vengeance with Diaz and a lightweight decider with the American was quickly arranged for November, his third fight of 2016.
Noted wrestler Alvarez was expected to cause some difficulty but made the mistake of trying to go toe to toe with a superior puncher: "To sum up our plan in a sentence it was 'Go left and mostly wrestle'. Instead I circled into his left hand and mostly boxed."
McGregor dropped him three times in the first round before unloading a devastating combo one minute into the second. He was now the first UFC fighter to simultaneously hold belts at two different weights.
Money talks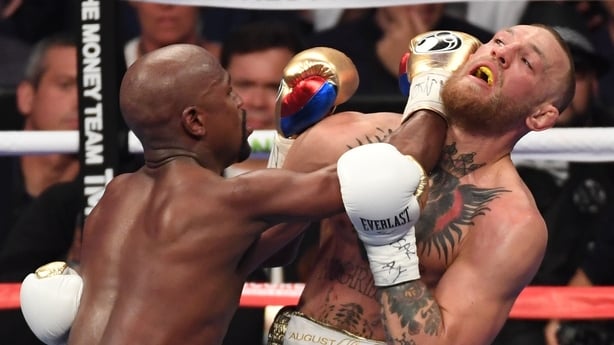 He didn't have long to enjoy the distinction. The UFC soon stripped him of his featherweight title for inactivity and McGregor announced he was taking a break ahead of the birth of his first child, Conor Jr.
The former amateur boxer had long been publicly challenging retired multiple world champion Floyd Mayweather Junior to a contest.
The likelihood of such a bout had seemed remote - Dana White suggested he was more likely to become a backup quarterback to the New England Patriot's Tom Brady - but when McGregor took out a boxing licence in California that December the impossible started to materialise.
Undefeated 'Money' Mayweather was no doubt attracted by the possibility of eclipsing Rocky Marciano's record of 49 consecutive professional wins as well as the potential windfall.
After a tedious period of on-and-off negotiation, the fight was finally fixed for August 2017.
Despite having to deny accusations of using racist language in the pair's pre-fight promotional tour, McGregor did such a good job of talking up the mismatch that fans in the US were willing to fork out $100 each (€25 here) to watch it on pay per view.
The Irishman gave a good account of himself, and even won the opening few rounds as Mayweather sized him up, but in the end was stopped in the 10th round.
An estimated $100 million payday ($300m for the American) will have cushioned the disappointment.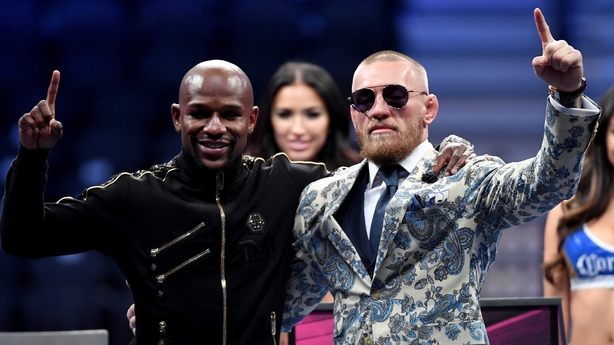 To hell in a handcart
McGregor had raised eyebrows by invading the ring to prematurely celebrate a victory for team-mate Charlie Ward during a Bellator event in Dublin in November but in April 2017 he took things too far.
The UFC had scheduled a lightweight contest between Tony Ferguson and Khabib Nurmagomedov to decide who would take McGregor's belt - at this stage the Irishman hadn't fought in the organisation in almost 18 months.
Injuries to Ferguson and Max Holloway meant the unbeaten Nurmagomedov would instead face Al Iaquinta, but the fight was overshadowed by McGregor's response to an altercation between the Dagestani and his team-mate Artem Lobov.
More footage has emerged of Conor McGregor throwing a hand truck at a bus in New York (video: @ufc) pic.twitter.com/G99bbCzqpq

— RTÉ News (@rtenews) April 7, 2018
The Irishman flew to New York and, with a group of around 20, tried to confront Nurmagomedov as he was leaving the UFC 223 press conference on a bus.
McGregor threw a metal trolley through a window of the bus, injuring a number of other fighters, and was later sentenced to community service for disorderly conduct.
Khabib was unimpressed: "Conor no wants to fight me, he wants to fight bus."
Grudge match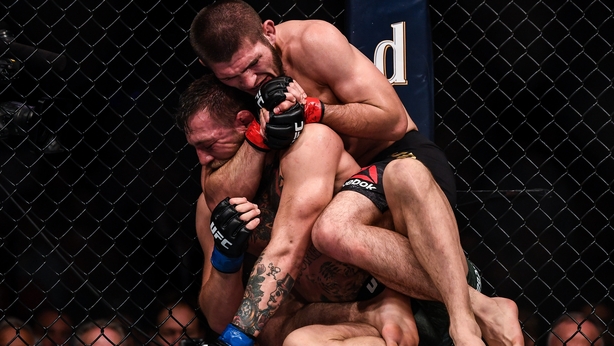 Following the incident, Dana White expressed his "disgust" and cast doubt on whether McGregor would fight in the UFC again.
Happily, within four months, that disgust had faded sufficiently to announce Nurmagomedov's first title defence would be against his aspiring assailant in October, and even used footage of it as a promotional tool.
McGregor was in typically derogatory form in the build-up, labelling Khabib's father "a mad rat" at one point and the contest set records for MMA pay-per-view and live gate receipts in Nevada.
The fight itself was a huge disappointment for the Irishman, who spent most of it on the deck before losing by a rear-naked choke, but it was the astonishing aftertmath that showed the feud was more than just marketing hype.
The Russian leapt from the cage to assault McGregor's Jiu-Jitsu coach Dillon Danis in the crowd while McGregor exchanged punches with members of Nurmagomedov's team in the Octagon.
Nurmagomedov was fined $500,000 and suspended for nine months while McGregor was hit for $50,000 and six months.
What next?
Hey guys quick announcement, I've decided to retire from the sport formally known as "Mixed Martial Art" today.
I wish all my old colleagues well going forward in competition.
I now join my former partners on this venture, already in retirement.
Proper Pina Coladas on me fellas!

— Conor McGregor (@TheNotoriousMMA) March 26, 2019
McGregor immediately indicated his desire for a rematch with Khabib but White suggested he would first need to fight his way back into a title shot.
In between being accused of jumping on phones, there was speculation he had been asked to take a co-main event slot in July (main events are always title fights) and he responded by saying the UFC would have to offer shares in the company to make that happen.
As recently as yesterday, McGregor told American TV host Jimmy Fallon that he was "eager to fight" and that "We're in talks for July. There's a lot of politics going on, it's a mad game, the fight game."
However, he also added "I don't necessarily need to fight. I am set for life, my family is set for life."
Whether it's a negotiation tactic or genuinely the end of the road remains to be seen.
But even if he has really given up the octagon to concentrate on selling whiskey, McGregor will always be the the man that took the UFC into the mainstream and one of the few Irish sportspeople known the world over .