Worth waiting for? You bet your life. Fourteen months of hype, ten years of dominance and a whole pile of history came crashing down to the canvas in the space of 13 sensational seconds at the MGM Grand Garden Arena as Conor McGregor's world domination hit incredible new heights on Saturday night.
The Notorious one became the undisputed featherweight champion of the UFC in barely believable fashion, downing a legend of mixed martial arts who hadn't been knocked out in his life, Jose Aldo Junior.
Again it was McGregor's absolute wrecking ball of a left hand that did all the damage and sent the Irish hordes, who had again invaded the desert, into raptures. The purest pandemonium imaginable poured down to the octagon in the seconds after victory.
WOW! @TheNotoriousMMA KOs @josealdojunior in 13 seconds. ?????? #AndNew #UFC194 https://t.co/53rqGJ2OhB

— #UFC194 (@btsportufc) December 13, 2015
From referee John McCarthy's first signal, this was all but over. McGregor rolled in towards his bitter rival, hitting the mark with a left hand and taking a brief step back. Having predicted that movement would be the key to victory it was a mis-step by Aldo that decided it.
The Brazilian, the only featherweight champion the UFC had ever had, moved in to respond and walk into the propellers. McGregor caught him square and true on the chin and the Brazilian's world crumbled.
He crashed to the deck, McGregor was on him for two more blows but McCarthy quickly decided enough was enough.
After all that had gone before, 13 seconds was all it took for McGregor to make good on his promises. It was the fastest title-fight win in UFC history.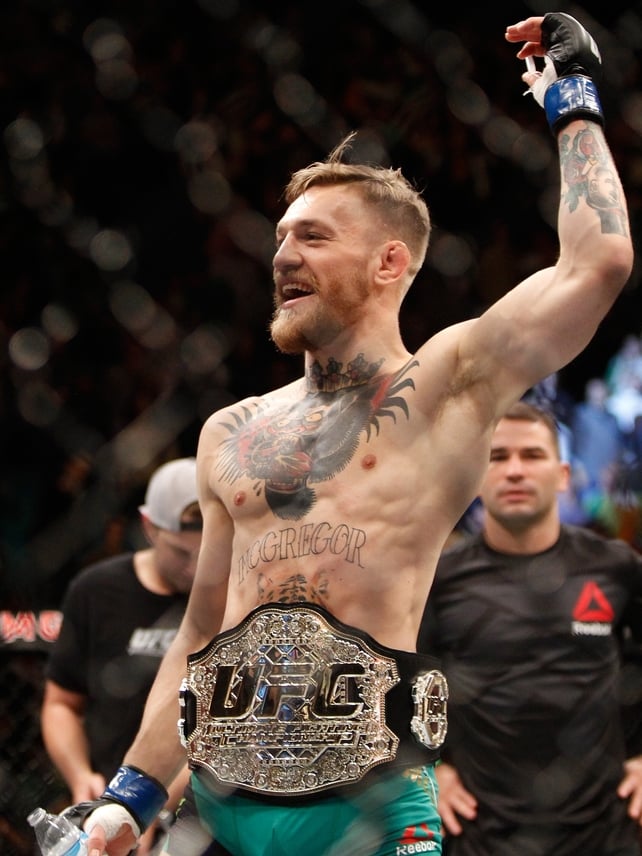 The most seasoned MMA observers were stunned still, the 16-odd thousand fans were anything but still.
"Nobody can take that left-hand shot," said the 27-year-old Dubliner as the belt was wrapped around his waist. "He's powerful and fast but precision beats power and timing beats speed.
"I feel for Jose. He is, was, a phenomenal champion. These are fundamentals, this is all it takes. Especially when you have my left hand."
Earlier on Saturday afternoon in Sin City, one report had McGregor's fight-night weight listed at 174lbs. That would have marked a 20% body weight increase from the previous day when he stepped on the scales at 145lbs.
It's the kind of staggering transformation that has become regular for McGregor but one that he says he's unlikely to undergo again, promising that this defining night with the king of the featherweights would be his last in the division he has blazed a brutal trail through.
There was just one remaining for The Notorious to take down and after a year and more of waiting there wasn't to be much hanging around even before the stunning denouement.
After the Sinead O'Connor light show in July, McGregor seemed to be in the octagon in rapid time on this occasion. When Aldo joined him, the Brazilian barely looked up, refusing to eye the man who has taunted him for so long.
"Ireland, Baby, WE DID IT!" #UFC194 #AndNew https://t.co/9HbO6TpjWK

— #UFC194 (@ufc) December 13, 2015
In the end, Aldo's eyes were barely able to focus on his prey who killed him off in record time. McGregor soaked in the adulation.
"Yesterday at the weigh-in I didn't want to get off the stage," said the Dubliner. "This time I was a hell of a lot more in the moment and enjoying the process."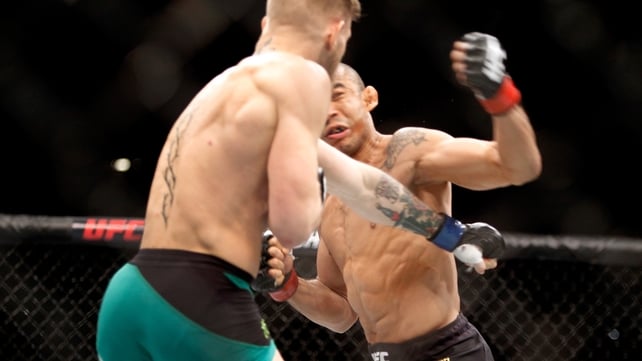 For Aldo, this was a truly alien feeling. He had barely composed himself enough to respond to Joe Rogan's questions but he did immediately demand a rematch.
"I think that we need the rematch because that was not really a fight," he said. "We need to get back in here.
"It didn't affect me at all. I don't care what he says. Now we need to get back in here. It's on to the next one. This is a sport. This happens. I'll be back."
Maybe so but for McGregor there are only forward steps. His career has reached ridiculous highs but this was like no other in his or anyone's journey. The final fight of three relentless UFC days may have been the most stunning of all time.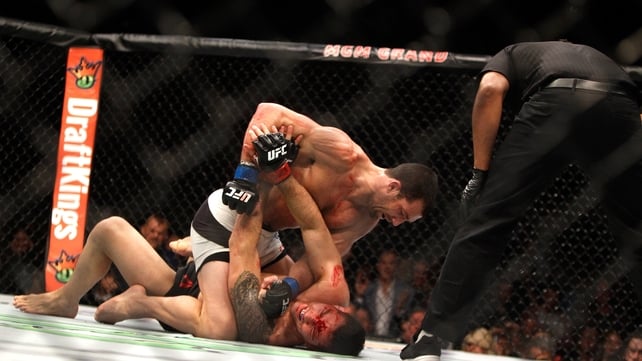 In the curtain-raiser to the main event, middleweight world champion Chris Weidman was dethroned in stunning but sickening fashion, Luke Rockhold winning with a fourth-round TKO when the fight should surely have been stopped in the third.
The atmosphere had risen significantly with silverware on the line. Rockhold responded first to the noise, getting the champion on to the ground and then on to his back, an alien sight, to take the first.
The challenger had his range spot on, teeing off with high kicks and punches, Weidman not offering enough in response.
That changed in the third, but a weak spinning kick from Weidman opened the door and Rockhold rolled in, landing an unending stream of brutal blows to the head.
Referee Herb Dean didn't call an end however and we had to wait until Rockhold inflicted even more punishment on the previously undefeated New Yorker before a new champion was crowned.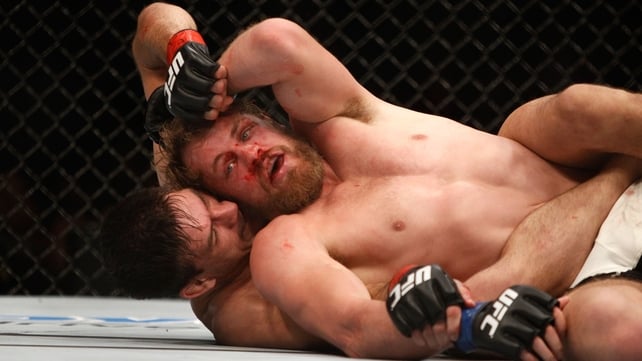 Earlier, McGregor's battery mate Gunnar Nelson was wholly outclassed by Brazil's Demian Maia in the welterweight division. The SBG fighter looked to get on top from the get-go, attempting a guillotine choke off the bat but Maia, ranked six spots higher in the division than the Icelandic fighter, was soon on top, literally.
A back mount stymied and then drained Nelson, whose stellar defence saw him survive the round. There was little respite however, Maia again on top throughout most of the second, power elbows opening up a now jaded Nelson's face.
Nelson needed to keep the fight upright to have any chance of delivering the necessary stoppage but couldn't, the veteran Brazilian, getting it done at 38, proving experience still counts for plenty. The decision was as unanimous as they come.
Nelson will have to rethink and rebuild. For McGregor there is only fortification of a now legendary rise.