A standardised 'smart sliotar' will be in use for the start of this year's Allianz Leagues, the GAA has confirmed.
After a successful trial in last year's U20 hurling championship, the association has "deployed innovative technology in an effort to oversee the regulated production of the sliotar" at senior level also.
Over 35 companies are officially licensed to supply sliotars to the GAA, but the Sliotar Work Group discovered in the course of their research that not all balls consistently meet the specified standards of coefficient of restitution (bounce), rim size and diameter.
There are also other companies illegally using the official GAA stamp who have not submitted sliotars for approval.
The new chip technology is designed to ensure uniformity, and all approved manufacturers must be signed up to the guidelines enforced by the World Federation of Sports Goods Industry.
So far just two companies, Green Fields and O'Neills, have passed the prerequisite specification and impact tests to supply the smart sliotars.
"I warmly welcome the introduction of the new standardised chipped 'smart sliotar' which comes into full use at senior inter-county level this weekend with the commencement of the Allianz Hurling Leagues," GAA president Larry McCarthy said today.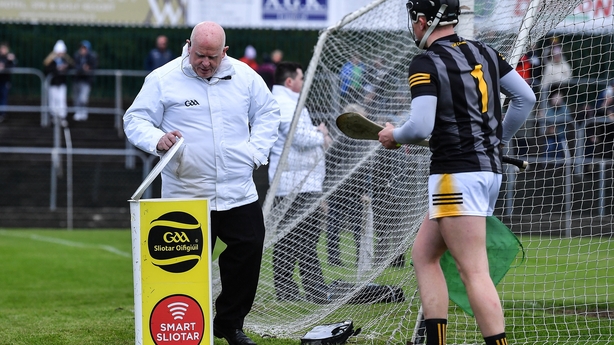 "Not only will it provide the game with consistency through the performance of the sliotar but of no less importance we have sight of the ethical production of the sliotars.
Former Tipperary goalkeeper and RTÉ hurling pundit Brendan Cummins, who was involved in blind testing candidate sliotars, along with the likes of inter-county stars Jason Forde (Tipperary), Alan Nolan (Dublin) and Rory O'Connor (Wexford), welcomed the standardisation of sliotars last year at U20 level.
"I could put 10 balls down on the table here and bring a load of players in and they would say five of them are duds and then the other five, they would have a row over which they like the most. That is the way the thing is.
"But we have to standardise it. If there are 15 or 20 different suppliers who are putting the chip into the ball, well, if it meets the modernised standards that we have in the ball, then the ball is in play.
"And it might be 5 or 10% (difference in performance) either way but it is being checked."
Watch Cork v Limerick live on RTÉ2 and RTÉ Player from 7.15pm Saturday and highlights of the weekend's action on Allianz League Sunday, RTÉ2, 9.30pm