The GAA will trial a 'smart sliotar' in this year's Under 20 hurling championships, in a move to ensure that all balls used at inter-county level conform to regulations and that they are ethically manufactured.
Over 35 companies are officially licensed to supply sliotars to the GAA, but the Sliotar Work Group discovered in the course of their research that not all balls consistently meet the specified standards of coefficient of restitution (bounce), rim size and diameter.
There are also other companies illegally using the official GAA stamp who have not submitted sliotars for approval.
With the new smart sliotar, a tag or chip is embedded in the core, which can be read by an app on a mobile phone that will confirm it as a genuine approved ball. The GAA will inspect manufacturers to ensure the balls conform to the guidelines.
If the trial is successful, from 2023 all the sliotars used in inter-county games will be smart ones supplied directly by the GAA and scanned before matches for verification.
O'Neill's and Kilkenny-based PDMR are the only two licensed manufacturers who have so far volunteered to produce the smart sliotars but the GAA are hopeful more will come on board.
The sole difference between the new balls and the yellow sliotars introduced last year is the tag, which is the size of a 10 cent coin and has negligible impact according to testing by current players.
A heavier tag would be needed for additional use as part of score detection or distance tracking.
The leeway in sliotar dimensions allowed to manufacturers did change slightly at recent Congress (lower maximum mass and rim height) but this was to reflect the trend of ball sizes rather than directly connected to the smart sliotar.
GAA President Larry McCarthy said his interest in sliotar reform had initially been piqued by thinking they were being hit too long too easily. The introduction of a smart sliotar does not address that issue directly but more rigorously enforced standardisation should make any future changes to guidelines easier to implement.
Professor Kieran Moran of DCU, who has been working with the GAA's director of games development & research Pat Daly on sliotar standardisation since 2003, also pointed out that contrary to common belief, heavier sliotars actually travel further due to air resistance.
"When I came in as Uachtarán 12 months ago I felt the ball was being driven out of the park and to a certain extent we needed to tiger-proof the pitches of the GAA in terms of the distance it was travelling," said McCarthy.
"I think it's a work in progress in terms of making sure we have integrity in the sliotar, integrity in our equipment, and, perhaps most importantly, in our manufacturing systems (World Federation of the Sports Goods Industry standards).
"That we're not using child labour or anything around the world that would be incorrect, because most of them come from Sialkot in Pakistan."It's standardising the ball to a certain extent. The coefficient of restitution, we can now play with that to a certain extent. We will have a ball, which is our ball essentially, in terms of how it's regulated and manufactured."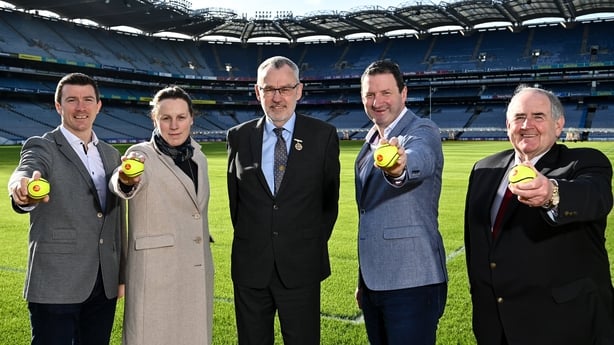 The GAA intend for a 'sliotar bin' of verified balls to be placed by each goal during games, ending the practice whereby each county supplies a bag of sliotars for a match.
"Hopefully (work group member) Brendan Cummins' bag of balls won't be in the back of the net," said McCarthy.
"The ref or somebody will be charged with checking the balls before the match."
Work group chair Ned Quinn said that that the new balls would be around €1 more expensive each so the GAA was only proposing to start using the chip system at inter-county level.
However, he warned that all sliotars would still be expected to meet specifications, and said that all officially licensed manufacturers would have to reapply for licenses and submit samples for testing.
"There will be a modest increase in the price but that's one of the reasons why when we're trialling it at U-20," he said.
"The GAA will supply all of the balls and we don't envisage any chipped balls for club games. So there'll be no increase in the cost of the balls to the clubs.
"But they (the sliotars used by clubs) will have to come to the standard of specifications without the chip, which we will be testing.
"The chip will be at inter-county level and we do hope to have it in for 2023 in all inter-county championships.
"(But) You would expect that when players see that ball at inter-county level, club players, I think they'll want that ball as well."
Sliotar specifications as of 2022
The diameter of the Sliotar - not including the rim (rib) - shall be between 69mm and 72mm.
The mass of the Sliotar shall be between 110 and 116 grams.
The rim (rib) height shall be between 1.8mm and 2.6mm
The rim (rib) width shall be between 3.6 mm and 5.4mm.
The thickness of the leather (chrome or synthetic) cover shall be between 1.8mm. and 2.7mm. and shall not be laminated with a coating greater than 0.15mm.
We need your consent to load this YouTube contentWe use YouTube to manage extra content that can set cookies on your device and collect data about your activity. Please review their details and accept them to load the content.Manage Preferences